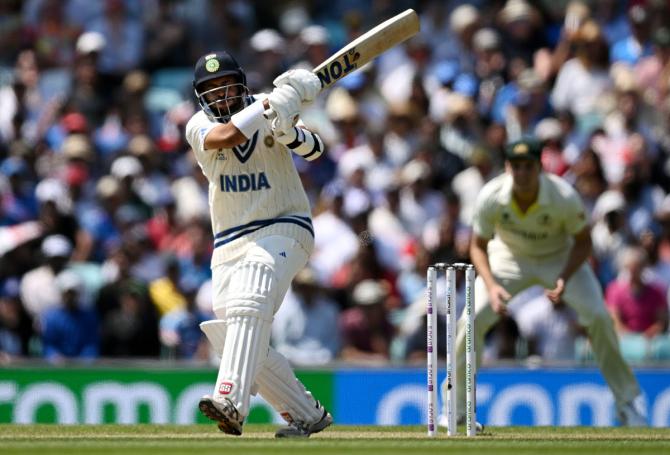 India all-rounder Shardul Thakur has called The Oval pitch under prepared, saying it is very different from the surface they played on back in 2021.
India had won that game by 157 runs in September 2021 with Thakur getting a fifty in each innings.
Thakur copped two nasty blows on Friday but managed to score a crucial 51. He and Ajinkya Rahane shared a valuable 109-run stand to take India to 296 in reply to Australia's first-innings total of 469 in the World Test Championship final.
"The pitch is surely different. Last time we played the pitch was doing something and everyone knows if there is cloud cover in England the ball moves around.
"As the game went forward last time and the team started taking rollers it became flat. But this time it was not anything like that. It was under prepared, I felt, going in to the game. Like we saw yesterday and today it was a bit up and down," Shardul said.
From one particular end, the ball took off from length and the Australian pacers exploited that effectively.
"If we see yesterday's play also, pitch changed a little. Ball was hard and bouncing from odd length. With six wickets down on the board, not too many runs, under pressure, yes, you would say the toughest hour though I have played handful of game but felt like 'welcome to Test cricket'.
"There is an area from where the ball is coming up, there is a little grass around the crack and the length is such that batsmen can't leave the deliveries easily. You have to play, commit, because we saw today many balls kept down and I mean that is an area of good length, and I mean, that area is at a good length, a little short of length.
"So that's the area where the batsmen can't immediately see and leave the ball. You have to play it. And if it bounces from there -- then good luck for the batsmen. It was bouncing from the other end too -- but from a bit behind, so the batsmen were getting time to adjust," said Thakur.
Thakur asserted that India remain very much in the game despite trailing Australia by 296 runs.
"Cricket is a funny game. You can never say what is the right total, especially in an ICC final. One good partnership and you can chase down 450 or maybe more than that. We saw last year England chased 400 here and they did not lose too many wickets."
He was all praise for Rahane who made a gritty 89 in his comeback Test.
"Ajinkya is one of the top players in the world. He has scored runs in England Australia and South Africa. It did not seem that he was batting badly though he wasn't getting the runs (before being dropped). Even today he was using all his experience of batting in English conditions."
© Copyright 2023 PTI. All rights reserved. Republication or redistribution of PTI content, including by framing or similar means, is expressly prohibited without the prior written consent.