Australian media heap praise on Virat Kohli…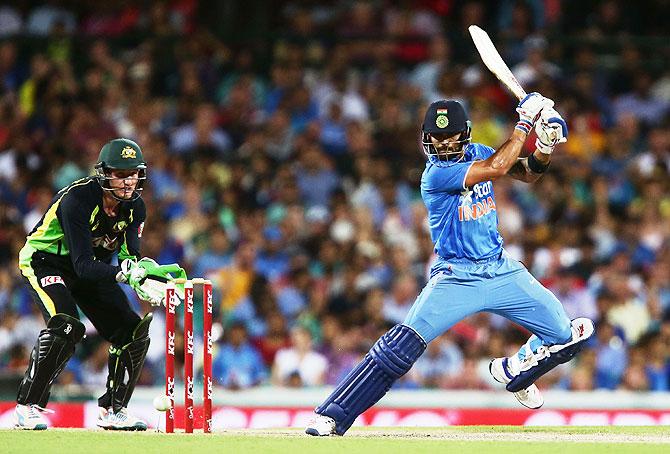 IMAGE: India's Virat Kohli bats. Photograph: Matt King/Getty Images
The Australian media lavished praise on Virat Kohli for his mind-blowing unbeaten knock that single-handedly powered India into the semi-finals of the ICC World Twenty20 in Mohali on Sunday.
- Just look at Virat's records, guys!
- Once again, Australia fail to crack 'fickle' T20 code
Chasing a challenging 161 for win, Kohli made unbeaten 82 off just 51 deliveries to guide India through in the must-win group match and crush the hopes of the Australian cricket team.
"Steve Smith called it the 'Virat show' and he was right," The Sydney Morning Herald's Chris Barratt wrote in his article, acknowledging the Australian skipper's post-match remarks.
"With one of the greatest ever Twenty20 International innings, India's batting maestro all but single-handedly sent Australia home from the 20-overs world championship."
The Daily Telegraph's Ben Horne described Kohli's knock as: "One man wins it. I think it's safe to say there is no talent in world cricket at the moment quite like Virat Kohli," he wrote.
Gideon Haigh of The Australian, wrote, "(Kohli) made an awkward chase look like simplicity itself.
"Not a stroke, by the way, would have looked out of place in a Test match.
"Much as the marketers would like to take the cricket out of T20, Kohli keeps putting it back."
The Sydney Morning Herald stated that Kohli was emerging as a worthy successor to the legendary Sachin Tendulkar.
"Sunday night was all about Kohli, an already world-class and revered batsman in India who, emerging as a successor to Sachin Tendulkar in the hearts and minds of Indian fans, added another chapter to his growing legend. His status as one of the great chasers was also enhanced," its report said.
The Daily Telegraph, meanwhile, lauded Kohli's ability to rise to the big occasions.
"...on this giant stage in front of a packed house in Mohali and a billion watching on television – Kohli delivered a signature performance," it wrote.
© Copyright 2020 PTI. All rights reserved. Republication or redistribution of PTI content, including by framing or similar means, is expressly prohibited without the prior written consent.