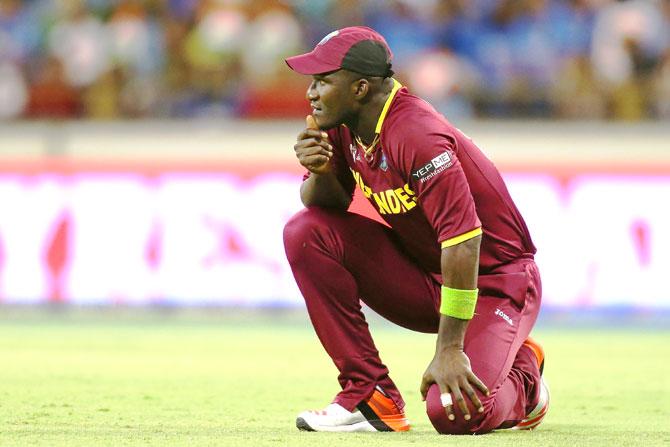 IMAGE: West Indies' T20 skipper Darren Sammy. Photograph: Paul Kane/Getty Images
West Indies skipper Darren Sammy made it clear that they "can't take England for granted" in the opening group league fixture of the ICC World T20 on Wednesday in Mumbai.
- ICC World T20: Complete Coverage
"I don't like term anyone 'dark horses'. Normally, we (West Indies) have been called 'dark horses', they (England) are a good side. We respect every side in the competition. We have seen that T20 has narrowed the gulf between teams," Sammy said on Tuesday.
"They (England) have some guys who have evolved over last 12 months – (Jos) Butler, Ben Strokes. All these guys, in the middle with their captain Eoin Morgan, they have good players. So we will not take them for granted," said Sammy.
Sammy said that more than opposition, focus of the team will be on their own game.
"But, we normally focus on what we do and we know if we could do then we are going to be victorious," he said.
After losing the first warm-up game against India, West Indies defeated might Australia in a keenly contested game in Kolkata.
According to Sammy, both the sides know what are the things needed to emerge victorious.
"England are a good side and they are playing good cricket at the moment. They will come and look to adjust to the conditions. We have to calm under pressure. Both sides know what it takes to win a match," he added.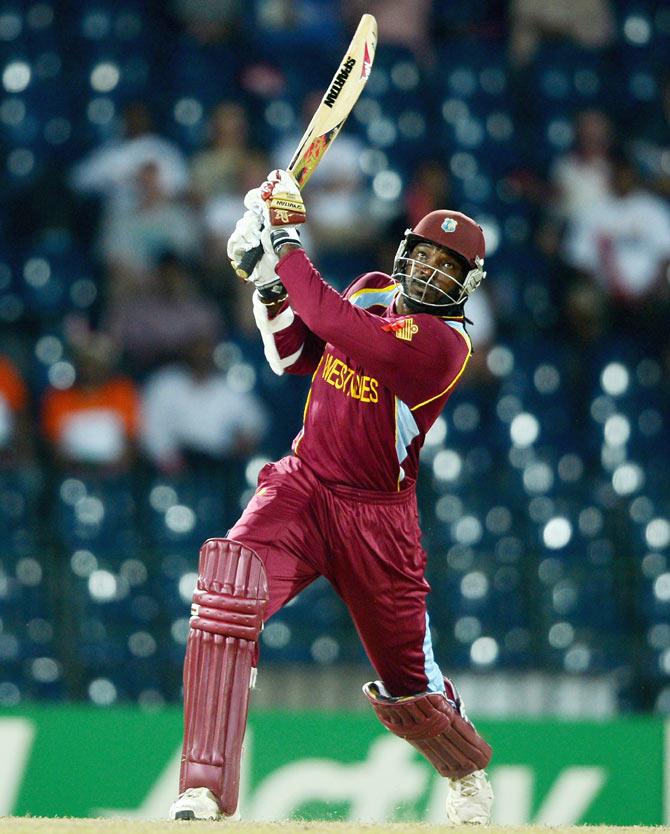 IMAGE: Chris Gayle of the West Indies. Photograph: Gareth Copley/Getty Images
On missing players like Sunil Narain and Kieron Pollard, the 32-year-old player said, "It is always difficult to replace someone like (Sunil) Narine, (Kieron) Pollard, who had so much experience here.
"Lendl Simmons played here for Mumbai in last two or three seasons, always difficult to replace quality players and their experience. But we have players who can also have the same impact like them. If you look at Carlos (Brathwaite), (Johnson) Charles, (Evin) Lewis, (Ashley) Nurse, they bring a different variety which can be successful in our line up. Yes, we will miss them but that gives an opportunity for others to step up and play."
West Indies have one of the fiercest openers in the shortest format of the game Chris Gayle and on this Sammy says, "It is up to us to set up the innings very well and we have the most destructive batsman in the world in Chris (Gayle). There is never too much pressure on Chris. We know that Chris is a massive figure.
"But when you look at the dressing room we have Bravo, Russell, Carlos, that's a lot of power. The key for us is that each player, must go and do their person role in the team and be responsible and not leaving it or anyone else. The batting must have impact on that day."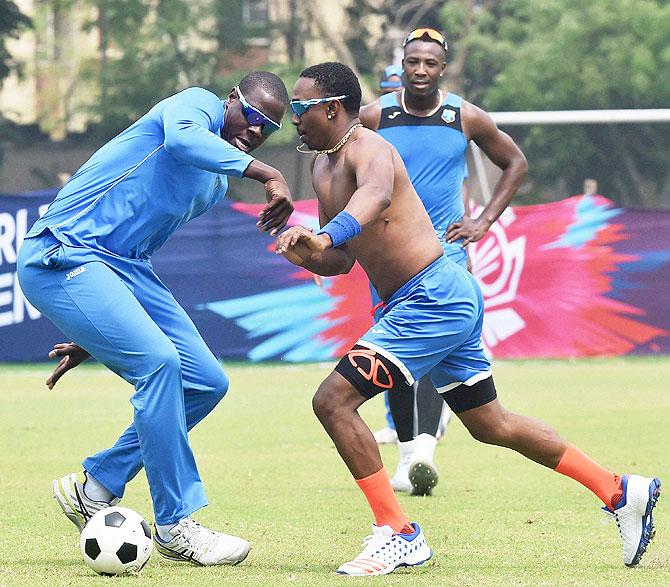 IMAGE: West Indies cricketers during a practice session in Kolkata on Saturday. Photograph: Ashok Bhaumik/PTI
On the team's middle-order, he said, "If we look at our middle order batting, we have potential batters in Marlon Samuels, Dinesh Ramdin, Dwayne Bravo, Andre Russell. Bravo is one of the most experienced guys in the team when it comes to playing Indian conditions. They (England) have Moeen Ali and (Adil) Rashid but we know Wankhede is a seamer friendly track, games played in IPL tell you that."
He also exuded confidence that Andre Russell, who missed three dope tests, thereby violating statutory Anti-Doping whereabouts clause, will be available for the entire tournament.
"I am very much confident Russell will get to play the entire competition. We have always had setbacks and we thrived on all things and took that as motivation and went out and have performed well. The way we play, when we played, no other team could match it.
"We as a team have supported Russell and we are confident he will take part in the whole tournament and make an impact like he has done in the past," Sammy concluded.