'Hearing you, your tone and your question, it's clear that you aren't happy that India has won'
'When talking about a cricket match, there's no script'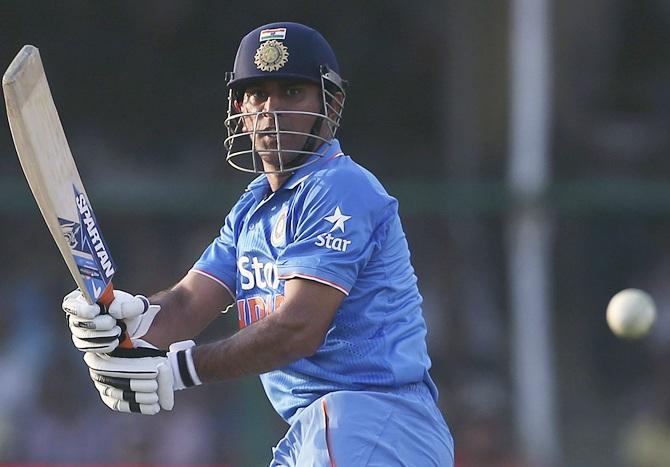 IMAGE: India's captain Mahendra Singh Dhoni plays a shot. Photograph: Adnan Abidi/Reuters.
Soon after guiding India to a nerve-wracking victory, a visibly exasperated Mahendra Singh Dhoni lashed out a scribe after being asked if he was contend with the one-run win over Bangladesh in the ICC World Twenty group match, in Bengaluru, on Wednesday.
Dhoni walked into the press conference smiling, but it soon evaporated at the very first question, which not only took the India skipper by surprise but also left him furious.
He was asked how satisfied was he with the result, keeping in mind that India needed to win it big to improve their net run rate for brightening the semi-final prospects.
Rubbed the wrong way, Dhoni said, "I know you aren't happy that India won today."
As the reporter tried to clarify, Dhoni cut him short and added firmly, "Listen to me. Hearing you, your tone and your question, it's clear that you aren't happy that India has won. And when talking about a cricket match, there's no script. It's not about the script."
Giving him a peace of his mind, Dhoni further said, "You have to analyse that after losing the toss, what was the reason that we couldn't make many runs on that wicket. If you aren't analysing these things sitting outside, then you shouldn't ask this question."
A long pause followed at the press conference hall, before the mike was passed on for the next question.
India survived a mighty scare before pulling off an incredible one-run victory in a low-scoring thriller to keep their semi-final hopes alive. Defending a modest 146, India looked down and out for the better part of the match before getting their acts together in the final two overs to restrict Bangladesh to 145 for nine.