'I am being portrayed as the villain. If the Board wants to remove me they first have to inform me in writing'
'Leakage of confidential reports is a crime and first I want the people or person who did this to be exposed and punished'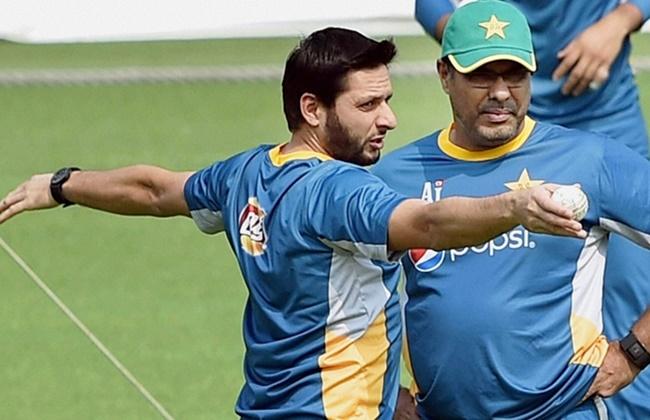 IMAGE: Shahid Afridi, left, and Waqar Younis during a training session. Photograph: PTI .
Pakistan cricket coach Waqar Younis, on Sunday, refused to step down from his position despite being in the line of fire for the team's disastrous World Twenty20 campaign, saying that he will not go out as a 'villain'.
"I am being portrayed as the villain. If the Board wants to remove me they first have to inform me in writing. I have no issues but I will not go like this," Waqar said.
Pakistan cricket has been thrown into disarray after the team's poor performances in the Asia Cup and World T20 but Waqar said he did all he could to arrest the slide.
"I didn't request for the coaching job. I applied for it with the PCB. I was interviewed by Mr Najam Sethi and I submitted a comprehensive plan to him with which he concurred and the board appointed me as coach," Waqar said.
"Unfortunately after the World Cup 2015 Sethi never met me and despite me pointing out several issues I was facing in unfolding my plan no one in the board listened to me," he said.
"Now they are trying to blame me for everything. They want to sack me. I can go tomorrow. But if things continue this way in Pakistan cricket two years down the line some other coach would also find himself in a similar position," he added.
Livid that the report prepared by him and team manager Intikhab Alam was leaked to the media, Waqar demanded that those responsible for it be penalised.
"Leakage of confidential reports is a crime and first I want the people or person who did this to be exposed and punished for putting Pakistan cricket in turmoil," he said.
He also lashed out at his critics, including some former cricketers who were calling him a black sheep notable among them former Test opener, chief coach and selector of the national team, Mohsin Khan.
"I think first these people should look at their own self. I don't want to get into a war of words with them right now," he said.
Waqar said everyone spoke about the faults in the cricket system but no one came forward to do anything practically.
"When we even start losing to Afghanistan I think then better sense would prevail."
Waqar, whose two-year contract expires in May, said he had tried his best to settle the team.
"The point is that non-cricketers are ruling in the board and despite the Chairman assuring me there would be an enquiry into leakage of reports nothing has happened so far," he said.
The top fast bowler said he had come to Pakistan as he wanted to contribute something to the game here.
"There is politics in our cricket and the board and the leakage of the reports confirms this. I want these things cleaned up. A coach can have differences with any player but it does not mean he wants the team to lose or wilfully wants the player to fail.
Waqar pointed out that even in his first tenure as coach in 2010-2011, he had resigned himself due to personal issues although the then Chairman of the PCB Ijaz Butt wanted him to continue.
"I am not hungry for jobs I can earn more in the media but things can't continue like this in Pakistan cricket for much longer," he added.