'We still have got a very inexperienced side but a keen bunch of players who are willing to learn and improve.'
'Every game here has been rocking, hopefully it will be the same on Sunday.'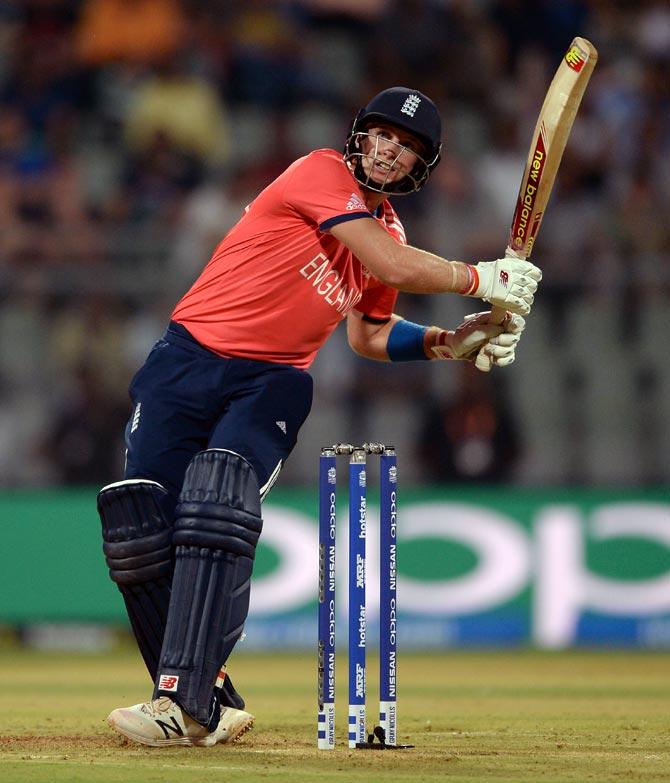 IMAGE: England batsman Joe Root hits out against the West Indies during the ICC World T20 Super 10s match in Mumbai. Photograph: Gareth Copley/Getty Images
England batsman Joe Root believes if his team stays true to their character, it will not be a problem to beat the West Indies in the ICC World Twenty20 final on Sunday.
"I don't think there's been an attitude swing or the way we approach practice or anything like that. We went into the tournament and stayed true to what we believe in as a side and the way we play our cricket. I think that's probably been the most important thing," Root said, ahead of the final.
The promising youngster struck a match-winning 83 from 44 balls to script a famous victory over South Africa, chasing a huge 230 and England have not looked back since then.
"It's about making sure that we did not go away, how we wanted to play and the way we wanted to approach our cricket. Having that self-belief in each other and we could get and win against South Africa and build our confidence from that point onward. Everyone contributed in some way, shape or form, which is always nice getting into the final," Root added.
He, however, credited the captain and coach duo of Eoin Morgan and Trevor Bayliss for the turnaround, especially after their ignominous exit in the ODI World Cup in Australia last year, here they had failed to get past any team apart minnows Scotland and Afghanistan.
"Morgan's captaincy has been fantastic across ODI and T20Is. We've chosen this way and approach probably has been a little bit shift for us and we stuck to our guns and when we went wrong we have not taken a step back. We have looked forward all the time.
"We still have got a very inexperienced side but a keen bunch of players who are willing to learn and improve. It will only make us better in the long run. That's a massive factor how we got to here. Obviously, the management has been calm and positive. Guys have stuck to their game-plans. Everyone has gone about their businesses."
Bayliss was appointed coach, replacing Peter Moores in the aftermath World Cup exit, and Root said the Australian's cool demeanour is a blessing for the side.
"He's been great throughout. He's got an emotion-less face whether we're in front or massively behind in a game. You never get any sort of tension or emotion from him. He is always calm and relaxed about everything.
"Especially, in a final, that's very important. To have a calm head within the dressing room can sometimes bring you back down when you get too high."
Root had missed out playing at the iconic Eden Gardens and was the 12th man during England's 2012-13 tour to India, but this time, as a go-to man of the side, he's aiming to make the difference.
"This is what you dream of as a kid, these opportunities, like to play in a World Cup final. Everyone is quite excited and can't wait for the match to start. Was 12th man here a few years ago? Every game here has been rocking, hopefully it will be the same on Sunday."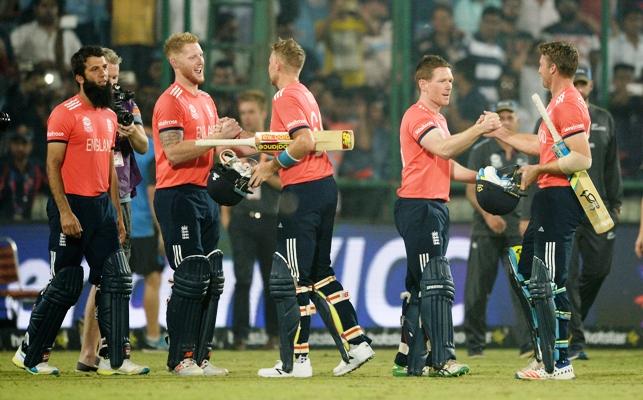 IMAGE: England's players celebrate winning the World T20 semi-final against New Zealand at the Feroz Shah Kotla. Photograph: Gareth Copley/Getty Images.
Asked whether India not being there will be an easy proposition for them, he replied: "I don't think it really matters. If you are to win the World Cup you have to beat the best team in the tournament.
"If we're going to win we have to beat whoever the side is... It's irrelevant really. It's about making sure we do our stuff right, we do whatever best we can to get over the line.
Should they win the final, it would be right up there with his Ashes triumph and the county win for Yorkshire, he said.
"Probably right up there. It's hard to say now. Everything is slightly different with different history behind all of them. It will certainly be a very best day if we can win over here."
Root further said the English side was not intimidated by the combative approach of the West Indies as they cruised to a seven-wicket victory over India, chasing a tall 193 in the second semi-final.
"Everyone has their own way of playing. We have got plenty of players who can play in a similar fashion to that. We have found ways of winning games which is really important.
"We have found ourselves in a number of difficult situations and we have overcome. It means that whatever happens we have been in that situation before in this tournament and got experiences to call back upon who have been successful."
© Copyright 2023 PTI. All rights reserved. Republication or redistribution of PTI content, including by framing or similar means, is expressly prohibited without the prior written consent.