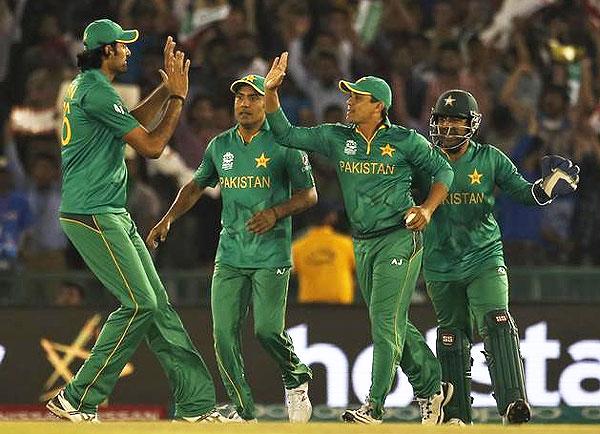 IMAGE: Pakistan's Sharjeel Khan (second from right) celebrates with teammates after taking a catch to dismiss New Zealand's Colin Munro. Photograph: Adnan Abidi/Reuters
Former pacer Shoaib Akhtar says he is he is not the least surprised by Pakistan's poor run in the ongoing World T20 Championship.
Pakistan are all but out of contention for a semi-final berth after losing to India and New Zealand.
"This downslide didn't happen overnight. It started happening few years ago and I kept on warning that a day will come when we will even find it hard to beat Bangladesh. No one listened, including the Board," Akhtar said.
"What can one say? I can only hope now that sensible decisions are taken now, and those people brought in to serve Pakistan cricket don't care about their salaries, fees and perks but about Pakistan," Akhtar said.
"What is tragic is that over the years, people given key positions in Pakistan cricket and the team have only worried about how much they are earning, not about the system or performances."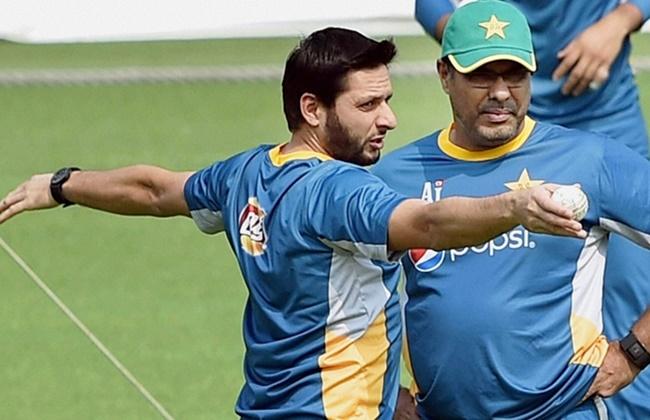 IMAGE: Pakistan coach Waqar Younis with under-fire captain Shahid Afridi. Photograph: PTI
Pakistan's former captain and great Javed Miandad also criticised outgoing captain Shahid Afridi and coach Waqar Younis for their comments made after the New Zealand match.
"I say everyone is responsible for the defeats -- the Board, the selectors, the captain and coach. Why are they complaining now about the players? What were they doing in the last one year?" he asked.
Waqar lashed out at the players on Tuesday for their inept performances, but Miandad said bad tactical decisions, wrong selection and a lack of pride had led to Pakistan's downfall in the last one year.
"Where is the pride and passion in this team to do well? I don't see it. The selectors, captain and coach have all made repeated blunders and now they are complaining. It is a joke," Miandad said.
Former senior batsman Muhammad Yousuf said the team management had erred in the batting order against New Zealand.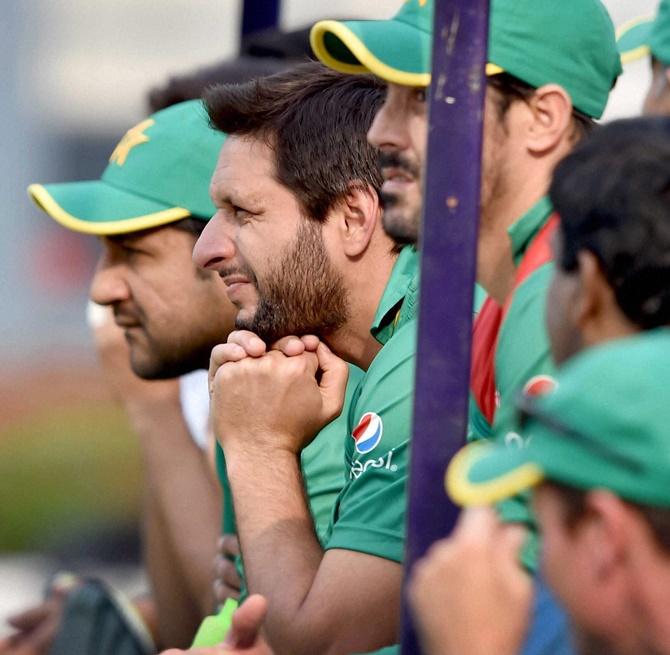 IMAGE: Pakistan captain Shahid Afridi and other teammates during warm up. Photograph: PTI
"Why did they send in Khalid Latif after such a good start? Why didn't they utilise Sarfaraz or Malik?"
Yousuf said Pakistan's cricket standards had gone down because of poor batting and the decline would continue until the quality players is improved.
"I don't see any reason for Muhammad Hafeez not playing in such a crucial match. Even if he had some injury he could have taken injections and played. It was a must-win match and in the past our players have played with injuries," he noted.
Former captain-turned-commentator, Rameez Raja said Pakistan had fallen behind other cricket-playing nations and one should not entertain hopes that the team can beat Australia.
"Neither can we take the right strategic decisions nor can we bat well. And we expect to win," he said.