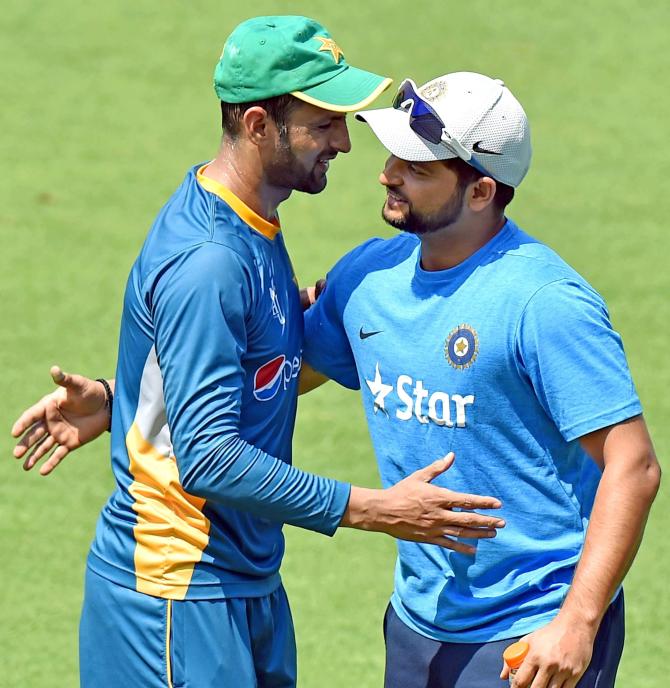 IMAGE: India's Suresh Raina (Right) and Pakistan's Shoaib Malik seen hugging each other during the training sessions of both the teams in Kolkata on Thursday. Photograph: PTI..
Pakistan's High Commissioner to India, Abdul Basit, on Friday, expressed his disappointment after five of his colleagues were denied travel permission by New Delhi for Saturday's World Twenty20 match between the arch-rivals, in Kolkata, but admitted that he was looking forward to the forthcoming game.
"I am very glad to be here (in Kolkata) but obviously somewhat sad that my colleagues, who wanted to come to India, couldn't come. But in any case, we are looking forward to an exciting match," said Basit upon his arrival in Kolkata on the eve of the mouth-watering clash.
Basit was also seen satisfied with security arrangements for the high-octane clash and expressed hope that the two countries would be able to ease their strained relations through the match.
"So far, there are no issues. Let's hope everything goes alright and we are looking forward to a great match tomorrow. This match is all about creating goodwill and let's hope that the two countries will be able to build on this," he added.
Ministry of External Affairs official spokesperson Vikas Swarup had, on Thursday, said that India had granted travel permission for 19 Pakistan High Commission officials and was prepared to consider more such requests.
The Indian Government had on Tuesday denied travel permits to five Pakistani officials, who wanted to visit Kolkata to watch the match, hinting that they are working for Pakistan's spy agency ISI.
The bickering over the issue escalated when Islamabad termed India's statement that it has allowed 19 mission officials as 'misleading'.
The Shahid Afridi-led team arrived in India last Saturday after the venue for the much-anticipated clash was shifted from Dharamsala to Kolkata due to security concerns.