'Dhoni always puts Ashwin up early, but Dhoni is an unpredictable captain.'
'I am looking to show what Chris Gayle is. I will be prepared.'
West Indies run-machine Chris Gayle discusses how he plans to counter India's bowlers in Thursday's World T20 semi-final in Mumbai. Harish Kotian/Rediff.com listens in.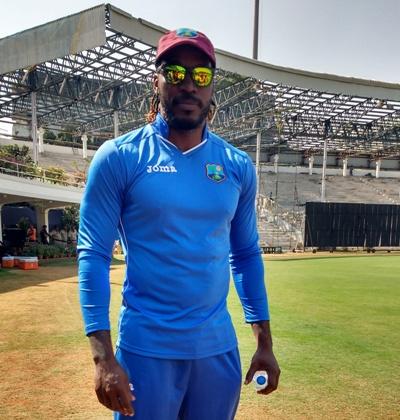 IMAGE: West Indies batsman Chris Gayle at the Brabourne stadium. Photograph: Harish Kotian/Rediff.com.
If India can boast of Virat Kohli, then the West Indies have a far more dangerous player in Chris Gayle, who has achieved legendary status in T20 cricket by his ability to win matches on his own consistently.
India are fully aware that to get the better of the West Indies in the semi-final of the World T20, in Mumbai on Thursday, they need to dismiss dangerman Gayle early.
One of the options to get Gayle's wicket early would be opening the bowling against with him with a spinner.
Off-spinner Ravichandran Ashwin has opened the bowling in T20 cricket for India in a couple of games in this tournament and could be used to get Gayle's wicket in the early overs before he gets his eye in.
Against New Zealand, in the opening match of the World T20 in Nagpur, Ashwin struck in the first over of the innings, dismissing the in-form Martin Guptill leg before wicket.
The last time, Ashwin and Gayle came face to face in T20 cricket was in the Qualifier 2 match of the Indian Premier League in Ranchi last May.
Interestingly, when Chennai Super Kings took on Royal Challengers Bangalore in that IPL match, CSK captain Mahendra Singh Dhoni opened the bowling with Ashish Nehra and Ravichandran Ashwin. The combination could be used again against Gayle and Co on Thursday.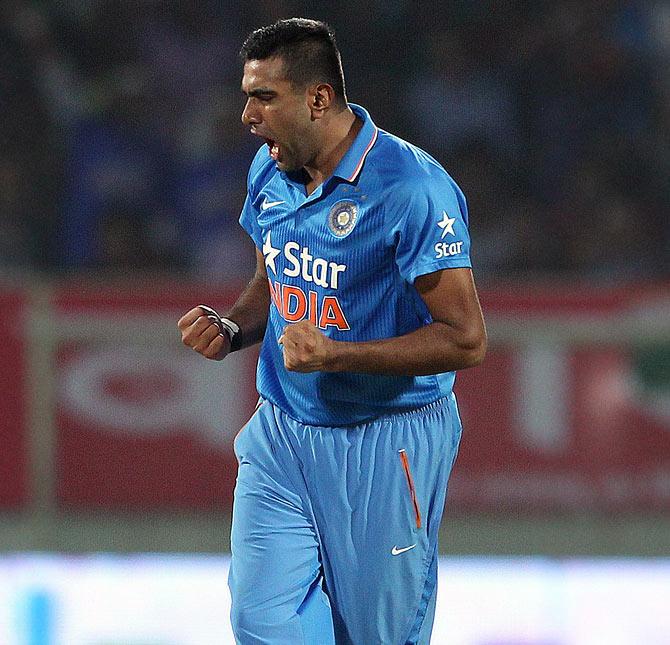 IMAGE: India spinner Ravichandran Ashwin celebrates a wicket. Photograph: BCCI.
Normally an attacking batsman right from the word go, Gayle was content to play Ashwin safely as he scored just six runs from the 12 balls he faced from the off-spinner. He scored 41 from 43 balls before he was caught and bowled by part-time off-spinner Suresh Raina in that match which was won by CSK.
The two also squared up against each other in the World T20 in Dhaka in 2014 when Gayle again played it safe, scoring eight from 11 balls he faced from Ashwin.
In that game, he made 34 from 33 balls as the West Indies finished on the losing side.
This time, though, Gayle, as he confidently declared, will be looking to attack Ashwin and target him from the start.
"Chris Gayle will always be positive. It doesn't matter which bowler is bowling against Chris Gayle. Chris Gayle is always looking to attack. That's the nature of T20 cricket. And that's the nature of Chris Gayle. No names, just cricket ball; beat it as hard as possible," he stated.
The left-hander claimed that he won't be surprised if Ashwin opens the bowling in Thursday's semi-final.
"It is no surprise… that always happens. Dhoni always puts Ashwin up early, but Dhoni is an unpredictable captain. It doesn't necessarily mean that he will do it, but these things do happen," he said in Mumbai on Tuesday, on the sidelines of the West Indies' practice session at the Brabourne stadium.
"Like I, said I am looking to show what Chris Gayle is. I will be prepared. I will be ready mentally for whichever particular bowler I have to focus on, even if it is Ashwin. There are so many bowlers there. Nehra is bowling well. He is very good with the new ball. We just have to keep our eyes open, play according to the situation," he added.
The 36-year-old Jamaican believes that India, who bounced back after losing their opening match to New Zealand with three back-to-back wins, have the momentum going into the last four match.
"They have made some momentum. There's no doubt about it they have the momentum and a lot of confidence coming into this game as well.
"It is very difficult to pinpoint one particular player when everybody in the Indian team. It is a very good all-round team, good fielding team as well. That's why India is the favourite. It is always going to be difficult to beat them here, but, like I said, West Indies are ready to upset them."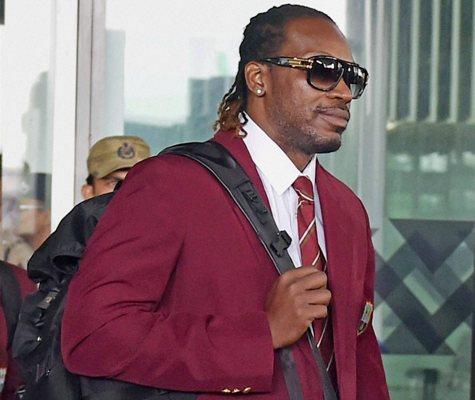 IMAGE: Chris Gayle arrives for a World T20 game. Photograph: PTI.
Gayle, who was rested for the West Indies' last match against Afghanistan, started the tournament with a blazing innings of 100 from 48 balls against England in Mumbai. He was unable to bat against Sri Lanka because of an injury and was bowled for four against South Africa.
"It is good always to get runs, especially in the first game you want to have that sort of confidence where you don't have play catch up cricket. For the tournament so far, I have only batted twice so I haven't really got a knock in all four games.
"But this is a perfect opportunity to actually start the tournament and try and pick up where I left off, get a big one for the team and put them in a winning position. Like I said, if that doesn't happen someone should actually be able to pick it up and take West Indies to victory."
Gayle claimed that the West Indies have got over their shock defeat to minnows Afghanistan in their last match of the Super 10s stage.
"No teams can actually win all games; to actually lose at that particular stage, we didn't want to. We wanted to keep our winning consistency going, but these things happen; it is T20 cricket and on any particular day, any particular team can beat any team. We are disappointed with the loss but we have to get the bad game out of the way.
"Like I said, two games away and then we actually lift the trophy. We saw India bounce back from losing games as well, so it can put us in a strong position as well to actually lift our game and do better on Thursday."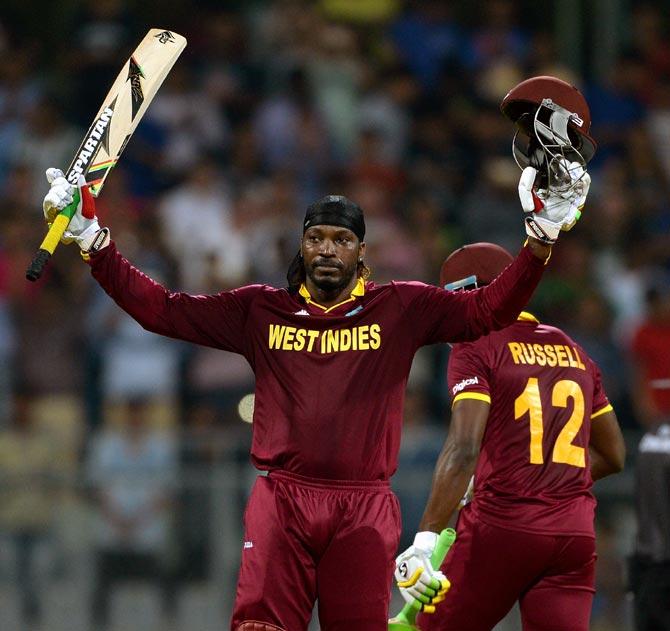 IMAGE: Chris Gayle celebrates his century against England at the Wankhede Stadium. Photograph: Gareth Copley/Getty Images.
West Indies, who won the World T20 in 2012 in Sri Lanka, are always a force to reckon with in Twenty20 cricket. Gayle says it is down to good young players coming into the team.
"We have lost a lot of key players, but if you look at the back-up, the guys who came in for the key players, they have actually played a tremendous part as well.
"So that goes to show the strength of West Indies cricket back home. The guys who actually replaced the first picks, someone like Carlos Brathwaite, he won us the game against South Africa. So those guys are playing a big part and the bench is still strong enough.
"We have a lot of match-winners; the No. 1 bowler (Samuel) Badree, who is doing a fantastic job, and Suleiman Benn backed up Dwayne Bravo, (Andre) Russell and the rest of the bowlers. So it is a fantastic all-round team and we are going against a strong favourite team India. So it will be an interesting game and I hope it will be a good team for the fans to cheer and the West Indies come out on top," he said.
Gayle has played three T20Is against India, all in World T20s, scoring 154 runs at an average of 51, with a best of 98 from 66 balls in Barbados in the World T20 in 2010.
How the left-hander fares with the bat will be crucial to the outcome of the second semi-final on Thursday.
While the West Indies are hoping for another magical knock from him, Indian fans, for once, want him dismissed early.