Off-spinner Harbhajan Singh, who made a memorable comeback to international cricket by helping India thrash England in a World Twenty20 group league match in Colombo, dedicated his man-of-the-match award to his mother and close friends who stood by him in his hour of crisis.
"It's been a hard year being out of the side. Other boys were doing really well, so it was really difficult for me to make a comeback," Harbhajan, who took 4 for 12 in India's 90-run win over defending champions England, said.
-Harbhajan helps India thrash England by 90 runs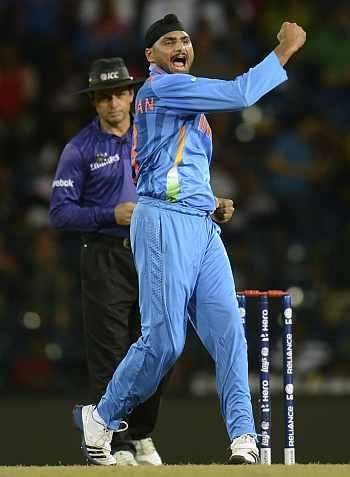 "This award is for my mom and those who have stuck with me," he added.
Harbhajan said the wicket off his second ball in international comeback gave him the much-needed confidence.
-We have problem of plenty now: Dhoni
"For me it was an important game. I hadn't played international cricket for a full year. Getting a wicket first or second ball gives you a lot of confidence," he said.
Asked about any change in his game, he said, "In T20 cricket, it's important to just read the game. I have tried to cut down my run-up a bit.
"I was running in too fast, and struggling to find my areas. So I was consciously coming in off a short run, and slowly," said the off-spinner.
An emotional-looking Harbhajan said he always thought that he would make a comeback and play for the country again.
"This India shot is everything for me. I don't know what I would do if not playing for India. I would like to thank my friends and teammates and the Essex (his English county side) people too."
Photograph: Philip Brown/Reuters