'At the moment he (Virat Kohli) is the best limited-overs batsman in the world. There is no question about it'
'He wins the match for them every single time and it's a combination of power and timing'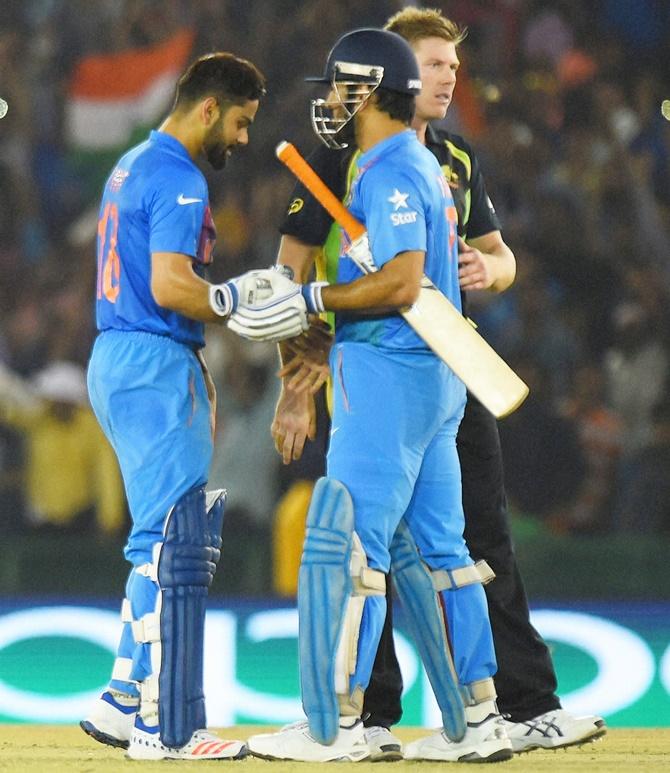 IMAGE: India's Mahendra Singh Dhoni, left, celebrates with Virat Kohli after winning against Australia in the ICC World T20, in Mohali, on Sunday. Photograph: Ryan Pierse/Getty Images.
Blown away by Virat Kohli's power-packed knock that took India into the World Twenty20 semi-finals, former captain Sunil Gavaskar has said that the marauding right-hander is currently the world's best batsman and 'beyond phenomenal'.
Kohli's unbeaten 82-run effort was the highlight as India chased down 161 in a tense group encounter against Australia, in Mohali, to enter the last-four stage. The hosts will take on West Indies on March 31 in Mumbai.
"At the moment he is the best limited-overs batsman in the world. There is no question about it. There is not the slightest doubt about it because he is beyond phenomenal. He is something else," Gavaskar told a new channel.
"Whatever little hair that I have, my hair was standing at attention watching the young genius. It was just mind blowing stuff," he said.
Gavaskar said the brilliance of Kohli lies in the fact that he delivers under pressure and puts the team's interest above everything else.
"Look at his record when India needs runs or chasing runs. He wins the match for them every single time and it's a combination of power and timing. It's a combination of two hands, very few batsmen have this ability to play with both the top and the bottom hand. When he was driving off the top hand, it was phenomenal," Gavaskar said.
"Look at the selflessness of the man. He was quite happy to allow the strike to his skipper (Mahendra Singh Dhoni) because he knew that the skipper would also make a statement. Lot of times when you play such big innings, you want to hit the winning runs. But there is he is, a complete, total team man. Thank god, he is playing for India," he added.
The former batsman said that Kohli also should be lauded for keeping his calm in tense situations.
"When you see him during fielding, look how animated he is. But with the bat, he is a completely different personality. He is very composed, doesn't let any emotions come in the way," he pointed out.
Apart from Kohli, Gavaskar lauded skipper Dhoni for using his resources well. Dhoni managed to surprise the Australians by bowling Yuvraj Singh, whose part-time left-arm spin got India the crucial wicket of rival captain Steve Smith.
"Dhoni reads what the opposition's strengths are. He realised that Raina could be expensive against Australia because he doesn't turn the ball much. This pitch wasn't affording turn. That's why he brought Yuvraj.
So reading the opposition's strengths is what the captains need to do and Dhoni does it better than most," he said.
© Copyright 2020 PTI. All rights reserved. Republication or redistribution of PTI content, including by framing or similar means, is expressly prohibited without the prior written consent.