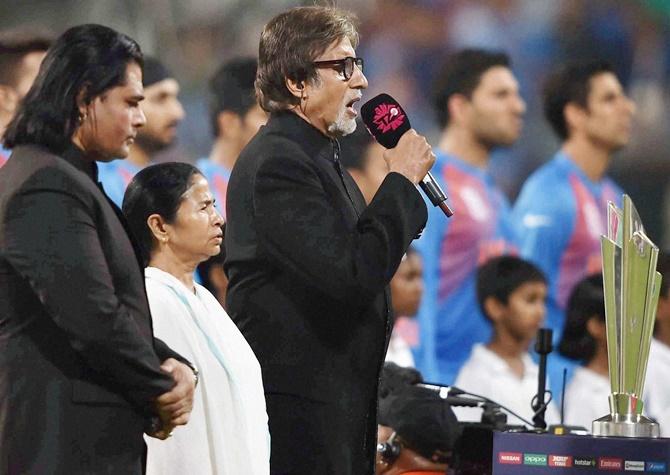 IMAGE: Bollywood superstar Amitabh Bachchan, right, with Pakistani singer Shafqat Amanat Ali, left, and West Bengal CM Mamata Banerjee. Photograph: PTI Photos.
Bollywood mega superstar Amitabh Bachchan, sang the Indian national anthem at the Eden Gardens, in Kolkata, on Saturday, before the start of the high-profile ICC World T20 match between arch rivals India and Pakistan.
But after that, it sent the social media abuzz claiming Bachchan senior took Rs 4 crores to sing the national anthem.
Bachchan's soulful rendition of the national anthem before the Indo- Pak match gave goosebumps to all Indians.
But it was well when the Cricket Association of Bengal boss Sourav Ganguly confirmed that Amitabh Bachchan charged no fee to sing the Indian national anthem at Eden Gardens.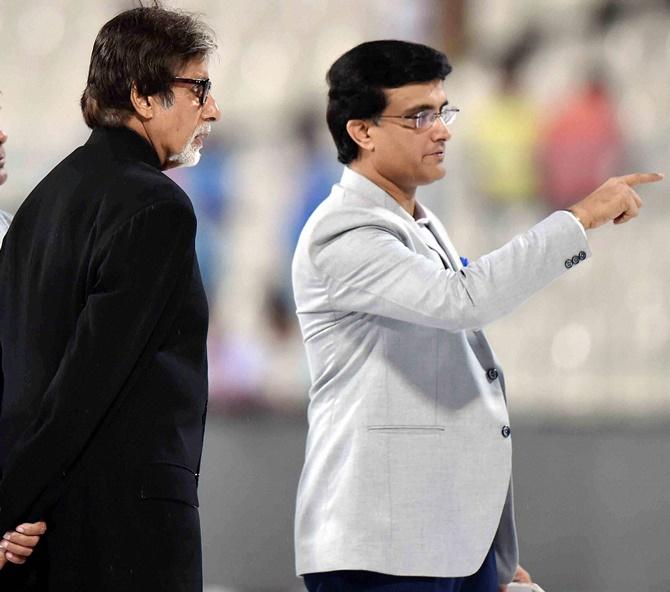 IMAGE: Bollywood superstar Amitabh Bachchan with Sourav Ganguly. Photograph: PTI Photos.
According to Ganguly, the mega superstar even paid for his travel, accommodation and match tickets.
"Mr Bachchan is one and only, a special person. I am eternally grateful to him. Can you ever imagine someone paying Rs 30 lakhs of his own pocket to perform? He booked his own flight, bought his own tickets and even paid the hotel bills. I literally begged him to take some money but he said that I am doing it for love and there is no question of money being involved," Ganguly was quoted as saying by the Anandabazar Patrika.
Bachchan thanked CAB president Ganguly for inviting him. "Ami apnar jamaibabu, amar namaskar o pronam neben (I am your son-in-law, please take my regards.) Thank you Sourav and CAB to invite me here to this historic venue to witness the historic game of cricket between the two countries. I wish all the best for the game. May the better team win. I also thank Mamatadi, for very thoughtfully giving us the symbol of peace between the two nations. May the peace prevail between India and Pakistan."