Excellent opportunity for Australia to win fifth World Cup trophy
'I don't think the pitches will be that conducive to spin bowling so I'm not anticipating it being a huge problem'
'I can't see spin being a big issue except against mystery spinners'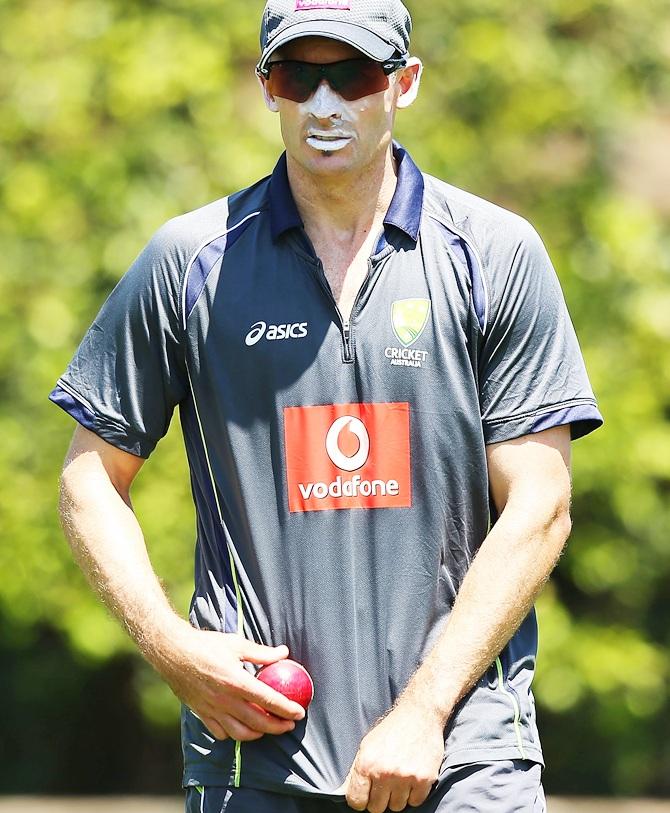 Michael Hussey of Australia. Photograph: Brendon Thorne/Getty Images
Back on their favoured quick and bouncy pitches, Australia's failings against spin bowling are unlikely to figure at the World Cup and the co-hosts have an excellent opportunity to win a fifth trophy, according to former batsman Mike Hussey.
Australia's batsmen had their confidence rocked with a 2-0 Test series loss to Pakistan in the United Arab Emirates which followed a humiliating loss to Zimbabwe in a One-day match in Bulawayo.
Australia's vulnerability to disciplined spin on slow pitches was exposed by both, but Hussey believes their batsmen will be primed to dominate on local wickets and in New Zealand where they play a group match against their co-hosts on February 28.
"Looking into the cricket World Cup, I can't see spin being a big issue except against mystery spinners, guys like (Saeed) Ajmal and Sunil Narine who will be very, very difficult to face," Hussey said, referring to the suspended Pakistan offspinner and West Indies' Narine.
"But I don't think the pitches will be that conducive to spin bowling so I'm not anticipating it being a huge problem.
Pressure-cooker environment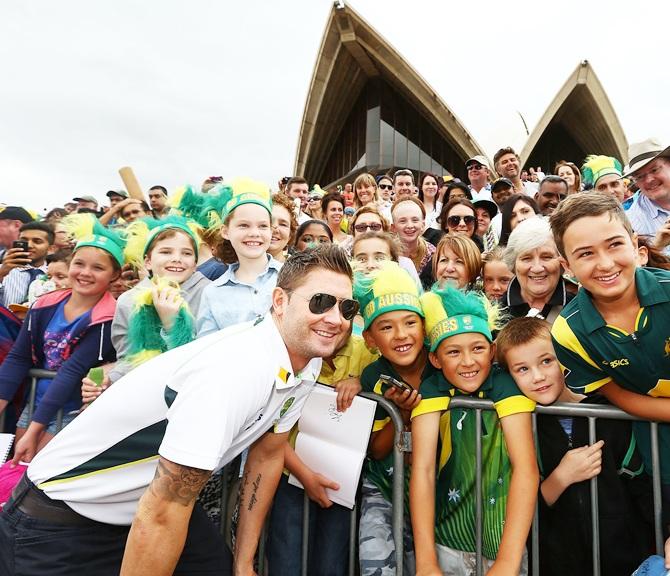 Michael Clarke pose with fans. Photograph: Matt King/Getty Images
"I think we've got a fantastic opportunity and a great chance (to win it). We've got some of the most explosive batsmen in the world, when you look at guys like David Warner, Aaron Finch, Shane Watson at the top end.
"Then we've got some of the best workers and finishers in the game with (captain) Michael Clarke and George Bailey and Steve Smith.
"We've got some really exciting fast bowlers as well.
"I think the thing that we're probably going to have to deal with the most is how we handle playing the World Cup on home soil."
Australia started their last home World Cup in 1992 with two successive defeats, including a stinging loss in the opener to co-hosts New Zealand, and were bundled out after the round-robin phase, with Pakistan going on to beat England in the final.
That disappointment preceded a golden run of four successive World Cup finals, including the 1999, 2003 and 2007 trophies.
Hussey was a member of the Australian team that dominated the 2007 event in the Caribbean, but personally underperformed in his World Cup debut, managing only 87 runs for the tournament.
Many of Australia's One-day squad will experience the pressure-cooker environment of a World Cup for the first time and that could count against their chances, said Hussey.
"We've got some unbelievably talented players but for some of them it may be their very first World Cup," added the 39-year-old, who played his last ODI in 2012 and finished with 5,442 runs from 185 matches at an average of 48.15.
"It is a new experience and it definitely raises the pressure a little bit more because it is a huge tournament, it's what everyone wants to win. If these young players can handle it well, then I think the sky's the limit for them."
Australia's greatest threat is likely to be from South Africa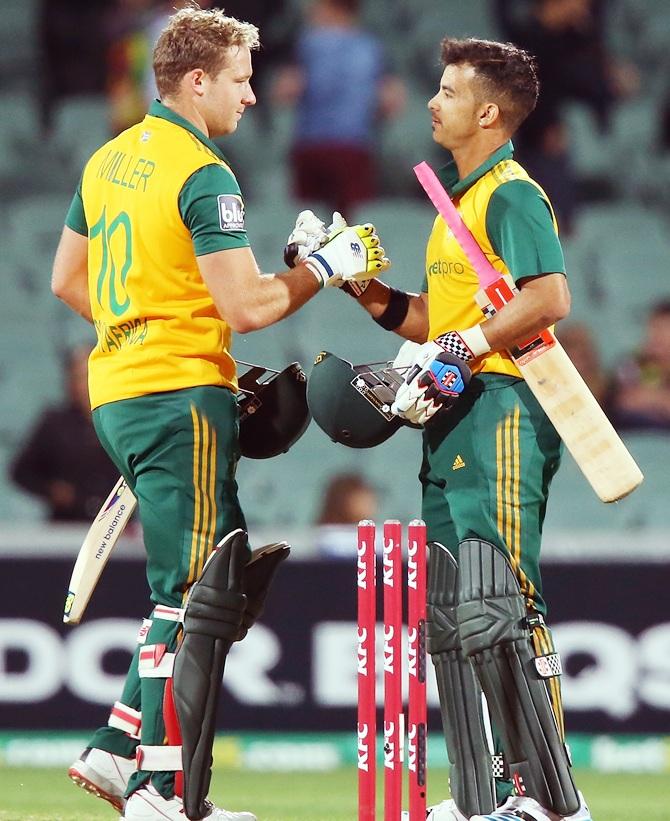 David Miller and Jean-Paul Duminy of South Africa celebrate. Photograph: Morne de Klerk/Getty Images
Hussey said Australia's greatest threat is likely to be from the Proteas, who have long entered World Cups as favourites but never managed to win one.
"I think South Africa are a fantastic team and have a great chance," said Hussey. "They've got seasoned, world class players.
"They play and bowl well in Australian and New Zealand conditions. I think you need those world class performers to get you through in a tournament like this."