India is leaving no stone unturned to succeed at the forthcoming World Cup, beginning February 19.
While renowned sports psychologists, like Sandy Gordon and Rudi Webster, were hired in the past, it was interesting to see world-famous adventurer Mike Horn overseeing the team's preparations at the training camp in Bangalore on Thursday.
Horn, a South African explorer, is internationally renowned, having won the Laureus World Alternative Sportsperson of the Year in 2001 among several other awards.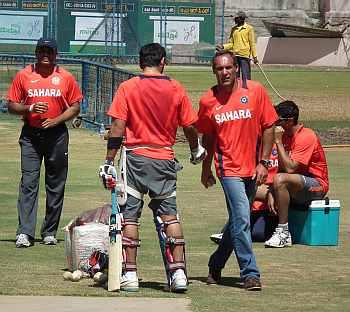 He has undertaken several expeditions, including the Amazon Expedition (a six-month journey around South America without any motor-aid), the Latitude Zero (which included circumnavigating the globe around the equator), the Arktos (a solo and unassisted journey of the North Pole), and the Himalayan expedition.
The 44-year-old is a motivational conference speaker and will be talking to the Indian players to motivate them ahead of the World Cup.
"He is a world-famous personality and I am sure his presence will boost the Indian team," said a source close to the team told rediff.com.
Meanwhile, in another interesting development, the Board of Control for Cricket in India reinstated Nitin Patel as the team's physio.
Patel was transferred to the National Cricket Academy in October and Team India charge handed over to Paul Close. However, the roles were reversed just days before the mega event.
"Nitin Patel will be the Indian team's physio for the World Cup," Ratnakar Shetty confirmed.
The Indian team plays Australia in a practice match in Bangalore on February 13 and New Zealand three days later in Chennai.