Pacer Hamish Bennett picked a career-best four-wicket haul as New Zealand trounced Kenya by 10 wickets in a totally lop-sided World Cup Group A encounter in Chennai on Sunday.
Electing to bat first, the Kenyans were sent packing for their lowest World Cup total -- 69 -- in just 23.5 overs before the Kiwis overhauled the paltry target in eight overs.
With just 31.5 overs played, it was less than a third of what a full cricket One-dayer would be.
Kiwi opener Martin Guptill and Brendon McCullum scored quick-fire knocks of 39 and 26 respectively to take the team home within three hours.
Earlier, Bennett was the wrecker-in-chief for New Zealand, who came into the mega-event rather low on confidence after losing successive ODI series to Bangladesh and India a few months ago.
His four wickets were instrumental in reducing the Kenyans to their lowest score -- after the 104 against the West Indies in the 2003 World Cup. This was also the fifth lowest by any team in the World Cup history.
Playing only his ninth ODI for New Zealand after taking 11 wickets from six matches against Pakistan at home recently, Bennett ripped through the clueless Kenyan batting line-up by claiming four wickets in the space of 10 balls as his dream first spell read 5-0-16-4.
Bennett's earlier best came a fortnight ago against Pakistan in Auckland when he took 4 for 46.
Bennett's pace partners Tim Southee (3/13) and Jacob Oram (3/2) shared the other six Kenyan wickets.
For Kenya, only three batsmen -- opener Seren Waters (16), Collins Obuya (14) and Indian-origin Rakep Patel (16 not out) -- got into double figures.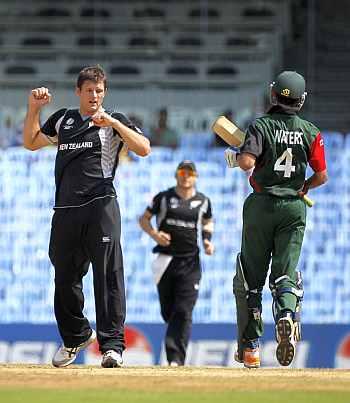 Such was the capitulation that the last three Kenyan players -- Nejhemiah Odhiam, Shem Ngoche and Elijah Otieno -- departed without even disturbing the scorecard.
The Kenyans, opting to bat first on a grass-less wicket, were totally exposed and they lacked technical prowess mostly going across to get rapped on their pads.
Their top five batsmen were adjudged leg before -- including Maurice Ouma, who went in for a referral, which only confirmed the umpire's original decision.
As the match started, the openers, Alex Obanda and Waters, appeared to be well up to their task, taking time to analyse the conditions, and plodded to get their eyes in while stealing some quick singles.
New Zealand captain Daniel Vettori decided to open the attack with both pace and spin in operation, bringing in Nathan McCullum from the far end.
But it was Southee who provided the first breakthrough by dismissing Obanda leg before.
Obanda, who misread the angle of a good length delivery, made 6.
Thereafter, it was Bennett who ruled the roost dismissing Waters, the experienced Steve Tikolo (2), who is playing his fifth World Cup, Obuya and Maurice Ouma (1).
With the top five batsmen wilting under pressure, the remaining five batsmen added just 20 runs and Oram polished off the tail in quick time.
The chase was never meant to cause much hassle for the Kiwi batsmen and Brendon McCullum and Martin Guptill went after the Kenyan bowling attack from the start.
While Guptill's 39 runs came off 32 balls, including five fours and a couple of sixes, McCullum took 17 balls to knock off his 26 runs, 16 of which came in boundaries.
Nehemiah Odhiambo ended up being the costliest of the Kenyan bowlers, conceding 21 runs in his two overs, while Thomas Odoyo was no better, giving away 25 runs in his three overs.
© Copyright 2021 PTI. All rights reserved. Republication or redistribution of PTI content, including by framing or similar means, is expressly prohibited without the prior written consent.