Jacques Kallis, South Africa's likely key performer in the subcontinent, has unfinished business with the World Cup.
Removing the 35-year-old all-rounder has become no less of a headache for the world's leading bowlers after more than a decade of punishment from the man from Cape Town.
Kallis will slot into the crucial number three position in South Africa's batting line-up and his canny bowling, making use of cutters and reverse swing, will also be crucial in subcontinental conditions.
His glittering achievements in every form of the game, however, have not so far been fully replicated at the four World Cups he has played.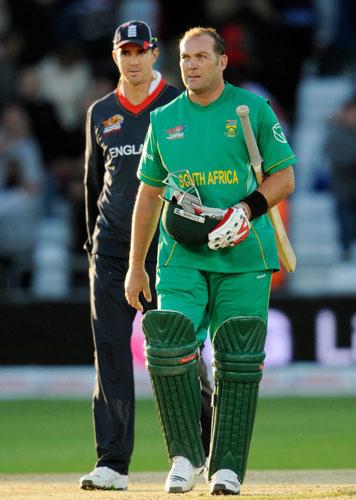 "I hope I have unfinished business at the World Cup. I've ticked off all my other big accomplishments like beating England in England and Australia in Australia, so I hope I can tick this World Cup box now as well," Kallis said.
"Hopefully, the cards will fall in our hands this time."
The powerfully-built Kallis has certainly proved that he can excel in the limited-overs game.
He has scored 11,002 runs in 307 ODIs and the responsibility of laying the platform for big South African totals lies in his safe hands, which have also taken 116 catches to go with his 259 wickets.
ELEGANT BATSMAN
If Kallis can bat through the majority of the innings, there is a queue of strokeplayers around him -- Graeme Smith, Hashim Amla, AB de Villiers and JP Duminy -- to target the bowling in relative freedom as South Africa seek their first World Cup win.
Kallis made his World Cup bow in 1996 in Pakistan but did not have much opportunity to excel.
By the 1999 World Cup in England, Kallis had already made his name as one of the most elegant batsmen of his generation and he scored a match-winning 96 in South Africa's opening game against India in Hove.
He ended the tournament with three successive half-centuries before South Africa's heartbreaking semi-final exit after a tie with eventual champions Australia.
South Africa's leading ODI run-scorer failed to shine in their first-round departure from the 2003 tournament they hosted but he was in sublime form in the 2007 World Cup in the Caribbean, with 480 runs in seven innings before a rare failure in the semi-final loss to Australia.
Kallis has often been criticised for being too dour a batsman for limited-overs cricket but he has lifted his strike rate from 68.32 at the beginning of 2000 to 72.77, only slightly below that of former ODI leading lights Sourav Ganguly (73.70) and Inzamam-ul-Haq (74.24).
With his ability to play strokes all around the ground, bowlers will struggle to decide where exactly to bowl to Kallis, who will bring a rich vein of form with him to the World Cup.
Despite missing the recent series against India due to a rib injury, he scored a double century and two hundreds in the test series, and averaged 59.30, with a century and six half-centuries, in 12 ODIs in 2010.