Piyush Chawla, who earned a surprise call into the World Cup squad, has said Indian spinners would be under immense pressure to perform at the mega event since they will play at home under favourable conditions.
"Playing for India in itself is a pressure and especially spinners have more pressure and expectations on them this  time. Hopefully, we will stand upto the expectation," he said on the sidelines of a promotional event in Mumbai.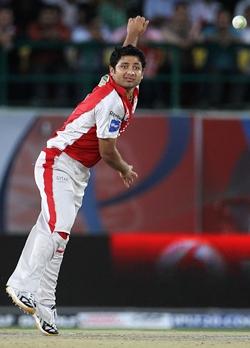 "Spinners specially have to handle pressure. They have done well for the team in the past and we are hoping to do well in the future as well," added Chawla, who is the third specialist spinner in the Indian squad after off-spinners Harbhajan Singh and R Ashwin.
The Uttar Pradesh bowler, who has played two Tests and 22 ODIs taking three and 28 wickets respectively, said he will relish the opportunity to play in front of the home crowd for the first time in ODIs.
"All the ODIs which I played before were in foreign countries. This World Cup I have got an opportunity to play on Indian wickets," he added. 
Meanwhile, India discard Robin Uthappa expressed confidence of a great performance in the quadrennial event by India. 
"We are playing in home and have done exceptionally well in the sub-continent. The preparations for the World Cup are in full swing and all players are fit," he said. 
Commenting on the ban on the three Pakistani players - Salman Butt, Mohammad Asif and Mohammad Aamer by the ICC after being found guilty of spot-fixing, he said, "It's a sorry state of affairs but it doesn't interfere in our part of world. We are doing well as a team and we are more united."