Team India maybe the favourites to win their second World Cup, what with the final being held at the Wankhede stadium on Saturday.
However, Sri Lanka, playing the final away from home despite being the co-hosts, aren't really worried. If anything, they aren't willing to buy the tag of the underdogs.
- Sreesanth likely to replace Nehra in final
On the eve of the final, the third for both the countries involved, Sri Lankan captain Kumar Sangakkara asserted his team's credentials without doubting the hosts.
"We're not underdogs as such," he explained, adding, "We're a pretty good unit. But we have to understand the fact that the Indians, over the last year or two, have been tagged as the favourites to win this World Cup.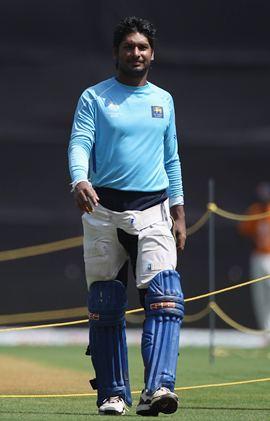 "I'm sure they will be looking at themselves as favourites too. We will just turn up tomorrow and play as well as we can." The captain said his team was fully prepared to deliver.
"I think both teams will use the occasion to lift themselves," said Sangakkara, adding, "For us tomorrow is going to be all about controlled aggression, not being too emotional about anything.
- Important we play to our potential, says Dhoni
"We will try to be clinical and stay grounded and in the moment, plan and execute them as much as possible." Asked if there was an additional pressure they lost in the final in 2007, Sangakkara replied in the negative and reiterated his side won't let such thing happen.
"It is hard to say," he quipped, adding, "Four years ago we were outdone by a fantastic innings from Adam Gilchrist.
"Hopefully, there won't be a repeat of that. But even if that happens, then we've got to have the aptitude to adjust and get back into the game."
Sachin Tendulkar is one short of a 100th international ton. And Mumbai (Wankhede) being his home ground will serve as a perfect setting.
The Master Blaster missed out in Mohali – getting dismissed for 85 – and should he fail yet again, it will be a huge disappointment for his home fans. Sangakkara said though his team will try to get Tendulkar out early, they don't intend to hinder the celebrations.
"We're not here to spoil anything," explained Sangakkara, adding, "We understand the importance of scoring runs in the final whether it is Sachin or anyone else.
"A 100 hundreds will be the first time anyone will be getting there. All of that adds to the expectation of a World Cup final." The Sri Lankan captain signed off hinting at his team's strategy for the final.
And it was a fairly simple one so to speak.
"We have to ensure that the Indian team doesn't score too many runs and if we bat first, we have to ensure that the team doesn't get close to our target," concluded Sangakkara.
Hopefully, Dhoni and Co have got the message.
Photograph: Getty Images