He may not top the popularity charts in Australia but Harbhajan Singh is the best spinner in the world as the feisty Indian offie's bowling is "unbelievable", says Jason Krejza.
Part of Australia's World Cup squad, off-spinner Krejza says his own bowling improves just by observing Harbhajan's technique.
"I think Harbhajan Singh is the best spinner in the world. The way he bowls is unbelievable," Krejza was quoted as saying by The Sydney Morning Herald.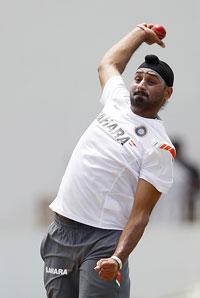 "Every time I watch him, I think my game improves. Watching how he sets his fields is quite interesting as well, because some of the fields we're up against I don't think we'd ever set ourselves. I think it's something I can use and experiment with," he explained.
Harbhajan has become a controversial figure in international cricket mostly because of his on-field showdowns with Australian cricketers.
The ugliest of rows that the Indian had was with all-rounder Andrew Symonds, who had accused Harbhajan of racially abusing him.
Interestingly, both Harbhajan and Symonds will now be part of the same dressing room when they play for the Mumbai Indians in the Indian Premier League this year.
Krejza said he is disappointed at not being picked by IPL franchises as he wanted to learn from Harbhajan during the stint.
Krejza said he wanted to be a part of the Mumbai Indians team so that he could "chew his (Harbhajan's) ear off the whole time and have an opportunity to bowl (with him)".