A record 183-run opening partnership between Shane Watson and Brad Haddin propelled Australia to a comfortable seven-wicket win over Canada in a Group A match of the World Cup in Bangalore on Wednesday.
Chasing 212 for victory, after Canada skipper Ashish Bagai elected to bat, Australia rode on Watson and Haddin's huge partnership to reach the target in 34.5 overs and extend their winning run in World Cups to 34 matches.
This was Australia's best opening stand in World Cups and also the best for the first wicket at the Chinnaswamy stadium.
The previous record for the opening wicket at the venue was held by India's Sachin Tendulkar and Sourav Ganguly, who put on 169 runs against New Zealand in 1997.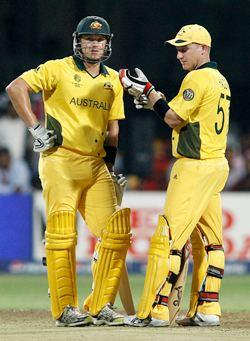 Watson smashed 94 off 90 balls, inclusive of nine boundaries and four sixes, while Haddin's 88 came off 84 deliveries and contained 11 hits to the fence and two over it.
It wasn't, however, a stroll in park for the Aussies before Watson and Haddin decided to break free, as they were made to work hard for runs. Had Canada not messed up in the field, things could have got a bit tougher for Ricky Ponting and his men.
Rizwan Cheema gave Watson an early life when he dropped a skier at mid-on off Harvir Baidwan in the second over of the innings. And then, Nitish Kumar, running in from long-on towards deep midwicket, spilled one off leg-spinner Balaji Rao. The beneficiary again, was Watson.
Baidwan and his partner Henry Osinde bowled to a decent line and length in their opening spells, but luck, probably, was not on their side.
Both Watson and Haddin didn't look flamboyant but were effective enough to deny the North Americans a breakthrough in the early part of the innings.
But, as the innings progressed, their partnership flourished, both finding the ropes at regular intervals, and then at will.
Haddin raised the tempo by lofting Rao over long-on for a six, and two overs later found the ropes twice off Osinde.
Haddin then picked Cheema for three boundaries in the 24th over. The first one was cheeky as it went off the edge, but the second boundary Haddin hit was an example of how make use of the batting powerplay.
With the field inside the circle, Haddin slapped Cheema on the up over covers and then flicked one backward square leg to take Australia closer to their target.
Watson, before that, pulled Cheema behind square and, after watching his partner dealing in boundaries for a while, launched into Rao for two massive sixes.
The burly all-rounder pulled a short one over deep midwicket and three deliveries later, slog-swept the leggie over wide long on for the second biggest six of the tournament.
The thrashing was not over as John Davison was sent packing over long-on, and then Watson meted out the same treatment to Hiral Patel's dibbly dobblers.
By the time Haddin got out to Davison and Watson fell to Baidwan, the issue was sealed, as Michael Clarke and Cameron White completed the formality without fuss.
Ponting's dismissal to Osinde, with Australia just five short of the
Target, was only for statistical purpose.
Patel was caviler in his approach as he took the Aussie attack by the scruff of its neck to score a 45-ball 54, before the Australia bowlers, led by Brett Lee (4/46) fought back to bundle out Canada in 45.4 overs.
Earlier, after Bagai elected to bat, Canada looked on course for a bigger total than what they actually ended up with, but inexperience cost the associate nation dear.
Canada started on a rousing note, with Patel going after the fearsome Australian fast bowling duo of Lee and Shaun Tait.
After Mike Hussey dropped John Davison at square leg in the first over, there was no looking back for them. Australia's fielding was not up to the mark as Watson dropped an easy one off Mitchell Johnson later.
Patel began the proceedings, which, in a matter of few minutes, turned out to be a brutal assault, with a slice through cover point off Lee, before doing a repeat two balls later. Soon a majestic drive followed through mid-off and Canada were up and running.
One of the fastest bowlers in the world, Tait was in for a shock as Patel walloped him over extra cover for a six, much to the delight of the handful of Canadian supporters.
Davison then got into the act, driving Lee through cover and then picking him over mid-wicket for boundaries.
A slow bouncer from Lee, however, cut short the 40-year-old's final hurray in international cricket. Davison was left in an awkward position as he gave a catch to wicket-keeper Brad Haddin.
The wicket of Davison failed to deter Patel's spirit as he continued to dominate the Australian attack.
Smarting from the treatment meted out to him at the start of the innings, Lee could just watch in amazement as Patel pulled him over deep square leg.
Mitchell Johnson's introduction in place of Tait hardly made any difference to Patel as he carted him over backward point for a boundary and then slashed the bowler over third man for the maximum. Johnson was bent on pitching it full and wide and Patel made use of the profligacy.    The Australians at this stage were scurrying for cover as Canada brought up their fifty in just 4.4 overs, the fastest in this World Cup. They bettered Bangladesh's effort, who got took a delivery more to get to the mark against India in the tournament opener.
Patel got to his fifty with a cheeky single to mid-off but an innings, which was studded with five boundaries and three sixes, came to end when Watson induced a thick edge for Johnson to complete a simple catch at third man.
Thanks to Patel's onslaught, Tait's first spell of two overs went for 17 runs, while Lee conceded a hopping 24 runs in his first 12 balls.
Bagai and Zubin Surkari carried on from where Patel had left but Australia were content to have checked the flow of runs, and Watson played a role towards that, giving away just 13 runs in a first spell of four overs.
The failure to get a wicket, however, did not help the Aussies as Bagai and Surkari brought up the half-century stand in good time for Canada to set the platform for a challenging total.
Continuing his good run with the willow, Bagai played well for his 55-ball 39 before a wide slash off Tait led to his downfall. They, somewhat, lost the way after that.
Jimmy Hansra didn't last long as Jason Kreja had him caught at long on to account for the off-spinner's second wicket of the tour.
Tait, meanwhile, was working up good pace, and had Surkari in all sorts of trouble when he hit the batsman near his abdomen. It worked as Surkari's middle stump was uprooted in the next ball.
Lee was not left far behind as he picked up his second wicket of the match by having Rizwan Cheema bowled in the next over.
The lower order tried their bit with debutant Karl Whatham and Harvir Baidwan playing cameos, but couldn't take Canada to a position they would have loved to be in after the enterprising start.