Monday's five-wicket win over Kenya is Canada's only second win in the World Cup history and captain Ashish Bagai said they will take heart from this victory for an improved show in their remaining matches of the mega-event against New Zealand and Australia.
Riding on a improved batting display, Canada defeated 2003 semi-finalist Kenya comfortably and opened their account in the points tally.
Their first World Cup win came way back in 2003 when they defeated Bangladesh by 60 runs.
And Bagai, who lead from his birth city with an unbeaten 64, expressed hope that his batsmen will take Monday's performance into the remaining tough matches.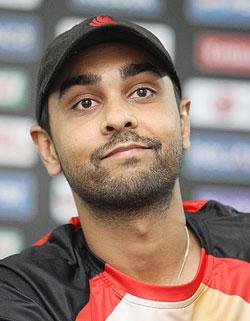 "We had a disappointing first half (in the World Cup) but we are looking forward to this win to get back on track and spark our second half," a visibly delighted Bagai said at the post-match press conference.
"This win gives us a bit of confidence. It was part of our goal. We had a disappointing batting display against Zimbabwe and Pakistan but I am pretty happy today. Our goal from here on is to get some consistent performance with the bat in the last two games," he said.
The Canada skipper also lauded Man-of-the-Match Henry Osinde (4-26) and Jimmy Hansra, together with whom he formed a match-winning 132-run fourth wicket stand.
"Henry (Osinde) did a fantastic job for us. We are also fortunate enough not to have run-rate pressure. Four-and-a-half runs per over was gettable on this wicket.
"Jimmy (Hansra) also played really well. He played his shots and relived the pressure. Jimmy did not play much for Canada but he had put in a lot of hardwork in the last nine-10 months. I hope he continues his performance in the next two games," Bagai said.
He also seemed delighted to guide his side home against Kenya in front of his 50-odd family members, including his parents and grandparents who were here to witness the encounter.
Osinde, however, refused to get carried away with his impressive performance with the ball on Monday.
"It was a whole team effort. I got back up from others as well. My plan was to bowl wicket-to-wicket and once the ball started swinging after first few overs it became lot more easy," Osinde said.
Kenya captain Jimmy Kamande was visibly an upset man after his side's agony continued in the game's flagship event.
"So far it is our most disappointing performance. We could have done much better against Canada. Hope we can improve from whatever we have done today," he said.
Kenya were also listless on the field dropping a few catches, which included a vital drop chance of Hansra by Seren Waters when the batsman was yet to open his account and it eventually proved costly for the African side. But Kamande was kind enough to look at the positives.
"These things happen in every game. We were 50 odd for five and it was a difficult situation to recover from but we did well. 230-240 would have been a good score but I won't blame anyone," said the skipper.
"Worst thing happened for us in the batting Powerplay when we lost our set batsmen. But we need to keep our spirits up and not to give up. We have two more matches, we would be going out to enjoy, play good cricket and you never know we can come up with a win," he said.
© Copyright 2021 PTI. All rights reserved. Republication or redistribution of PTI content, including by framing or similar means, is expressly prohibited without the prior written consent.