'Day five won't be easy to bat on, we have seen cracks are opening up.'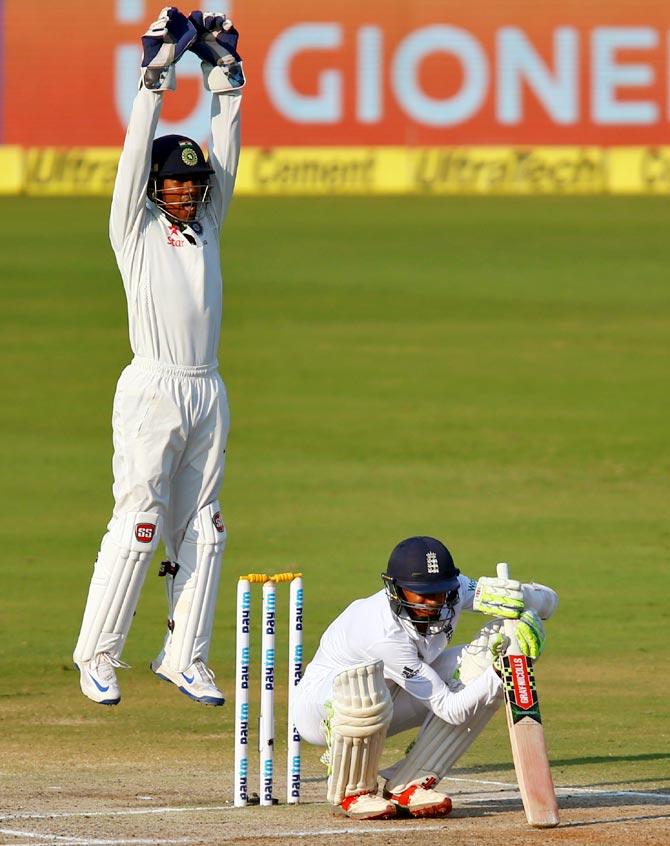 IMAGE: Wriddhiman Saha appeals for the wicket of Haseeb Hameed. Photograph: Reuters
Captain Alastair Cook and Haseeb Hameed may have frustrated the Indians with their dogged defence on Day 4 but Cheteshwar Pujara says it will be extremely tough for England to bat through the fifth and final of the second Test in Visakhapatnam.
- Scorecard

Cook and Hammed denied India any breakthrough until the 51st over as they chase an improbable 405-run target to win the second Test. However, both the England openers were dismissed late on the fourth day as India took complete control of the match.

"We are happy with the way things went. We got two wickets, we knew it would not be easy to get them out. We had our plans and ultimately we achieved (them). Possibly day five won't be easy to bat on. We have seen cracks are opening up," Pujara said at the end of Day 4, on Sunday.

Asked whether defensive play was the best option on this difficult pitch, he replied: "It's a bit difficult to take wickets if you play defensive. But we have seen there was some variable bounce. They have done well in a couple of sessions. But we are very clear about our plans. Things won't come easy for us, we know they are capable of batting well. We would not take things for granted. We will have to come hard at them."

At stumps, England were 87 for two and require 318 more runs on the final day for victory. Only four teams in the history of Test cricket have been able to chase down 400-plus.

"It's not easy chasing 400-plus in Indian conditions on day four and five. It's always difficult, not many teams have done it."

India wasted both of their DRS reviews in a space of six balls but Pujara said India need to take chances.

"It was a right call because we wanted to get wickets. There were a couple of of close calls and we thought of getting the breakthroughs. The close-in fielders also thought it was close. I think it was a right call. I'm happy with the way things went," he stated.

Asked whether the Indian team is clear about the use of DRS which made its debut for the first time in a Test series in India, Pujara said: "We all discussed how we want to take calls, as a fielding unit we knew when to opt for DRS. When batting we have a clear plan and both batsmen decide."

Young opener Haseeb played a gritty knock before being trapped by Ashwin with a ball that kept low. And Pujara claimed such things are bound to happen on Indian wickets, especially Day 4 onwards.

"When you play in India, you expect ball to keep low. He is a good player. He is really impressive. I don't think it's unfortunate, you expect balls to keep low in India. You have to adjust on day four especially when spinners will get turn and bounce and the odd ball will stay low. Overall, he is a good player and impressive."
© Copyright 2020 PTI. All rights reserved. Republication or redistribution of PTI content, including by framing or similar means, is expressly prohibited without the prior written consent.