Following the World Cup, companies queue up to sign Mithali Raj and Harmanpreet Kaur.
Viveat Susan Pinto reports.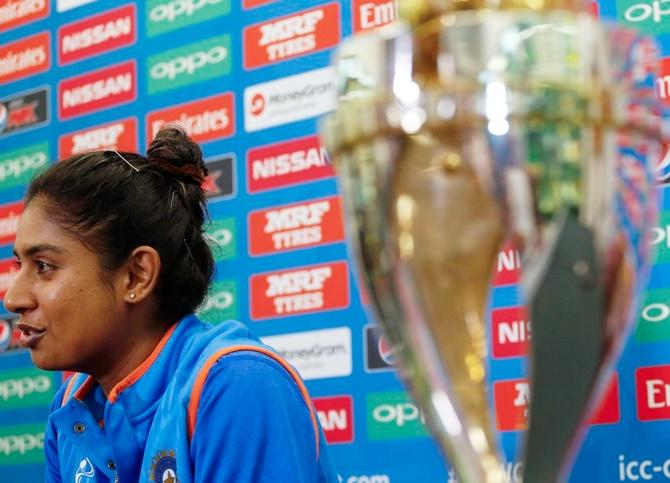 IMAGE: The World Cup was so near, yet so far for Skipper Mithali Raj. Photograph: ICC/Twitter
When 28-year-old Harmanpreet Kaur scored 171 off 115 balls in the women's cricket World Cup semi-final against Australia, she not only raised India's hope of winning the tournament, but also got companies interested in her to endorse brands.
The Indian women's cricket team let slip a historic title triumph against England, leaving Mithali Raj's giant-slaying side with the runners-up tag for a second time in the ICC World Cup, at Lord's on Sunday, July 23.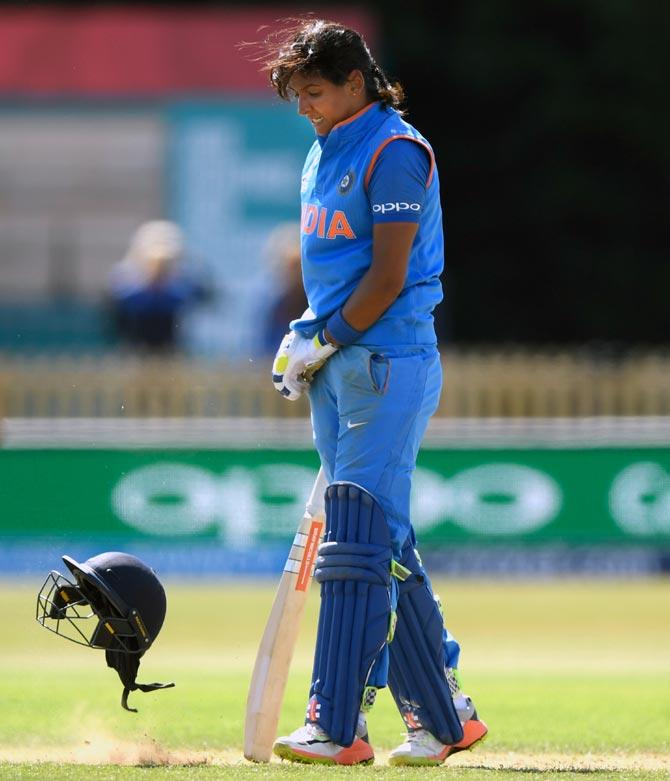 IMAGE: Harmanpreet Kaur acknowledges the cheers after reaching her century against Australia. Photograph: Stu Forster/Getty Images
Kaur, along with Captain Mithali Raj, 34, has emerged as the new favourite on the brand endorsement scene, thanks to her on-field exploits at the ICC World Cup in England.
Queries from companies ranging from telecom service providers (Reliance Jio), handset (Oppo/Vivo) and consumer goods makers have already begun to come, say officials from celebrity management agencies.
While Kaur has never endorsed a brand before, Raj, who is the all-time leading run-getter in women's one day internationals, is an endorser for local brands like Delux Sports Company, which manufactures cricket equipment in the country.
Raj has also appeared as a celebrity guest on shows like the Kapil Sharma Show on Sony and has a special Twitter emoji as part of the International Cricket Council's marketing of women's cricket.
Indranil Das Blah, founding partner at Kwan Entertainment and Marketing Solutions, a Mumbai-based entertainment and sports marketing company, said both Raj and Kaur bring their own unique strengths to the table.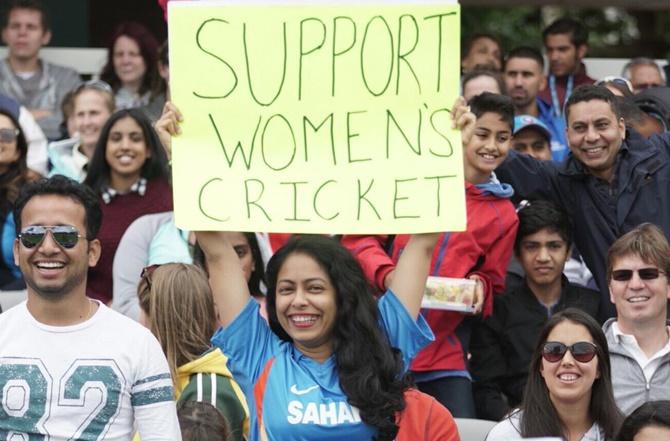 IMAGE: Indian fans at Lords. Photograph: ICC/Twitter
"One is a legend (Raj), who has worked her way up through the years, while the other (Kaur) has established herself as a power hitter," Blah said.
"In many respects, the two athletes empower women immensely with their presence, and brands will look to capitalise on these attributes," Blah added.
"Women's cricket is witnessing what many call a Chak De moment. This will also goad brands to quickly tie-up with Kaur and Raj, the most visible and successful women cricket players currently," Blah felt.
Shah Rukh Khan's 2007 film Chak De India about a former national hockey captain's road to redemption propelled the sport from the shadows into the limelight.
Corporate sponsors were willing to back the sport, thanks to how the film portrayed the trials and tribulations of a women's hockey squad.
The trend continues to this day.
While women's cricket has no such mainstream movies to tell its story, both ICC and the Board of Control for Cricket in India have been aggressively pushing the sport in recent years.
On Saturday, July 22, the BCCI announced that players of the women's cricket team in the World Cup would get Rs 50 lakh (Rs 5 million) each for their 'stupendous' performance.
The BCCI also plans to push women's cricket in the country after the World Cup, officials from the cricketing body said.
Estimates are Kaur and Raj will demand nothing less than Rs 10 lakh to Rs 15 lakh (Rs 1 million to Rs 1.5 million) per brand a day as endorsement fees, which is lower than what many other women athletes including badminton stars and Olympic medalists P V Sindhu and Saina Nehwal, and tennis star Sania Mirza currently charge.
Sources said Sindhu charged Rs 1.25 crore (Rs 12.5 million) a day from brands, while Nehwal and Mirza charge about Rs 65 to Rs 75 lakh (Rs 6.5 million to Rs 7.5 million) a day as endorsement fees.