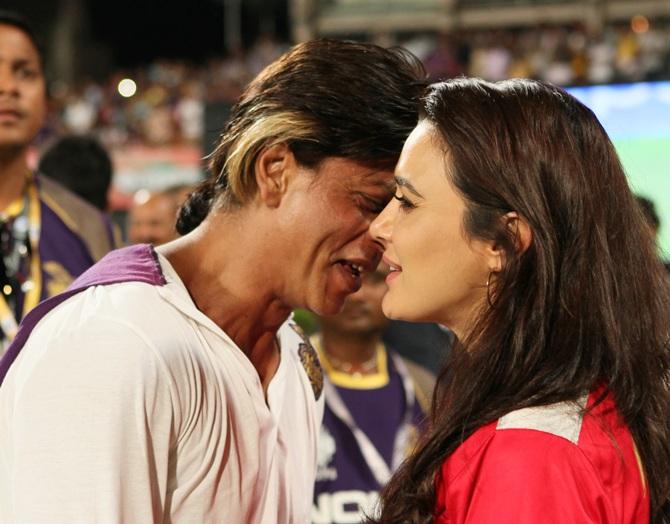 IMAGE: KKR owner Shah Rukh Khan in a conversation with Kings XI's Preity Zinta. Photograph: BCCI
Former India captain Sourav Ganguly, on Friday, batted for Twenty20 tournaments, saying without it, the game of cricket could not survive.
Replying to a specific question on cricketers playing continuous matches without any rest and also different formats, Ganguly told reporters, in Coimbatore, "Twenty20 is must for cricket. Without T-20, cricket cannot survive."
Asked about the Indian team's performance in South Africa, he said it has been a good tour for them so far.
They played very well in the one-day series, he said.
"I hope they win the match (T20) on Saturday," Ganguly said.
To another question on selection policy then and now, he said it was the same transparent one.
"It is the best of Indian selection policy."
On curtailing the tenure of coaches abruptly, he expressed hope that it may not happen in future.
Referring to World Cup winning skipper Mahendra Singh Dhoni, Ganguly said "Dhoni is very good in one-day matches and in T-20. It is very hard to get past MS."
He said Dhoni's contributions should be respected.
"You got to respect the contributions made by him and others too will get an opportunity to shine."
On the fitness of Indian cricketers, Ganguly said the Indian team is on par with international players.
Asked to compare Indian men and women cricket teams, he said "men are far better."
"Women are doing exceptionally well in cricket. Have you seen anyone hit bigger sixes than Harmanpreet Kaur? However, the men are better," he quipped.
© Copyright 2022 PTI. All rights reserved. Republication or redistribution of PTI content, including by framing or similar means, is expressly prohibited without the prior written consent.