Winds of change mean windfall for women players (reuters)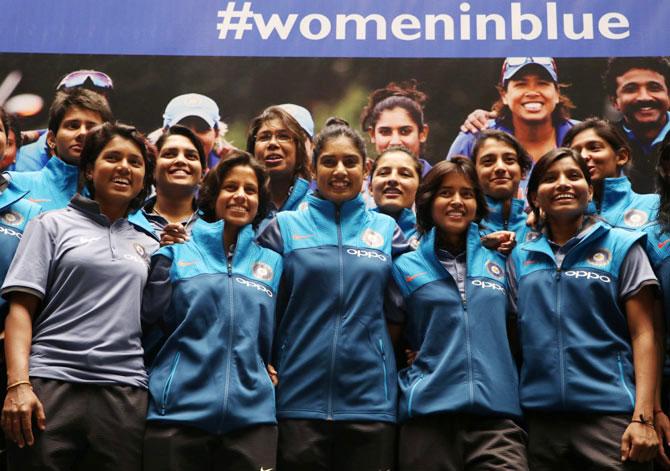 IMAGE: Captain Mithali Raj with the Indian women's team. Photograph: Hitesh Harisinghani/Rediff.com
For the world's women cricketers, financial parity with their male counterparts remains a distant dream but India's decision to boost the pay packets of its top female players is further evidence that the winds of change are blowing through the game.
India women's captain Mithali Raj and three of her team mates became the world's richest women cricketers overnight when the country's board unveiled a new set of annual contracts for its elite players last week.
The more than threefold-increase to five million rupees (55,236 pounds) a year means Raj, Jhulan Goswami, Harmanpreet Kaur and Smriti Mandhana were catapulted above their contracted counterparts in Australia and England in the pay stakes.
Cricket Australia (CA) last year hiked female player payments from A$7.5 million ($5.84 million) to A$55.2 million in the biggest pay rise in the history of women's sport Down Under.
England introduced a new two-year contract in 2016, offering an annual retainer fee of 50,000 pounds ($69,655) to their elite women cricketers.
Holly Colvin, the International Cricket Council's (ICC) Women Cricket Officer, told Reuters that the contracts were a step in the right direction.
"We think it's a great step that more women's players are being rewarded with professional contracts and are able to focus solely on the game that they love," Colvin said via email.
"Looking at the Indian women's contracts in isolation, they have more than tripled for top women's players in the space of three years, which is incredible."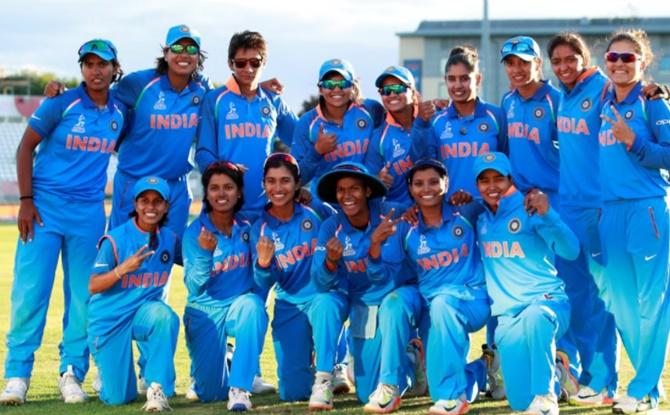 IMAGE: India celebrate winning their semi final against Australia during the World Cup. Photograph: Jason Cairnduff/Reuters
Colvin said the success of the Women's Cricket World Cup in 2017, which was watched by a record-breaking 182 million people, was testament to the improving health of the women's game.
"The Women's World Cup has put cricket firmly on the map as a leading sport for women and girls across the globe," added the former England spinner.
Despite their heart-breaking loss to England in the July 23 final at Lord's, the Indian women were feted on their return.
Raj remains the face of Indian women's cricket but has been joined by a new set of stars, including Harmanpreet Kaur, who conjured up one of the greatest ODI knocks in women's cricket when she belted 171 not out in the semi-final against Australia.
Despite the improved contracts, many on social media were quick to point out that women in the top grade will earn half of what Kedar Jadhav, who is in the C grade for men, takes home.
Cricket historian Boria Majumdar told Reuters there was a long way to go before parity was achieved, but at least there was a realisation that action had to be taken.
"In an age of gender equality, there is still a lot to be done in this regard," Majumdar said.
"The other way to look at it is perhaps more reasonable. There has been a significant jump in women's contracts, close to 300 per `cent, and is a significant step forward."
"The men's game is still more marketable and more attractive for sponsors ... It is a process but the good thing is the drive towards equality has finally started."
Majumdar, whose new book "Eleven Gods and a Billion Indians" will be out next month, said the profile of women cricketers had risen significantly."
"Harman has a CEAT bat contract, Mithali is on billboards and fashion magazine covers, Jhulan has a biopic to her name being made ... Had the profile not risen, none of these would have happened."
"Also, if you see their social media accounts. you will see how they have seriously large fan followings."
There have been growing calls for a domestic Twenty20 tournament for women's teams and the Board of Control for Cricket in India (BCCI) is considering exhibition matches during this year's Indian Premier League (IPL) before taking the plunge.
The ICC's Colvin, while stressing the need for a balanced schedule, agreed that cricket's shortest format could take the women's game to the next level.
"T20 Leagues are certainly an asset to showcase the game to a local fan base," she said. "By attracting the best players in the world and fostering new talent they can only be good for global growth."
The ICC's 'bold' decision to broadcast all the matches of last year's Women's World Cup paid off and it was important to carry the momentum forward, she added.
"With all three of the next ICC World T20s being stand-alone for women, there is a brilliant opportunity for the ICC to give women's cricket the dedicated exposure it needs to build fans of the game in its own right," she said.