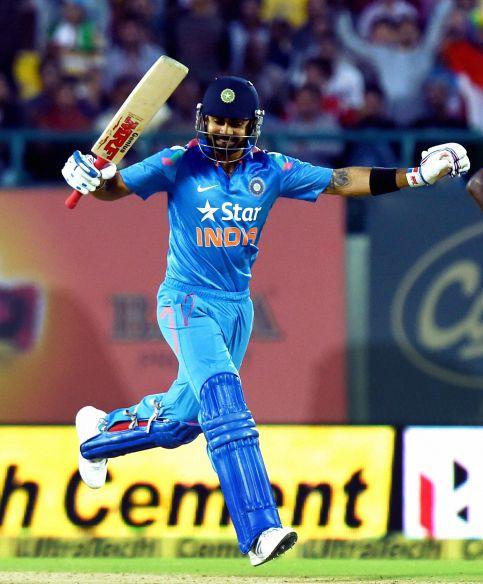 Virat Kohli celebrates after completing his century. Photograph: PTI
Coming back to form with a belligerent century against the West Indies, Virat Kohli said that he is getting used to the burden of expectations from people all around.
Kohli, who followed up his 62-run performance in the Delhi ODI with a 114-ball 127 to help India post 330 for six and later win the match by 59 runs, is happy to return to form.
"First run scored in Delhi felt like my first run for India. The kind of cricket I've played in the last four five years, I guess people expect runs from me everytime. I guess it's all about clearing your mind and being positive and take my time and not rush into it. I'm someone who relies on visualisation a lot. I visualised myself playing against the bowlers the next day. I'm a confident player and that works for me," said Kohli after receiving the man-of-the-match award.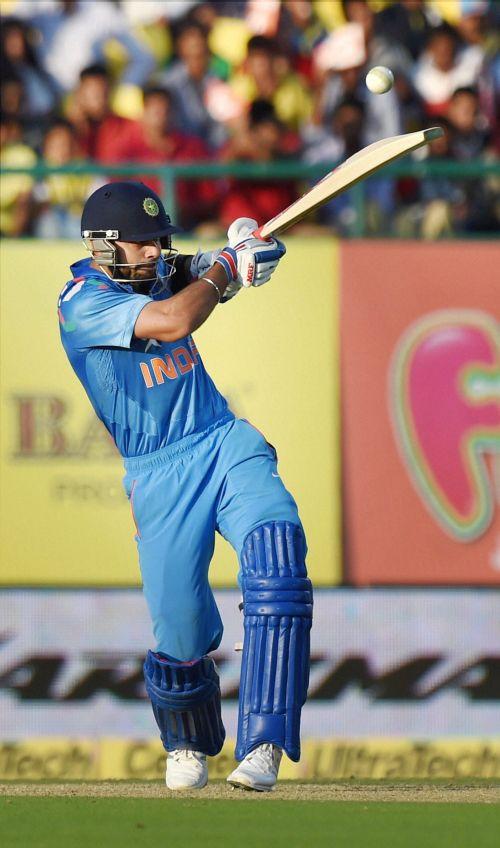 Virat Kohli hits one to the boundary. Photograph: PTI
Kohli along with Raina (71) and Rahane (68) made batting look easy on a pitch that was expected to behave differently. Kohli showed his class on way to reaching his first hundred across formats since February, following which he experienced the first lean patch of his career. With the century, he also became the fastest to score 20 hundreds in ODIs.
"Some time off helped to forget the bad phase, hopefully I can build on it. It was more mental than physical, had to do a bit of alteration with the way I was setting up. Had some memorable partnerships with Raina (Suresh), starting from that 337 chase in Hobart.
"The idea is me, him and MS (Dhoni) bat the team through in the middle order and hopefully we can take this form through to the world cup and it will be lethal for us and dangerous for other teams. Not being overexcited, trying to stay as calm as possible and that's what I learned in the last two months," said the top-order batsman.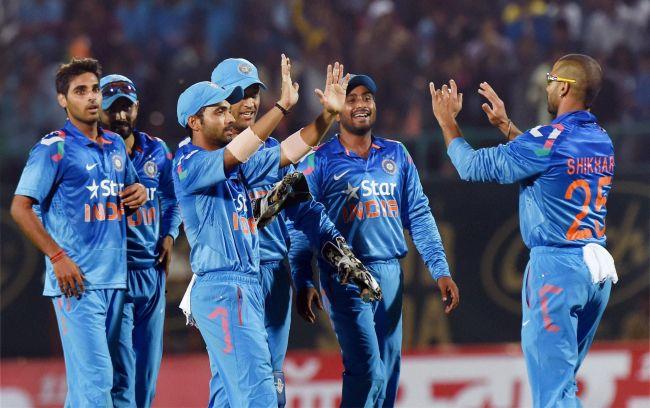 Bhuvneshwar Kumar celebrates after picking up a wicket. Photograph: PTI
India did well to comeback after their 124-run loss in the opening ODI, to clinch the aborted series 2-1. Mahendra Singh Dhoni and company quickly learnt from their mistakes and the skipper was all praise for Virat and Bhuvneshwar Kumar.
"Virat played well in the last game, continued from there and it's important he gets back into good nick. Took his time, otherwise he is naturally aggressive. I thought he would usually attack the spinners, but he took his time and built his innings. A few more runs would have been good, when we were going back to the hotel yesterday, we thought we would want 350-360. But we did well with the new ball, Bhuvi (Bhuvneshwar Kumar) bowled really well," said Dhoni.
Akshar Patel. Photograph: BCCI
Young left-arm spinner Akshar Patel also had a bearing on the match as the Gujarat player returned with impressive figures of 2 for 26 in 10 overs. Dhoni was impressed with what he saw of the young man.
"First time I've seen him [Akshar] bowl and kept to him. Very consistent, not someone who gets hit too easily. Tried to use him in all manner of situations. Very happy with his bowling, despite the dew he bowled really well. Built pressure with him," said Dhoni.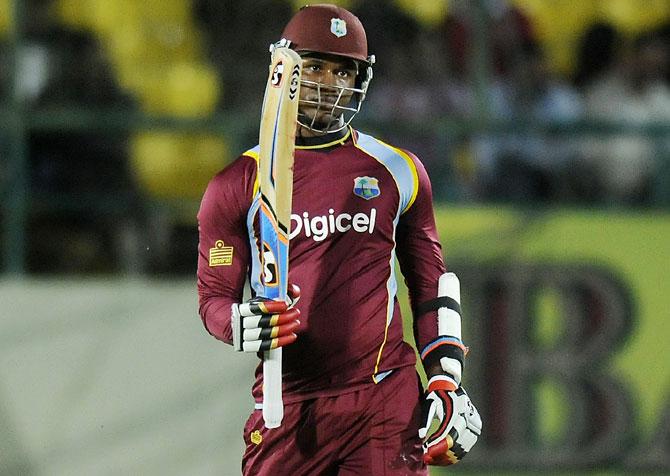 Marlon Samuels reacts after completing his century. Photograph: BCCI
West Indies though took a bit of positive with their loss with Marlon Samuels hitting a 106-ball 112 in their 271-run score in 48.1 overs. Skipper Dwayne Bravo credited the team to play in such trying times when there was so much off-the-field.
"[Tough] Not only this morning, tough so far on the tour. Credit to the team, despite the situation off the field we played our hearts out. Want to congratulate Samuels on another hundred. To the team, coaching staff, everyone stuck together. Thanks to them. Thanks for coming out, people in India. We look forward to representing West Indies sometime," said Dwayne Bravo.
"Unlucky for us Virat got his form back against us. But we wish him the best. Can't fault the effort of our boys," he added.