In-form Virat Kohli leads the MVP rankings in the IPL with a MVPI of 1062 but David Warner, enjoying a sensational run with the bat and currently at third with a MVPI of 878, has the RCB captain in his sights. Srinivas Bhogle and Purnendu Maji present the latest edition of Rediff.com's Most Valuable Players ratings ahead of Sunday's IPL final.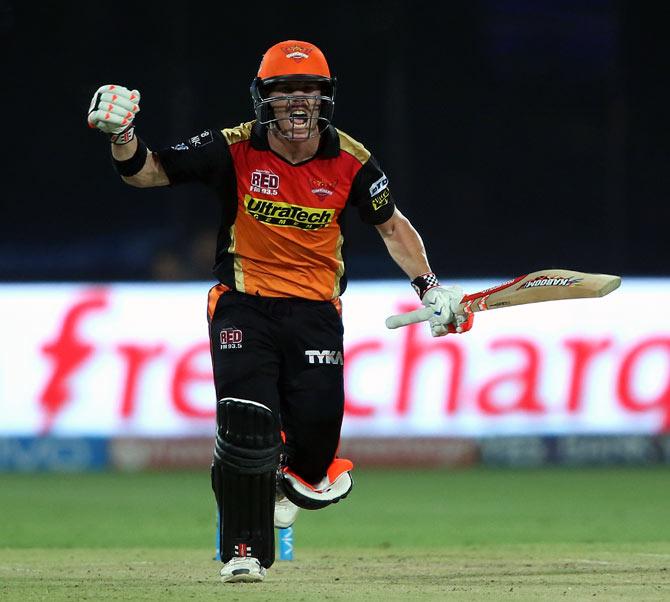 IMAGE: Sunrisers Hyderabad captain David Warner celebrates winning the Qualifier 2 match against Gujarat Lions. Photograph: BCCI
Virat Kohli looks likely to finish as the most valuable player of the ongoing ninth edition of Indian Premier League, but Sunrisers Hyderabad captain David Warner has been very much the unsung hero and could spring an unexpected surprise.

Royal Challengers Bangalore have dominated in the second half of the IPL, but it isn't just Kohli or AB de Villiers. All-rounder Shane Watson is very much in the mix (MVPI of 529), as has been the young K L Rahul (499).

The table below indicates the MVPI and the PVI for the top 100 players in IPL 9 ahead of Sunday's final between RCB and Sunrisers Hyderabad.
| | | | | | | | | | | | | | | |
| --- | --- | --- | --- | --- | --- | --- | --- | --- | --- | --- | --- | --- | --- | --- |
| Rank | Player's Name | Team | From | Run | Top Score | 6's | Str Rate | W | Eco | M | MVPI | Money Offered (US $) | PVI (US$ per run) | PVI (INR per run) |
| 1 | Virat Kohli | RCB | IND | 919 | 113 | 36 | 151.9 | 0 | 13 | 15 | 1062 | 1865000 | 1756 | 117702 |
| 2 | AB de Villiers | RCB | SA | 682 | 129 | 37 | 170.1 | 0 | - | 15 | 905 | 1119000 | 1236 | 82873 |
| 3 | David Warner | SH | AUS | 779 | 93 | 28 | 149.2 | 0 | - | 16 | 878 | 820600 | 935 | 62642 |
| 4 | Chris Morris | DD | SA | 195 | 82 | 12 | 178.9 | 13 | 7 | 12 | 566 | 1044400 | 1845 | 123675 |
| 5 | Shane Watson | RCB | AUS | 168 | 36 | 11 | 134.4 | 20 | 8.1 | 15 | 529 | 1417400 | 2679 | 179584 |
| 6 | Robin Uthappa | KKR | IND | 394 | 72 | 8 | 136.3 | 0 | - | 15 | 519 | 746000 | 1437 | 96339 |
| 7 | Quinton de Kock | DD | SA | 445 | 108 | 13 | 136.1 | 0 | - | 13 | 515 | 522200 | 1014 | 67961 |
| 8 | Rohit Sharma | MI | IND | 489 | 85 | 16 | 132.9 | 0 | - | 14 | 511 | 1865000 | 3650 | 244618 |
| 9 | Dwayne Smith | GL | WI | 324 | 73 | 16 | 146.6 | 8 | 8.5 | 12 | 500 | 343160 | 686 | 46000 |
| 10 | Lokesh Rahul | RCB | IND | 386 | 68 | 16 | 147.3 | 0 | - | 13 | 499 | 149200 | 299 | 20040 |
| 11 | Andre Russell | KKR | WI | 188 | 39 | 15 | 164.9 | 15 | 8 | 12 | 497 | 89520 | 180 | 12072 |
| 12 | Bhuvneshwar Kumar | SH | IND | 42 | 21 | 1 | 161.5 | 23 | 7.5 | 16 | 488 | 634100 | 1299 | 87090 |
| 13 | Ajinkya Rahane | RPS | IND | 480 | 74 | 9 | 126.6 | 0 | - | 14 | 487 | 1417400 | 2910 | 195072 |
| 14 | Gautam Gambhir | KKR | IND | 501 | 90 | 6 | 121.9 | 0 | - | 15 | 458 | 1865000 | 4072 | 272926 |
| 15 | Shikhar Dhawan | SH | IND | 473 | 82 | 7 | 117.1 | 0 | - | 16 | 443 | 1865000 | 4210 | 282167 |
| 16 | Krunal Pandya | MI | IND | 237 | 86 | 13 | 191.1 | 6 | 7.6 | 12 | 434 | 298400 | 688 | 46083 |
| 17 | Yusuf Pathan | KKR | IND | 361 | 63 | 13 | 145.6 | 1 | 5.5 | 15 | 434 | 484900 | 1117 | 74885 |
| 18 | Murali Vijay | KXI | IND | 453 | 89 | 10 | 124.5 | 0 | 8 | 14 | 429 | 447600 | 1043 | 69930 |
| 19 | Suresh Raina | GL | IND | 399 | 75 | 10 | 127.9 | 0 | 8.2 | 15 | 424 | 1865000 | 4399 | 294811 |
| 20 | Moises Henriques | SH | AUS | 178 | 31 | 6 | 116.3 | 12 | 7.7 | 16 | 405 | 149200 | 368 | 24691 |
| 21 | Aaron Finch | GL | AUS | 393 | 74 | 11 | 131.4 | 0 | - | 13 | 399 | 149200 | 374 | 25063 |
| 22 | Dinesh Karthik | GL | IND | 335 | 53 | 3 | 125.9 | 0 | - | 16 | 387 | 343160 | 887 | 59432 |
| 23 | Brendon McCullum | GL | NZ | 354 | 60 | 16 | 135.1 | 0 | - | 16 | 375 | 1119000 | 2984 | 200000 |
| 24 | MS Dhoni | RPS | IND | 284 | 64 | 14 | 135.2 | 0 | - | 14 | 368 | 1865000 | 5068 | 339674 |
| 25 | Dwayne Bravo | GL | WI | 99 | 22 | 1 | 120.7 | 17 | 8.8 | 15 | 363 | 596800 | 1644 | 110193 |
| 26 | Dhawal Kulkarni | GL | IND | 27 | 10 | 0 | 168.8 | 18 | 7.4 | 14 | 357 | 298400 | 836 | 56022 |
| 27 | Karun Nair | DD | IND | 357 | 83 | 6 | 120.2 | 0 | - | 14 | 343 | 596800 | 1740 | 116618 |
| 28 | Mustafizur Rahman | SH | BAN | 0 | 0 | 0 | - | 16 | 6.7 | 15 | 336 | 208880 | 622 | 41667 |
| 29 | Yuzvendra Chahal | RCB | IND | 0 | 0 | 0 | - | 20 | 8.1 | 12 | 331 | 14920 | 45 | 3021 |
| 30 | Axar Patel | KXI | IND | 111 | 36 | 8 | 144.2 | 13 | 8.1 | 14 | 330 | 111900 | 339 | 22727 |
| 31 | Ambati Rayudu | MI | IND | 334 | 65 | 12 | 120.1 | 0 | - | 13 | 321 | 596800 | 1859 | 124611 |
| 32 | Wriddhiman Saha | KXI | IND | 270 | 56 | 1 | 127.4 | 0 | - | 12 | 321 | 328240 | 1023 | 68536 |
| 33 | Steven Smith | RPS | AUS | 270 | 101 | 8 | 153.4 | 0 | - | 8 | 313 | 820600 | 2622 | 175719 |
| 34 | Manish Pandey | KKR | IND | 248 | 52 | 9 | 135.5 | 0 | - | 12 | 304 | 253640 | 834 | 55921 |
| 35 | Sandeep Sharma | KXI | IND | 8 | 5 | 0 | 88.9 | 15 | 7.3 | 14 | 302 | 126820 | 420 | 28146 |
| 36 | Jos Buttler | MI | ENG | 255 | 41 | 11 | 138.6 | 0 | - | 14 | 301 | 566960 | 1884 | 126246 |
| 37 | Mitchell McClenaghan | MI | NZ | 34 | 20 | 3 | 147.8 | 17 | 8.2 | 14 | 300 | 44760 | 149 | 10000 |
| 38 | Ravindra Jadeja | GL | IND | 191 | 36 | 4 | 107.9 | 8 | 7.7 | 15 | 300 | 1417400 | 4725 | 316667 |
| 39 | Thisara Perera | RPS | SL | 150 | 34 | 11 | 161.3 | 9 | 9.8 | 12 | 295 | 149200 | 506 | 33898 |
| 40 | Marcus Stoinis | KXI | AUS | 146 | 52 | 4 | 135.2 | 8 | 8.4 | 7 | 274 | 82060 | 299 | 20073 |
| 41 | Mohit Sharma | KXI | IND | 32 | 15 | 1 | 123.1 | 13 | 8.4 | 14 | 262 | 969800 | 3702 | 248092 |
| 42 | Jasprit Bumrah | MI | IND | 8 | 6 | 0 | 72.7 | 15 | 7.8 | 14 | 255 | 179040 | 702 | 47059 |
| 43 | Sanju Samson | DD | IND | 291 | 60 | 8 | 112.4 | 0 | - | 14 | 253 | 626640 | 2477 | 166008 |
| 44 | Carlos Brathwaite | DD | WI | 83 | 34 | 8 | 218.4 | 7 | 8.2 | 8 | 252 | 626640 | 2487 | 166667 |
| 45 | Amit Mishra | DD | IND | 4 | 3 | 0 | 28.6 | 13 | 7.5 | 14 | 249 | 14920 | 60 | 4016 |
| 46 | Harbhajan Singh | MI | IND | 92 | 45 | 2 | 109.5 | 9 | 8 | 14 | 248 | 820600 | 3309 | 221774 |
| 47 | Barinder Sran | SH | IND | 4 | 2 | 0 | 100 | 13 | 8 | 13 | 243 | 179040 | 737 | 49383 |
| 48 | Ravichandran Ashwin | RPS | IND | 41 | 29 | 1 | 107.9 | 10 | 7.3 | 14 | 236 | 1119000 | 4742 | 317797 |
| 49 | Jean-Paul Duminy | DD | SA | 191 | 49 | 3 | 122.4 | 2 | 7.9 | 10 | 235 | 328240 | 1397 | 93617 |
| 50 | Piyush Chawla | KKR | IND | 27 | 11 | 0 | 103.8 | 11 | 7.7 | 12 | 225 | 634100 | 2818 | 188889 |
| 51 | Glenn Maxwell | KXI | AUS | 179 | 68 | 8 | 144.4 | 0 | 8.6 | 11 | 223 | 895200 | 4014 | 269058 |
| 52 | David Miller | KXI | SA | 161 | 31 | 4 | 122.9 | 0 | - | 14 | 219 | 1865000 | 8516 | 570776 |
| 53 | Tim Southee | MI | NZ | 30 | 25 | 2 | 157.9 | 9 | 7.7 | 11 | 218 | 373000 | 1711 | 114679 |
| 54 | Sunil Narine | KKR | WI | 7 | 4 | 0 | 53.8 | 11 | 7.1 | 11 | 218 | 1417400 | 6502 | 435780 |
| 55 | Chris Gayle | RCB | WI | 151 | 73 | 13 | 134.8 | 2 | 5.6 | 9 | 218 | 1417400 | 6502 | 435780 |
| 56 | Yuvraj Singh | SH | IND | 198 | 44 | 11 | 126.9 | 0 | 8.4 | 9 | 213 | 1044400 | 4903 | 328638 |
| 57 | Faf du Plessis | RPS | SA | 206 | 69 | 9 | 127.2 | 0 | - | 6 | 212 | 596800 | 2815 | 188679 |
| 58 | Adam Zampa | RPS | AUS | 0 | 0 | 0 | 0 | 12 | 6.8 | 5 | 212 | 44760 | 211 | 14151 |
| 59 | Kieron Pollard | MI | WI | 207 | 51 | 16 | 143.8 | 0 | 14 | 13 | 209 | 1119000 | 5354 | 358852 |
| 60 | Parthiv Patel | MI | IND | 177 | 81 | 4 | 116.4 | 0 | - | 10 | 207 | 208880 | 1009 | 67633 |
| 61 | Rishabh Pant | DD | IND | 198 | 69 | 6 | 130.3 | 0 | - | 10 | 205 | 283480 | 1383 | 92683 |
| 62 | Shakib Al Hasan | KKR | BAN | 114 | 66 | 5 | 107.5 | 5 | 7.8 | 10 | 204 | 417760 | 2048 | 137255 |
| 63 | Deepak Hooda | SH | IND | 141 | 34 | 5 | 122.6 | 3 | 7.5 | 16 | 204 | 626640 | 3072 | 205882 |
| 64 | Saurabh Tiwary | RPS | IND | 170 | 57 | 4 | 120.6 | 0 | - | 10 | 200 | 104440 | 522 | 35000 |
| 65 | Suryakumar Yadav | KKR | IND | 182 | 60 | 5 | 127.3 | 0 | - | 15 | 197 | 104440 | 530 | 35533 |
| 66 | Zaheer Khan | DD | IND | 6 | 4 | 0 | 46.2 | 10 | 7.7 | 12 | 196 | 596800 | 3045 | 204082 |
| 67 | Ashok Dinda | RPS | IND | 0 | 0 | 0 | - | 11 | 7.6 | 9 | 189 | 74600 | 395 | 26455 |
| 68 | Praveen Kumar | GL | IND | 24 | 15 | 0 | 92.3 | 9 | 7.8 | 16 | 176 | 522200 | 2967 | 198864 |
| 69 | Rajat Bhatia | RPS | IND | 34 | 21 | 2 | 170 | 6 | 7.2 | 10 | 173 | 89520 | 517 | 34682 |
| 70 | Sreenath Aravind | RCB | IND | 0 | 0 | 0 | - | 9 | 7.4 | 8 | 171 | 338684 | 1981 | 132749 |
| 71 | Sachin Baby | RCB | IND | 101 | 33 | 4 | 146.4 | 2 | 4.8 | 10 | 167 | 14920 | 89 | 5988 |
| 72 | Naman Ojha | SH | IND | 129 | 37 | 5 | 96.3 | 0 | - | 16 | 167 | 74600 | 447 | 29940 |
| 73 | Gurkeerat Singh Mann | KXI | IND | 113 | 51 | 3 | 131.4 | 2 | 7.8 | 7 | 164 | 193960 | 1183 | 79268 |
| 74 | Manan Vohra | KXI | IND | 161 | 51 | 3 | 122.9 | 0 | - | 7 | 159 | 596800 | 3753 | 251572 |
| 75 | Ashish Nehra | SH | IND | 1 | 1 | 0 | 100 | 9 | 7.7 | 8 | 158 | 820600 | 5194 | 348101 |
| 76 | Hashim Amla | KXI | SA | 157 | 96 | 4 | 131.9 | 0 | - | 6 | 155 | 149200 | 963 | 64516 |
| 77 | Umesh Yadav | KKR | IND | 9 | 7 | 1 | 180 | 10 | 9 | 9 | 149 | 387920 | 2603 | 174497 |
| 78 | Morne Morkel | KKR | SA | 1 | 1 | 0 | 100 | 10 | 8.4 | 10 | 148 | 417760 | 2823 | 189189 |
| 79 | Shaun Marsh | KXI | AUS | 159 | 56 | 4 | 118.7 | 0 | - | 6 | 143 | 328240 | 2295 | 153846 |
| 80 | Iqbal Abdulla | RCB | IND | 33 | 33 | 1 | 132 | 6 | 8.5 | 7 | 138 | 14920 | 108 | 7246 |
| 81 | Usman Khawaja | RPS | AUS | 127 | 30 | 3 | 127 | 0 | - | 6 | 125 | 149200 | 1194 | 80000 |
| 82 | Kuldeep Yadav | KKR | IND | 0 | 0 | 0 | - | 6 | 8.3 | 3 | 120 | 59680 | 497 | 33333 |
| 83 | Chris Jordan | RCB | ENG | 0 | 0 | 0 | - | 8 | 8.9 | 8 | 119 | 149200 | 1254 | 84034 |
| 84 | Eoin Morgan | SH | ENG | 123 | 51 | 4 | 117.1 | 0 | - | 7 | 118 | 223800 | 1897 | 127119 |
| 85 | Nitish Rana | MI | IND | 104 | 70 | 8 | 138.7 | 0 | 3 | 4 | 113 | 14920 | 132 | 8850 |
| 86 | Sam Billings | DD | ENG | 88 | 54 | 4 | 137.5 | 0 | - | 5 | 111 | 44760 | 403 | 27027 |
| 87 | Kane Williamson | SH | NZ | 124 | 50 | 0 | 101.6 | 0 | 7 | 6 | 106 | 89520 | 845 | 56604 |
| 88 | Kane Richardson | RCB | AUS | 1 | 1 | 0 | 100 | 7 | 9.7 | 4 | 105 | 298400 | 2842 | 190476 |
| 89 | Stuart Binny | RCB | IND | 54 | 21 | 3 | 168.8 | 1 | 7.9 | 13 | 103 | 298400 | 2897 | 194175 |
| 90 | Murugan Ashwin | RPS | IND | 0 | 0 | 0 | 0 | 7 | 8.5 | 10 | 98 | 671400 | 6851 | 459184 |
| 91 | James Faulkner | GL | AUS | 77 | 32 | 0 | 130.5 | 2 | 9.8 | 7 | 96 | 820600 | 8548 | 572917 |
| 92 | Sarfaraz Khan | RCB | IND | 66 | 35 | 4 | 212.9 | 0 | - | 5 | 91 | 74600 | 820 | 54945 |
| 93 | Bipul Sharma | SH | IND | 46 | 27 | 5 | 209.1 | 2 | 8.7 | 6 | 91 | 14920 | 164 | 10989 |
| 94 | Ben Cutting | SH | AUS | 26 | 18 | 2 | 136.8 | 3 | 6.3 | 3 | 91 | 74600 | 820 | 54945 |
| 95 | Mitchell Marsh | RPS | AUS | 7 | 7 | 0 | 63.6 | 4 | 5 | 3 | 90 | 716160 | 7957 | 533333 |
| 96 | Shivil Kaushik | GL | IND | 0 | 0 | 0 | 0 | 6 | 8.3 | 7 | 87 | 14920 | 171 | 11494 |
| 97 | Vinay Kumar | MI | IND | 13 | 12 | 1 | 108.3 | 3 | 7.1 | 3 | 82 | 417760 | 5095 | 341463 |
| 98 | Imran Tahir | DD | SA | 5 | 5 | 0 | 71.4 | 5 | 8.6 | 4 | 71 | 149200 | 2101 | 140845 |
| 99 | Brad Hogg | KKR | AUS | 0 | 0 | 0 | - | 4 | 8.9 | 5 | 70 | 74600 | 1066 | 71429 |
| 100 | Kevin Pietersen | RPS | ENG | 73 | 37 | 3 | 119.7 | 0 | - | 4 | 69 | 522200 | 7568 | 507246 |
(This data has been updated after the conclusion of the Qualifier 2 match between Sunrisers Hyderabad and Gujarat Lions on May 27, 2016.)