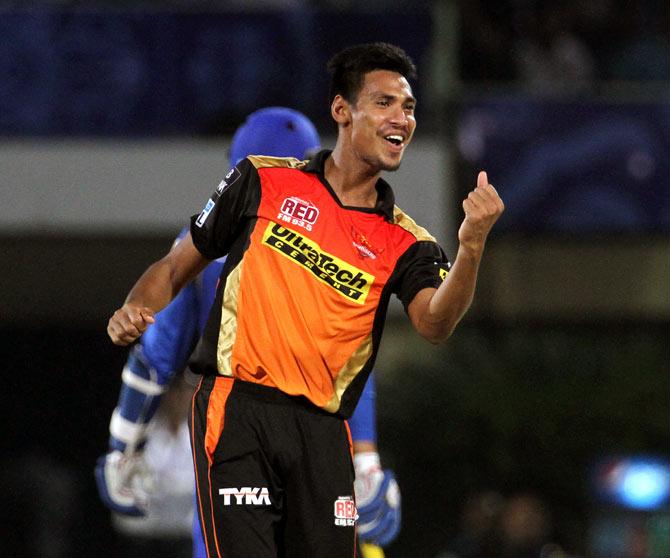 IMAGE: Mustafizur Rahman celebrates. Photograph: BCCI
Sunrisers Hyderabad's left-arm seamer Mustafizur Rahman is hoping to get his trademark cutters right in the Indian Premier League match against Kolkata Knight Riders, in Kolkata, on Saturday.
Mustafizur, who played a key role in Sunrisers' triumphant campaign last year, looked ordinary against Mumbai Indians at the Wankhede Stadium, where he conceded 34 runs in 2.4 overs.
The Bangladeshi said the conditions were not favourable to him in Mumbai.
"It depends on the wicket. If the wicket is dry, it helps. It will be a day game so there are chances of getting it right tomorrow. I was not able to pitch in the right areas in Mumbai," he said.
"I always try to give my best for the team. We have a good bowling side so it will help us if the wicket is good. For me, it's helpful, if the ball turns on wicket."
Mustafizur hopes to dine with his senior team-mate Shakib Al Hasan on the Bengali New Year.
The 21-year-old hopes to relish some traditional rice and fish curry after the match.
"I met him after coming last evening. We will plan out if he's there tomorrow. I've not had rice and fish after coming here, and hopefully, we will have that dinner tomorrow," Mashrafe said during an interaction.
"I have not celebrated Poila Boisakh (Bengali New Year) for last four-five years as I've been busy with matches or practice. I don't think I will miss home much."