'We have got to see tomorrow where he actually bats. It will either be No 3 or 4. I don't know where the captain wants to bat. That will be the most important question'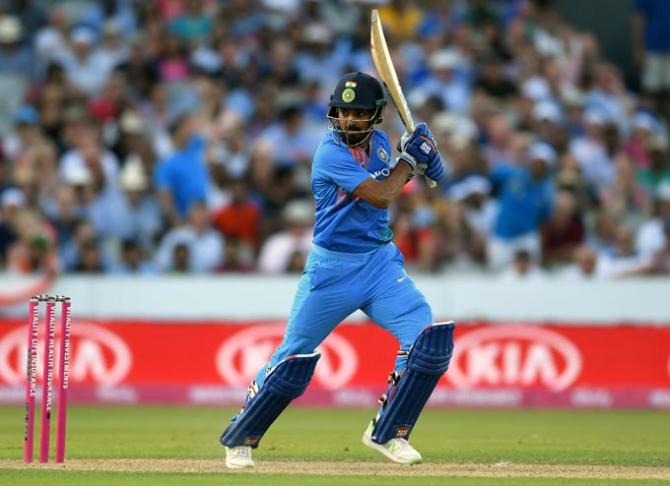 KL Rahul has made a case for himself in the shorter formats with a string of good scores but his batting position against England in the three-match ODI series will primarily depend on where skipper Virat Kohli wants to bat, said Indian team's vice captain Rohit Sharma.
Kohli has a phenomenal record batting at No 3 but Rahul has impressed one and all with his performance in the T20 Internationals coming one down. The skipper dropped himself at No 4 for the T20s against Ireland and England but it will be interesting if he follows the same strategy in the 50 over format too.
"Speaking of Rahul batting at 3 or 4, I don't know where he'll bat in ODIs. Certainly he has been in great form. We have got to see tomorrow where he actually bats. It will either be No 3 or 4. I don't know where the captain wants to bat. That will be the most important question," Rohit said on the eve of the first ODI against England.
Rohit was all praise for Rahul's ability to play match winning knocks.
"I think Rahul's a quality player -- wherever he bats he will make an impact for sure. I think he's looking forward to this opportunity. He has waited for a long time. He certainly wants to make an impact. And we have seen how good he had been batting recently. So he will be eager to go out there and make an impact," he added.
Kohli's deputy was all praise for India's young brigade for learning to come up trumps in pressure situations.
"It has been striking to observe the new boys come up with match-winning performances. Kuldeep (Yadav), (Yuzvendra) Chahal, Hardik (Pandya), (KL) Rahul, (Jasprit) Bumrah, these five to six boys have taken a lot of responsibilities in the last one year. When you see these boys performing we felt happy because to come in new and take up the responsibility is not really easy, as we ourselves have experienced.
"These guys are like 'give us responsibility, put us under pressure and we will succeed'. The team goal is only to win wherever we play, perform whether we are seniors or juniors," Rohit was effusive in his praise.
While he is expecting high-scoring games, the stylish Mumbaikar made it clear that a team can't go into bat with a target of 400 plus in mind. The question was asked in the context of England's tall scores in recent times including a world record total of 481 against Australia.
"When you are playing on pitches like that (flat tracks), you like to chase preferably and this (Indian) team prefers to chase. But the toss is not in your control and if you bat first, you don't go out looking at scoring 400 runs. You bat normally, see how it goes and see where you are after 30 overs, and then analyse thereafter."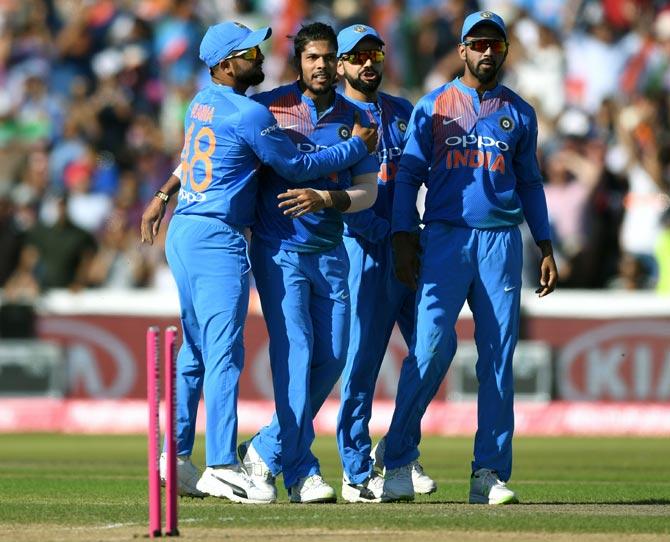 "England is a very good team and are ranked no 1. It won't be easy for us to come out and snatch a victory. We have to be at our best and hopefully that will give us the result we want," Rohit was respectful about the home team's abilities in the 50 over format.
He dropped broad hints that chinaman Kuldeep Yadav will make a comeback in the playing XI after being dropped in the third T20 International at Bristol.
"Kuldeep is an attacking option, wherever he plays. It depends entirely on the coach and captain what combination we play. Unfortunately, he missed out on playing at Bristol. He gives us the attacking option in this format and it is a little longer format compared to T20. He will be bowling 10 overs, hopefully he can extract turn and bounce which he did in South Africa," he seemed hopeful.
On a personal note, he is happy to start off well having hit a 97 against Ireland and a century in the decider against England.
"It was important whenever you start a tour you start on a positive note. It was important for me to strike form as early as possible. After IPL, I hadn't played at all, so it was important for me to strike form as early as I could. I was happy I could do that and more importantly win the series," he said.
With the World Cup scheduled in England next year, this will be a good preparation in terms of gauging the conditions, he feels.
"Since the World Cup is going to be played in this part of the world, in terms of preparation, it is going to be important for us to see where we stand as a team, in terms of our combination and what sort of targets are going to be available for us.
"The recent England versus Australia series were really high scoring matches. We have played some good cricket in the ODIs in the last year or so, in and out of India. This tour brings another challenge for us and see where we stand as a team, and what we need to do to move forward," he concluded.