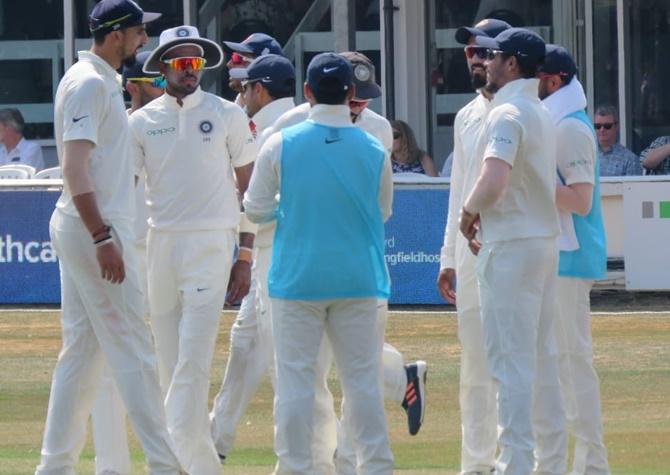 Former England pacer Darren Gough feels India have enough firepower in their pace attack to cover for the absence of Bhuvneshwar Kumar and Jasprit Bumrah in the first Test beginning, in Birmingham, on Wednesday.
Gough spoke about the different options available in front of skipper Virat Kohli in both pace and spin departments, and remarked that India's well-rounded attack is suitable for any pitch that is laid out in this ensuing series, despite missing Bhuvneshwar for three Tests and Bumrah for the series opener.
"Bhuvneshwar is a big loss and he wasn't at his best during the ODI series because he was carrying an injury. But India aren't a side anymore that is dependent on one bowler. Earlier, they were dependent on Anil Kumble, Javagal Srinath or Zaheer Khan, that is no longer the case. India are suited for all sorts of wickets, and they look prepared and geared up for this Test series," Gough said.
"Today, you have to be on top of your game to beat India, whether you are playing at home or away because they posses everything in their bowling attack. Kumar gives you swing, Bumrah is a skidding seam bowler, Umesh Yadav can move the new ball as well and he has got pace, Mohammed Shami is strong and hits the deck hard, while Ishant Sharma has experience, aggression and he can bowl lots of overs."
He reckons the spin attack too is lethal with the addition of chinaman Kuldeep Yadav.
"On top of that you have three spinners. R Ashwin is nearly unplayable in Indian conditions, Ravindra Jadeja keeps taking wickets and Kuldeep Yadav has already proven himself in England. Selection is not going to be easy and good luck to Indian team management, especially in the spin department, as someone will be upset when he is left out in Birmingham," he said.
Until last week, the United Kingdom was reeling under a heat wave and higher temperatures than normal meant that almost everyone is expecting batsmen and spin friendly wickets during this Test series, with swing to play a minimal role.
While India opted for three spinners, England too have done the unthinkable in opting for leg spinner Adil Rashid (who had quit red ball cricket in February) as well as bringing back Moeen Ali (who picked 19 wickets against India in 2014) in their first Test squad.
There has been a lot of debate about Rashid's call-up, and while Gough said that it shouldn't have been so, he added that England had no option.
"He shouldn't have been picked in the Test squad because he decided to walk away from day cricket. I was disappointed that he left Yorkshire in the lurch a little bit at the start of this domestic season. I believe if he had worked a little harder with red ball, he would have got his change in the Test side and become a regular. There's no doubt that he is England's best spinner by an absolute mile. But he was disappointed with the way it was going for him (in First-Class cricket)," said Gough.
"Good wrist spinners reach a peak as they grow older and I think Rashid is in that league, and he can be a Test regular now. And you can see why he has been picked, against popular opinion. England could have gone in with Dom Bess and Jack Leach. I don't think they can bowl out India.
"Moeen Ali was handy in 2014 and he is back. With Rashid, they should cause some problems. Rashid's issue is that he doesn't knock top-order batsmen out. Will he turn the series? Probably not, but is he better than what we have already go? Absolutely yes," he said.
The weather has finally started turning in England. Rain arrived in Chelmsford when the Indian team left and it was raining in London over the weekend as well. It is anybody's guess then what sort of weather will persist over the next five weeks.
Swing or spin, or both, could be a factor at different points in this series. As such, instead of Virat Kohli versus James Anderson, this could shape up to be Kohli versus Joe Root.
"Root is a world class batsman and he shoulders the responsibility of this English Test side. He is our plan A in Test cricket. It will be a keen contest between him and Kohli, but only to a certain degree as both sides have other batsmen who can make an impact.
"You look at the way Jonny Bairstow is playing – he is a terrific batsman and I expect him to have a great summer. Jos Buttler coming in at number seven is going to be a handful for India. If you don't get him early, he can take the game away like Adam Gilchrist for Australia.
"Ben Stokes is primed for a big series, but he has a court case in the middle of this series, which might not help. Then, there is Alastair Cook. He is such a stubborn batsman. He is the only batsman of his kind in world cricket at the moment. He will smack you for four through covers, and then go into a shell. If he doesn't get runs in this series, I think he will retire," Gough predicted.
Gough feels India need to sort out their top three with Shikhar Dhawan and Cheteshwar Pujara struggling in the lead up to the series.
"If you can afford to leave Rohit Sharma out of your side, you know India are in a good position. They have a great middle order batsman in Ajinkya Rahane, and he played so well at Lord's in 2014. I like how KL Rahul looks as well, but India's top-order looks a bit weak to me because Pujara hasn't got any big runs recently. If they play Shikhar Dhawan, then India should leave out Pujara and play Rahul at number three."
The focus will expectedly be on star batsman Kohli, who had a poor run in 2014.
"India bat deep and let's not forget that this is a big series for Kohli personally. He is a great ODI batsman, and I am gobsmacked to see how he bats in white-ball cricket. But India haven't won a Test series here since 2007 and Rahul Dravid as captain got runs back then.
"Sachin Tendulkar has always got runs in England. Brian Lara has always got runs in England. If Kohli wants to be counted in the same league as Tendulkar and Lara, he has to get runs in England. Then, he has to go and get runs in Australia, and come back here to score runs in the World Cup. This is a big 12 months for Kohli and his legacy will be decided in the next year," Gough added.