'We would have more intensity and more passion when we step out for the fourth game'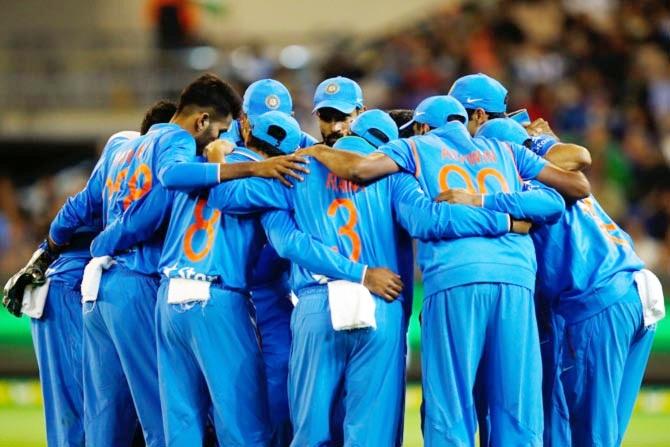 IMAGE: India will be looking to carry the winning momentum in the fourth ODI against South Africa. Photograph: Adnan Abid/Reuters
India captain Virat Kohli continued his excellent recent form by smashing a sparkling unbeaten century to lead his side to a comprehensive 124-run victory over South Africa in the third ODI at Newlands on Wednesday.
Kohli made 160 not out from 159 balls as India, who had been put into bat, posted 303 for six in their 50 overs, before restricting their hosts to 179 all out to take a 3-0 lead in the series.
India have now won three matches in an ODI bilateral series in South Africa for the first time.
So much so, they are now on the cusp of a series win should they win the fourth ODI, in Johannesburg, on Saturday.
Given the Proteas' problems against wrist spin though, there is a possibility of a 6-0 scoreline as well, even if Kohli didn't agree to it just yet.
"We have to make sure we're not letting our guard down because we worked really hard from that last Test to win four games in a row on a tough tour of South Africa. We are really proud of ourselves as a team. But I think the job is not even half done yet."
"It's quite a far fetched thing and still three games to go in the series," he said about the possibility of a 6-0 whitewash.
Kohli promised to up the ante in the remaining three games.
"Biggest positive out of today, with 3-0 up, is that there is no way we can lose the series now. That is certainly something that lifts the team even more. As I said we would have more intensity and more passion when we step out for the fourth game," Kohli signed off.
All won't be lost even if the Men in Blue don't complete the whitewash.
The number one ODI status will be on the line when second-placed India and table-toppers South Africa clash on Saturday.
India can top the ODI table if they win the series by 4-2 or better, while to retain the top spot, South Africa will just have to draw the series.