'Pakistan is always ready to play against India but what can we do if they do not want to play'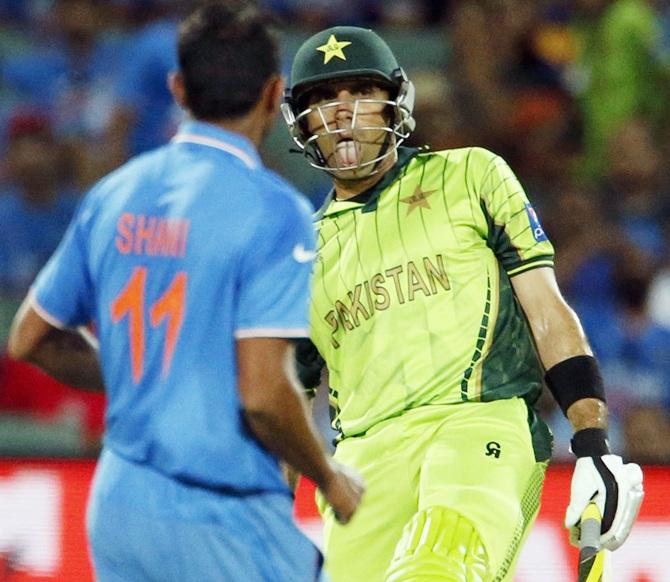 IMAGE: Pakistan's Misbah ul Haq pokes out his tongue after missing a short delivery by Indian bowler Mohammad Shami. Photograph: David Gray/Reuters.
Pakistan captain Misbah-ul-Haq hopes bilateral cricketing ties with India will resume despite the chief of the neighbouring board ruling out the possibility in the near future after the recent attack on an army camp in Kashmir.
In a latest setback to relations, Indian Cricket Board President Anurag Thakur last week ruled out the possibility of reviving ties with Pakistan, saying even considering such a thought in the current situation was not appropriate.
His statement followed the Sept. 18 attack on an Indian army camp in Kashmir, which New Delhi blamed on Pakistan. The attack claimed the lives of 18 Indian soldiers in the biggest blow to security forces in the disputed Himalayan region for 14 years.
Bilateral cricketing ties between the neighbouring countries were suspended after gunmen killed 166 people in Mumbai in 2008, an attack which India blames on a Pakistani militant group.
The nuclear-powered South Asian countries, who have fought three wars since their 1947 independence, have played each other in International Cricket Council events like the World Cups.
"Pakistan is always ready to play against India but what can we do if they do not want to play," Misbah said.
"If India can play against Pakistan in ICC events then why not in bilateral series."
Pakistani cricketers played in the inaugural edition of the cash-rich Indian Premier League Twenty20 tournament in 2008, but have been denied permission since due to tensions between the rivals following the Mumbai attacks.
Pakistan, top of the world test rankings, and India last played a three-test series at end 2007, which hosts India won 1-0.
India defeated Pakistan in a Super 10 stage match of the World Twenty20 in Kolkata this year.