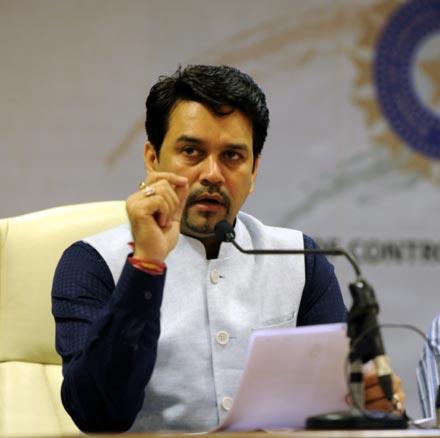 Politics is set to take centrestage in Himachal cricket yet again with the Himachal Pradesh Cricket Association, led by BJP MP and Board of Control for Cricket in India president Anurag Thakur, asking the Congress-run state government for land to set up the National Cricket Academy.

The HPCA on Wednesday wrote a letter to Chief Minister Virbhadra Singh, reiterating its request for land not less than 50,000 square metres required for the NCA.

"Most humbly I am to refer to my letter dated 18th August 2015 relating to the subject (land for NCA). In this context, I am to state that the reply of the state government is awaited and we once again request you to kindly take an early decision in the matter so the opportunity does not fizzle out from the state," HPCA secretary Vishal Marwaha wrote in his letter to the Chief Minister.

The Congress-run government and HPCA have been locked in a legal battle over the land at the HPCA Stadium in Dharamsala, the sole international ground in the
state.
The high-profile India-Pakistan game in the World T20 in March was
shifted
out of Dharamsala after Himachal Pradesh Chief Minister Singh
wrote
to the Home Ministry stating that the state government cannot provide security for the match.
HPCA's latest letter to the CM comes after BCCI wrote to all state associations to look for a suitable land for NCA, which is currently based in Bengaluru.
"We would like to ask the state government whether they are willing or taking up this prestigious opportunity seriously? We want to maximise this opportunity and set a historic benchmark for this small hill state and not loose it because of some petty considerations overlooking the interests of the state," a press release from HPCA said.
HPCA said it is looking for a land in the vicinity of Dharamsala.
"I humbly request your good self kindly allot us a land in and around Dharamsala," wrote Marwaha.