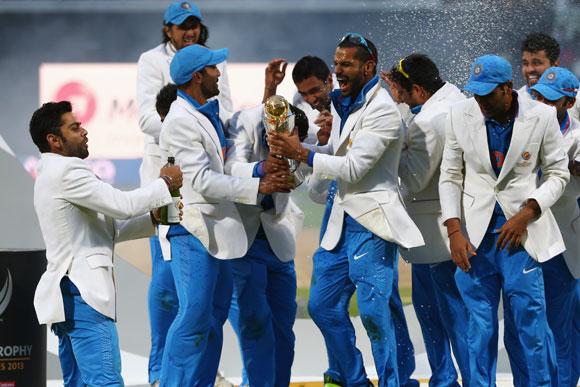 IMAGE: The Indian team celebrate with winners trophy as they celebrate their Champions Trophy win in 2013. Photograph: Michael Steele/Getty Images
South African cricketers David Miller and Hashim Amla, on Friday, said it would be a great loss if the Indian team pulls out of the Champions Trophy as the country has largest number of cricket followers in the world.
"If they do not participate in the Champions Trophy, it is going to be a big loss because India has a huge cricket followers in the world. Hence, it is not going to be great for stakeholders," Miller said.
Amla added: "If India pulls out, it will be a huge loss for Champions Trophy getting exposure. If somebody wants to see an exciting Champions Trophy, then all eight top teams in the world should be participating."
Miller also said he was not aware of the politics behind the issue or who could replace India in case they pull out of the tournament.
"Which team will come in as replacement for India, I do not know. Nor do I know what they are going to do," he said.
Doubts of India's participation in Champions Trophy came to the fore after the Board of Control for Cricket in India missed the April 25 deadline set for announcing the squad for the Champions Trophy.
The BCCI, who has been at loggerheads with the ICC on the proposed revenue model which considerably cuts down India's share, issued a threat of pulling out of the Champions Trophy.
Critics see the delay in announcing the Indian squad for the tournament as a ploy by the BCCI to apply pressure on ICC, who on April 27 meeting in Dubai reduced the Indian Cricket Board's revenue share from $ 570 million for an eight-year period to a total of $ 293 million.