West Indies woman cricketer Tremayne Smartt was suspended for five months by the ICC for failing a dope test after a Twenty20 match against Pakistan in September.
"West Indies women's international cricketer Tremayne Smartt has today been found guilty of committing an anti-doping rule violation under Article 2.1 of the ICC Anti-Doping Code (the ICC Code) and has been suspended from all cricket and cricket-related activities for a period of five months," the ICC said in a statement.
The 26-year-old batter, who has played 15 ODIs and 12 Twenty20s for West Indies, provided a urine sample as part of the ICC's random in-competition testing programme on September 11.
Her sample was subsequently tested by a World Anti Doping Agency (WADA) accredited laboratory and was found to contain Furosemide.
This is classified as a 'Specified Substance' under WADA's Prohibited List and is prohibited both In-Competition and Out-of-Competition.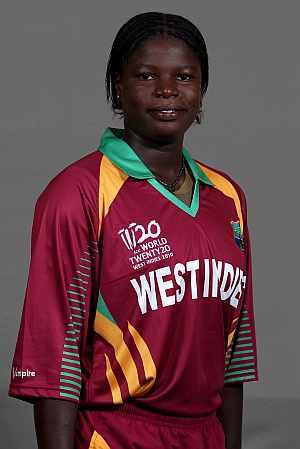 "An independent anti-doping tribunal, comprising Mr Tim Kerr, QC, (acting as chairman), Dr Anik Sax and Prof. Peter Sever heard the case today in London and made its determination after considering detailed written and oral legal submissions as well as live witness evidence, including from Smartt herself," the ICC said.
The tribunal accepted that Smartt had ingested the substance for therapeutic reasons, specifically to treat swelling in her knee.
"It also found that Smartt had no intention to enhance her sporting performance or to mask the use of another performance enhancing substance, but that she had failed to satisfy the high levels of personal responsibility implicit upon her as an international cricketer subject to anti-doping rules," the ICC stated.
Smartt pleaded guilty to the offence at an early stage in the proceedings and.
"In accordance with the discretion afforded to the tribunal under the ICC Code they have decided that the ineligibility period should commence on 26 October 2011 and expire at midnight on 25 March 2012, therefore leaving her eligible to return to cricket and cricket related activities on 26 March 2012," the ICC said.
Smartt said she never intended to cheat. "It was never my intention to breach the anti-doping regulations and I did attempt to check the Prohibited List myself. However, I acknowledge that I did not do this effectively and have to accept the consequences.
"My experience should act as a warning to all cricketers that they should never take any medical products without first consulting a qualified sports medicine practitioner," she said.
Smartt is entitled to appeal within 21 days of the receipt of the written decision.