'As a bowling unit, we tried, but all of a sudden the ball stopped swinging and they -- Woakes and Bairstow -- took the game away.'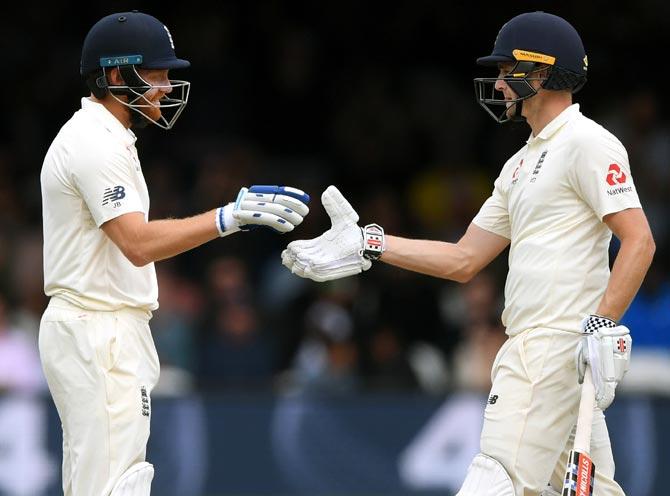 Lack of assistance for the bowlers during the post-lunch session on the third day was a major reason for England's complete control over India in the second Test, felt all-rounder Hardik Pandya.
England are now 250 runs ahead after finishing the third day on 357 for 6; they were 131 for 5 at one stage.
A 189-run sixth-wicket stand between Chris Woakes (batting 120) and Jonny Bairstow (93) virtually killed the contest.
India need a miracle to stage a comeback.
"Nothing happened (after lunch). That was the problem. As a bowling unit, we tried, but all of a sudden the ball stopped swinging and they -- Woakes and (Jonny) Bairstow -- took the game away," reasoned Pandya, after the end of third day's play.
"It happens -- I've seen it in Tests. You get four or five wickets quickly and then you get one partnership. Even with our batting line-up, it has happened many times. It's just a part of the game."
India started playing the catch-up game after scoring a paltry 107 in their first innings in bowling-friendly conditions. But Pandya believes even England would have struggled in those conditions.
"Any team would have got the same score which we got because playing in those conditions (was tough), a little drizzle was there, and wicket got a little wet as well.
"Today the conditions were different. When we bowled today, there was proper sunlight. The wicket was the ideal one, which we would have expected on the first day. But because of the conditions, the pitch started doing a lot."
India went into the Test with an additional spinner in Kuldeep Yadav when conditions indicated that three specialist pacers may have been helpful.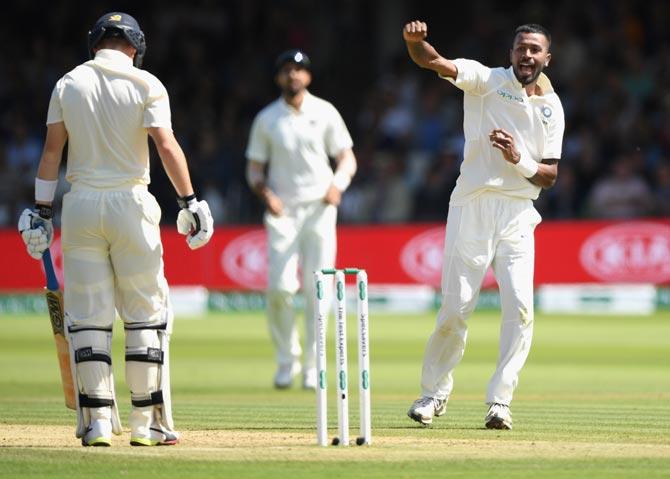 Pandya, who is doing the job of third seamer, predictably defended the decision.
"Obviously they (team management) had some thought behind it (picking the second spinner). I don't get into that too much. I think three pacers were enough, to be honest.
"We did enough and we bowled properly. We gave whatever we had to give. As I told you, today's wicket was the wicket we expected and it was a proper call."
Ravichandran Ashwin and Kuldeep did not make an impact on the third day and Pandya rued that the ball is not gripping much due to the rain.
"If this was a five-day game, spinners would've come into use. But because of the rain and everything, it was short and there's not many footmarks and it was not gripping that much. If this was a five-day game, things would have been different," Pandya said.
There has been a lot of discussion about whether Pandya is a batting all-rounder or a bowling all-rounder and the maverick from Baroda put it how he perceives himself.
"If I am batting, I think as a batsman and if I am bowling I think as a bowler. I don't have any one particular role."
He further added: "My role when I bowl, I like to keep it tight and try to make sure that the batsman make mistakes. I don't try much stuff. Keep it tight and let's see what they do. And we know that they love to play shots and playing like that you will tend to make one mistake. We were expecting that they will (make mistakes)."
The toss played a big role and England captain Joe Root was able to make most of the helpful bowling conditions but the Indian all-rounder said he does not believe that there's any such thing called luck in cricket.
"I don't believe in luck too much. Whatever happens is down to hard work. And this is a game, where they won the toss and put us into bat. If we had won the toss, we could have had them in the same position. But it is not.
"Luck doesn't come into this, and it is just a way of saying things. We will keep working hard and try hard and see what happens then."