'He has a good reputation, a very clean image and, importantly, he has no interest anywhere'
'The image of BCCI has taken a beating all over and it needed someone like Shashank to get their credibility back'
Harish Kotian/Rediff.com on why Shashank Manohar is the best man to lead the BCCI...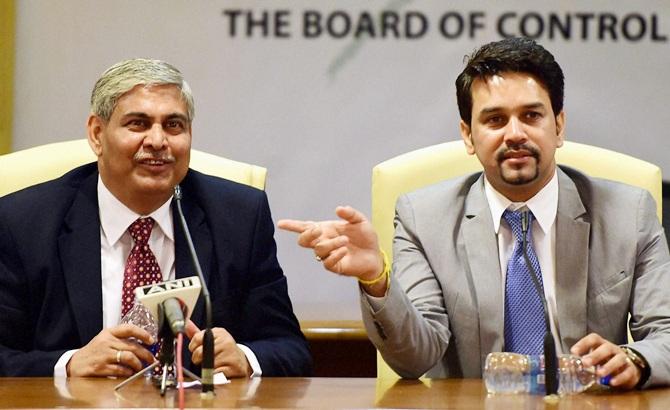 IMAGE: BCCI president Shashank Manohar, left, with secretary Anurag Thakur addresses the media in Mumbai. Photograph: PTI
A leadership crisis in the Board of Control for Cricket in India, following the passing away of former chief Jagmohan Dalmiya, forced the wise men who run the all-powerful sports body to get into a huddle and recall Shashank Manohar at the helm, four years after his first term.

- New president Manohar's 3-point agenda to improve BCCI
- All you need to know about the new BCCI boss
Finance Minister Arun Jaitley was reluctant to take over as BCCI chief, while senior Congress leader Rajeev Shukla and Jharkhand Cricket Association president Amitabh Chaudhary did not get the required support of the members.
It was believed that Sharad Pawar was also a contender since he surprised everyone by meeting with former president Naryanswami Srinivasan in Nagpur last week, but even that development turned out to be a damp squib.

Finally, it was BCCI secretary Anurag Thakur who swung into action by sending an SOS to Manohar, who, after an initial reluctance, agreed to head the august body. After it was clear that the Vidarbha-based lawyer was everyone's favourite he was elected unopposed at the BCCI's Special General meeting in Mumbai on Sunday.
At a time when Indian cricket is rocked with allegations of conflict of interest, there is no doubt that Manohar is the most suitable man, with the necessary credibility for the top job in the BCCI .
The match-fixing saga, which rocked the Indian Premier League in 2013, and the subsequent conflict of interest charges against former president Srinivasan forced the Supreme Court to step in and suggest reforms towards improving the running of the BCCI.

Manohar did a commendable job when he led the BCCI from 2008 to 2011 and oversaw some of India's finest moments on the cricketing field, including winning the 50-overs' World Cup at home in 2011 and scaling the No. 1 ranking in Test cricket.

Vidarbha Cricket Association president Prakash Dixit, who worked with Manohar for nearly 25 years in the VCA, explains why he got the nod.
"He has a good reputation, a very clean image and, importantly, he has no interest anywhere.
"It is a very right decision by the members to select Manohar. I believe he is taking over at the right time as far as Indian cricket is concerned. The image of BCCI has been tarnished so much that people doubt everything that the Board does, even if they do something good. The people don't have faith in the BCCI. It is important to restore the faith of the people in the BCCI and Manohar is the right person to take over it.
"By giving the leadership to Manohar, I am sure the trust of cricket fans in the Board will come back," Dixit told Rediff.com.

Manohar is a veteran in BCCI politics and believed to be the driving force behind Sharad Pawar when the latter was elected president in 2005 when pitted against Jagmohan Dalmiya, who had a lot of backing till that stage.

Dixit believes that Manohar's past experience of having been the BCCI chief will come handy.

"If you look at his past record at the BCCI, he did well very as the president from 2008 to 2011. So he knows how the Board operates and I am sure he will do very well in his second term.

"BCCI has not functioned the way it should have in the last few years, maybe because of personal interests of a few. The image of the BCCI has taken a beating all over and it needed someone like Shashank to get their credibility back," he added.

Dixit claims that Manohar was reluctant to return to the BCCI initially, but keeping in mind the interest of Indian cricket he changed his decision.
"He was not keen on coming back to BCCI but his main aim is to bring back the BCCI to their original repute. He was not very keen on taking over as president. In fact, he wanted Mr Pawar to take over.
"Pawar is also one of the good administrators, but Mr Jaitley along with Anurag Thakur and others convinced Shashank to make a comeback in the interest of Indian cricket and he could not say no," he revealed.

Describing Manohar's style, Dixit said: "His style of functioning is to decentralize lot of things to his trusted people. He never interferes in the working of his team."

Shashank, who does not use a mobile phone and wrist watch, is known for a no-nonsense approach.

"I am accessible to any person who wants to contact me despite not having a mobile phone," the BCCI chief has claimed.

Not only is he a reputed lawyer, but he also had a cricketing stint with Nagpur University and Vidarbha Under-22, which makes him only the second BCCI chief, after the late Madhavrao Scindia, with a strong cricketing background.
He is also the second person from Vidarbha, after NKP Salve, to hold the top post in Indian cricket administration. Incidentally, India won their two 50-overs' World Cup during their tenures, in 1983 and 2011.

"I don't have any idol. I don't have any inspiration, neither in cricket nor in my profession. I am a self-made man," Manohar had said in the past.
However, for now, his mantra is simple: "My first priority is to clean the image of the Board and restore the faith of the cricket loving fans."