'I knew that I had to stay patient and wait for the loose balls but the way they bowled, they bowled in the right areas'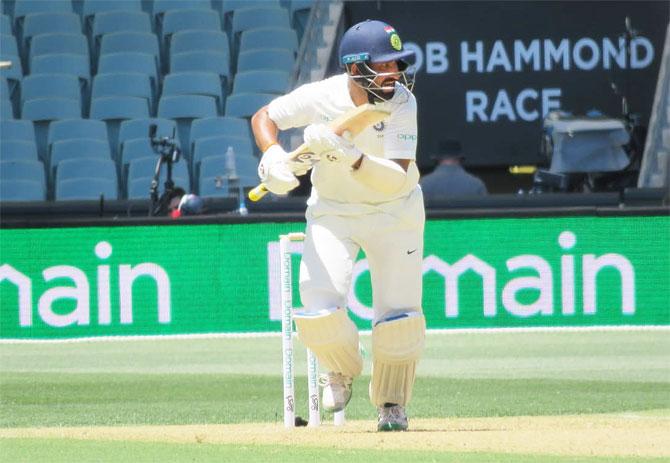 An Indian rescue mission seemingly tailor-made for Virat Kohli instead fell to Cheteshwar Pujara who took his captain's 'Superman' cape and struck a vital century to save the tourists on day one of the series-opening Test against Australia.
After Kohli was swept away for just three runs in a maelstrom of dismal shot-making, Pujara carved out a sparkling 123 to guide India to 250 for nine at stumps on a scorching hot day at Adelaide Oval.
Battling a hamstring strain in the final session, the 30-year-old Saurashtra player produced a masterclass in game management through his 246-ball knock.
Watchful early against Australia's vaunted pace attack, he then hammered them around the game with an assault on the second new ball late in the day.
It took a brilliant piece of fielding by Pat Cummins to remove Pujara with the last ball of the day, the paceman finding the energy to swoop in and throw down the stumps despite bowling 19 overs in the stifling conditions.
Though disappointed, Pujara strode off to a standing ovation in the terraces having steered India to a defendable total after they were reduced for 41 for four in a disastrous first session.
"It was one of my top innings in Test cricket, I could say top five," the Indian number three told reporters after a knock of seven fours and two sixes.
"I can't rate whether it was one of the best but the team mates who were appreciating said that this is one of the best.
"I think it was tough considering the weather, it was quite hot, we are used to it in India but still it was hot and humid."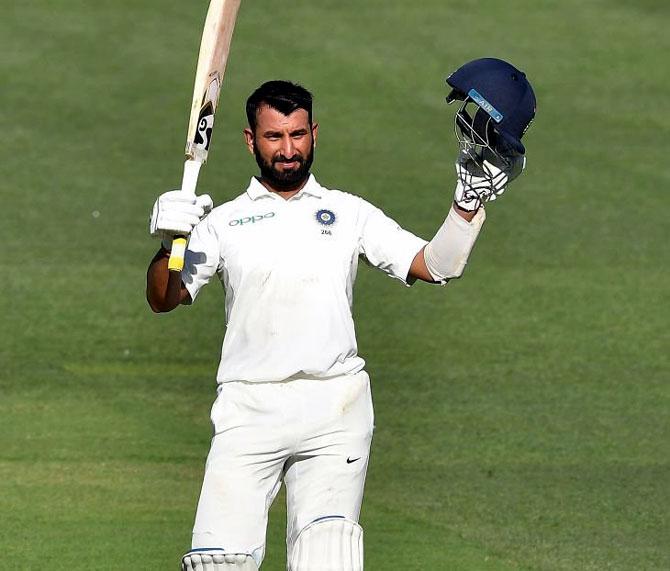 The 30-year-old said although a majority (10) of his 16 hundreds are at home, it in no way suggests that he is more effective on Indian pitches. Only three of Pujara's overseas hundreds have come outside the sub-continent.
"...people have always said that I have scored more runs in India. But at the same time, you also need to look at the number of matches we play in India. If we have played more number of matches in India, obviously I will score runs there," he reasoned.
"At times, I have had a bad phase playing overseas but I still feel very confident playing in different conditions and playing county cricket has helped me a lot.
"Playing in England, conditions are always challenging and when you come to Australia, you know that pitches are slightly better and as I said, I had decent time to prepare before the Test series," he said.
Tim Paine's Australia will have felt hugely relieved to see the back of Pujara on this day at least.
The batsman has been a thorn in the side since his 2010 debut against Ricky Ponting's team in Bangalore, when he scored a second innings 72 to steer India to a seven-wicket victory.
He has since feasted on a string of Australian teams, scoring 204 against Michael Clarke's side in the 2013 Hyderabad Test and 202 in Ranchi against Steve Smith's men last year.
But his first ton on Australian soil may feel the sweetest, especially after his disappointing first tour in 2014/15, when India lost 2-0 despite a mountain of runs from Kohli.
India's talisman Kohli was also removed by inspired fielding, with Usman Khawaja pinching a stunning one-handed catch with a full-stretch leap in the gully.
Kohli was among five of India's top six batsmen to give up their wickets with loose shots, leaving Pujara to salvage a total from the rubble.
"To be honest we should have batted better but they also bowled well in the first two sessions," said Pujara.
"And I knew that I had to stay patient and wait for the loose balls but the way they bowled, they bowled in the right areas.
"I also feel our top order should have batted better but we'll learn from the mistakes and put up a better show in the second innings."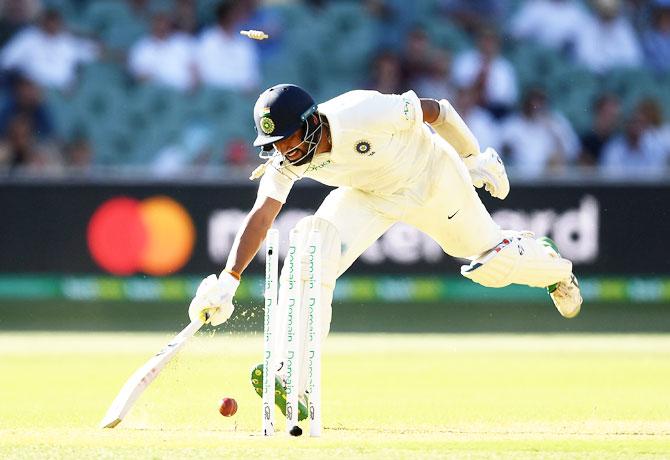 He added that the wicket wasn't as easy to bat on, and that he needed to take a lot of time to play his shots, which again reflected poorly on how the Indian top-order batted on Thursday.
"It has to be different because when you are batting with the tail, you never know how long can they bat. You have to take your chances but you can't do the same when you are batting with a (top order) batsman. When you are just 1 or 2 down, you can't play the same shots.
"Also, the difference is, I had batted for two sessions and I knew what the pace and bounce of the pitch was. I was set, so I could play my shots. I was a bit disappointed but I had to take that single because only last two balls were left and I wanted to be on strike. I took the chance but Pat Cummins fielded brilliantly," he said of run out on what turned out to be the final ball of the day.
Pujara feels 250 is a decent first innings total, considering the conditions.
"I would say it is a decent total because there is enough turn. Ashwin will also come into play. It is not an easy wicket to bat on. Sometimes when you are seeing it on TV, it doesn't look like it is doing a lot. But when I batted in the first and second sessions, I felt it wasn't easy to bat on and with our fast bowlers, I will share my experience of what line and length to bowl on this pitch.
"It is the grass. The odd ball is skidding on and the odd ball is holding a bit more from the grass. I would say it is kind of a two pace and it is not easy to bat."
Pujara is not known for hitting sixes but it is something he prepared for ahead of the series.
"To be honest, when I was preparing back home, I was working on a few shots and that was one of them. I wasn't surprised that I hit it for a six because I had worked on it back home. I had to obviously bat for two sessions to realise that these are the shots I could play and there were some shots which I had to avoid," he said.