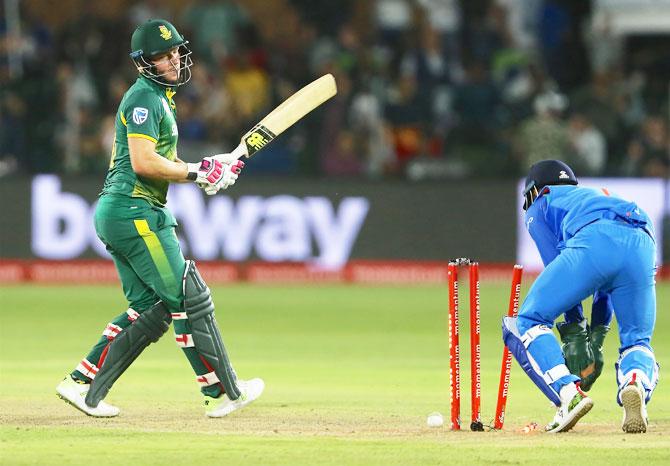 IMAGE: David Miller is bowled by Yuzvendra Chahal during the 5th ODI in Port Elizabeth on Tuesday. Photograph: Richard Huggard/Gallo Images/Getty Images
South Africa's greatest all-rounder Jacques Kallis has figured out why the Proteas are struggling against Indian wrist-spinners Yuzvendra Chahal and Kuldeep Yadav.
"It takes time to read good leg-break bowlers. We have to accept we don't have enough world class leg-spinners in our country. So, this is a learning curve for the youngsters in our team," Kallis told PTI in an interview.
"Even we went through the same phase and we learnt with time," said the man who scored more than 25,000 runs in international cricket.
India have taken an unassailable 4-1 lead in the six-match series with Chahal (14) and Yadav (16) accounting for 30 wickets between them.
For someone, who faced Shane Warne and Anil Kumble at their prime with a fair degree of success, Kallis feels there is no one perfect technique to counter leggies.
"Experience is the key. There are basically two ways to read leg-break bowling. Either you pick up from the wrists or wait for the ball to pitch. No two batsmen would employ the same technique," he explained.
"As one plays more international cricket, he would know what works best for him. Everyone devises their own mechanism to get out of trouble," he said.
He agreed with former teammate and skipper Graeme Smith that there is a lack of depth in the next batch of South African batsmen.
"Probably South Africa must have realised by now that they don't have much depth when senior cricketers (AB de Villiers and Faf du Plessis) get injured," he opined.
"They (CSA) need to look carefully about how they will expose youngsters to international cricket."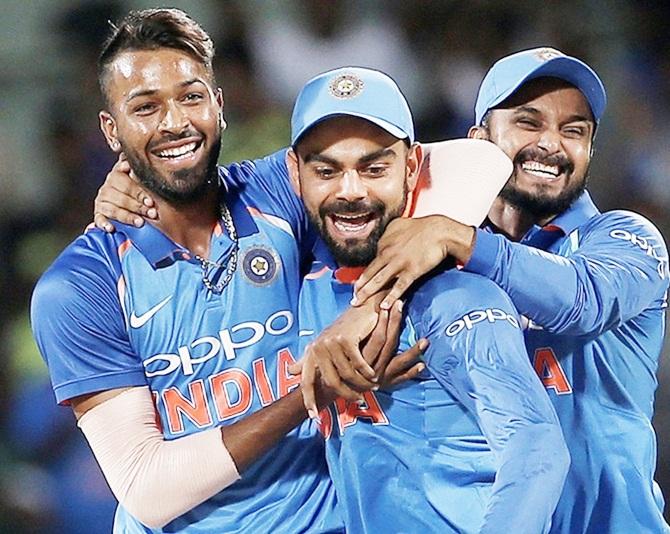 IMAGE: Kallis reckonds Hardik Pandya still has a lot to learn. Photograph: ICC/Twitter
One of the finest all-rounders of his time, Kallis feels that playing three formats takes its toll on a modern cricketer's body and hence there aren't too many noteworthy all-rounders in the international circuit.
"The history of the game will tell you that there weren't many all-rounders in the game ever. More so now, because of the amount of cricket that is being played," he observed.
But whatever little he has seen of Hardik Pandya, Kallis feels that the Indian does have the potential to do consistently well in the international arena.
"He (Hardik) is still young and has got a lot to learn along the way. But yeah, he looks a good prospect."
Kallis will be back in India in a month's time as the chief coach of IPL franchise the Kolkata Knight Riders and is happy with the balance of that side.
"We have got an experienced side and our first XI, as of now, looks pretty settled," Kallis said about KKR's squad composition.
"We have some very talented youngsters (KKR have a talented bunch in India's under-19 World Cup stars Shubman Gill, Kamlesh Nagarkoti and Shivam Mavi) as back-ups. One positive thing about this year's squad is that we have proper balance for home and away conditions," Kallis said.
With no Gautam Gambhir this time, KKR will have a new captain. Could it be the prolific Chris Lynn? Kallis kept his cards close to his chest.
"Yes, he is probably one of the candidates but we haven't yet decided about it. May be, we will get to know in the next couple of weeks," he signed off.