- 'In batting he has realised that there are other finishers in the team and he is not the only one. That should help his batting going forward.'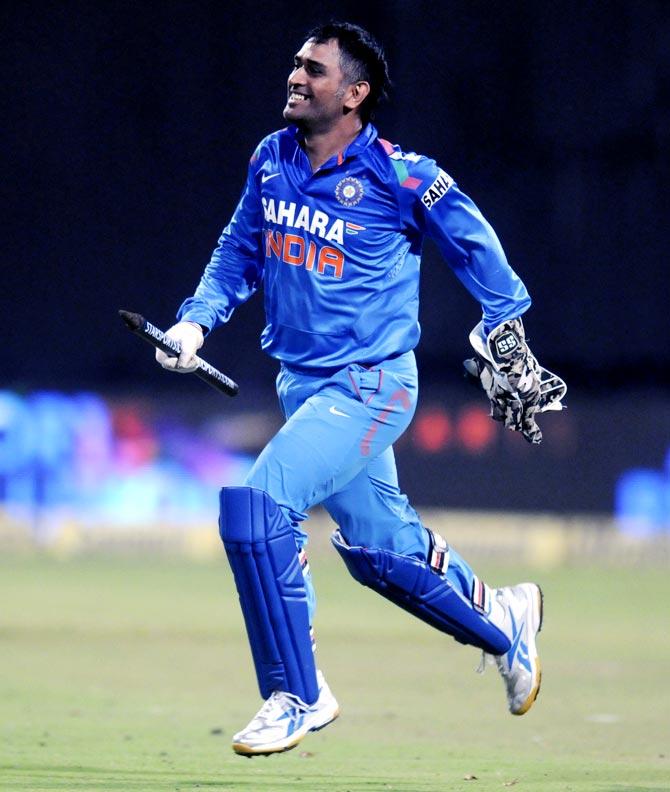 IMAGE: Mahendra Singh Dhoni celebrates victory. Photograph: BCCI
Former India batsman V V S Laxman says India's recent success shows a captain is as good as his team and the presence of other finishers in the team has made lifer easier for Mahendra Singh Dhoni.

Laxman, while praising Dhoni a day after he led India to the Asia Cup T20 title, said the India skipper has a lot more options, be it in batting or bowling, than what he had in the 2015 50-overs World Cup.

"What I like about Dhoni is that he is very equanimous. He never changes on a cricket field. For me, his worst time came in 2011 when the team lost badly in England and Australia and then he remained calm and composed. The team is doing well now under his leadership and that also show that the captain is as good as his team," said Laxman at the Aaj Tak Salaam Cricket conclave in New Delhi, on Monday.

Further making his point, Laxman said: "In batting he has realised that there are other finishers in the team and he is not the only one. That should help his batting going forward. In bowling, he has so much more options than last year with the return of Ashish Nehra and emergence of Jasprit Bumrah. Then you have all-rounders like Yuvraj Singh, Hardik Pandya and Suresh Raina. That gives him many more options."

Laxman added that the other teams in Asia have a lot of catching up to do with India.

Sharing the dais with Laxman, Pakistan great Inzamam-Ul-Haq agreed with his former India rival but not before saying that Pakistan is very much capable of making a turnaround in the World T20 starting in India on March 8.

"It only takes one good match for a turnaround. Pakistan is not as good as India at the moment but they can surely bounce back," said Inzamam.

The batting great further said that what is hurting Pakistan most is the lack of international matches at home.

"Not many people followed the team when it was playing against Australia and England in UAE. But last year when Zimbabwe came to Pakistan to play three games, everyone took notice of it. Our younger players are not able to see international stars in action, it is discouraging a lot of them. Now Pakistan Super League has started but it will take 3-4 years before it benefits Pakistan cricket," he said.