Kohli said with clarity on the rules, the players would be less prone to violating them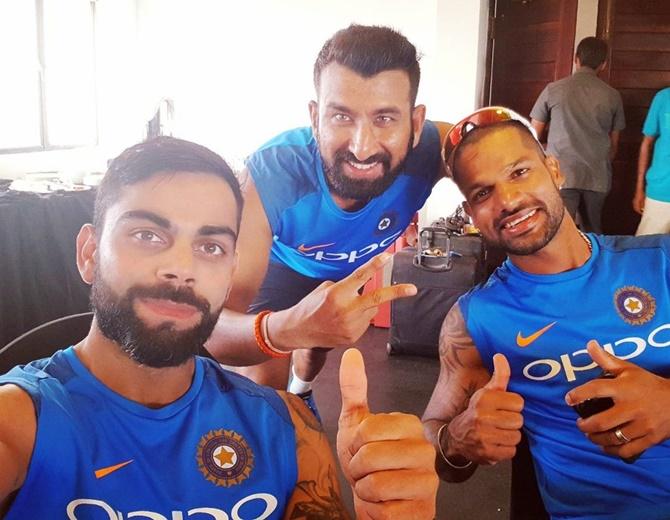 IMAGE: Virat Kohli with team-mates. Photograph: Virat Kohli/Twitter
Missing the services of premier spinner Ravindra Jadeja due to a suspension, Indian captain Virat Kohli on Friday urged the International Cricket Council (ICC) to be more consistent in implementing rules pertaining to the players' code of conduct.
"I think players have to be much more aware going ahead and just hoping that the guidelines are very similar from now on. Because it shouldn't vary according to how the situation is looked at," Kohli said in the pre-match press conference ahead of the third and final Test against Sri Lanka in Kandy.
"So if it is consistent then I think it is going to be a good going ahead because players will obviously be more aware of how they need to conduct themselves on the field. It will only help the game get better," he added.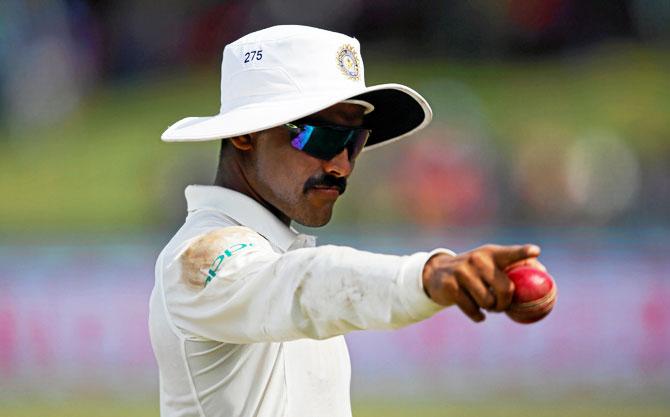 IMAGE: Ravindra Jadeja has been fined 50 per cent of his match fee and received three demerit points for breaching the ICC Code of Conduct. Photograph: Dinuka Liyanawatte/Reuters
World's No 1 Test bowler and all-rounder Jadeja was handed a one-match suspension for logging six demerit points in the last 24 months. His offences ranged from running on the pitch to throwing the ball dangerously at an opponent.
As a result, he would be missing the third and final against Sri Lanka.
Speaking on the suspension, Kohli said players should understand the ICC's rules but the governing body should show greater consistency while making such vital decisions.
Kohli said with clarity on the rules, the players would be less prone to violating them.
"Firstly we need to be very clear on what are the things that fall into it and what are the things that a player needs to keep in his mind while being on the field. Lot of things happen on the field, which in the thick of things or heat of the moment you end up doing," he explained.
"But you don't know what's going to cause you one or two or three points. So I think the intent counts nowadays and that's something that players need to keep in mind. It might be a very small thing but if the intent is to do something bad then obviously that is something that counts against the player," said Kohli.