'People don't understand his importance in this team so much'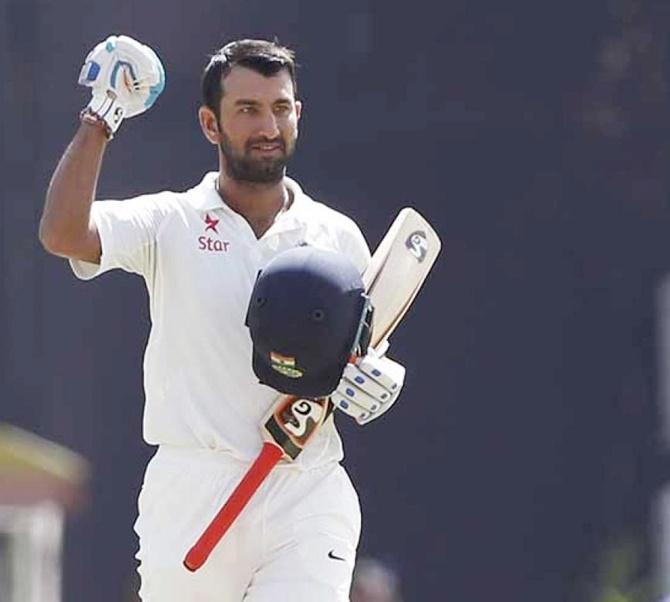 IMAGE: Cheteshwar Pujara compiled an epic double century . Photograph: BCCI
Cheteshwar Pujara compiled an epic double century and Wriddhiman Saha complimented with a career-best 117 but Peter Handscomb and Shaun Marsh helped Australia escape with a remarkable draw against India on the final day of the third Test in Ranchi on Monday.
Pujara became the first Indian batsman to face 500 deliveries in a Test innings, spending more than 11 hours at the crease for his marathon 202 on the penultimate day of the contest.
India captain Virat Kohli described Cheteshwar Pujara as priceless and also hailed Wriddhiman Saha and Ravindra Jadeja in equal measure as the trio put them in a winning position.
"Sometimes I feel really bad for him that people don't understand his importance in this team so much. You know what a valuable player he is for us. He is the most composed player we have in the team. He is willing to grind for his runs, he does not mind batting under pressure, he likes to take the challenge of batting long. Someone like that is priceless to have in the team," the skipper said.
Man of the match Pujara said he never thought that he would play out as many as 525 deliveries, which he faced during his double-century knock.
"When Wriddhi (Saha) came in, we had a chat we needed a big partnership. I never thought I would play so many balls, but once I was in I knew I had to bat long to reach close to their total. I do get tempted to hit in the air, but you have to look at the bigger picture. There was a situation when we couldn't afford to lose another wicket, so I had to restrict myself," he explained.
Pujara also said that his and Saha's partnership was 'much-needed for the team'.
"They scored 450, to come back, go past that total, and put them under such pressure was great. But Shaun Marsh and Peter Handscomb batted really well," he said.