'The body is still very unsure and it keeps holding me back every time'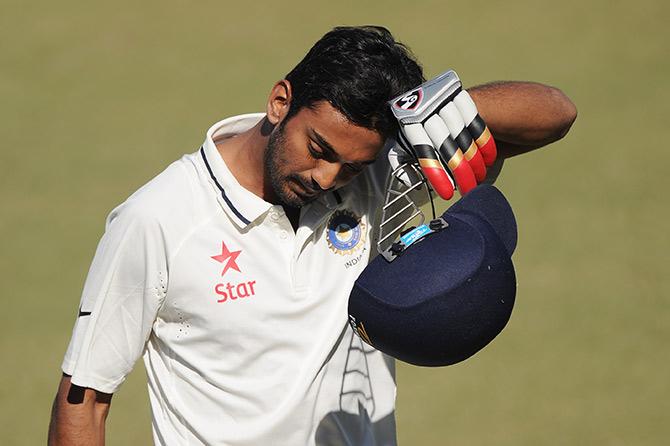 IMAGE: India's KL Rahul reacts. Photograph: Getty Images.
Making a comeback from a shoulder injury, India opener K L Rahul is 'still very nervous' and his body is still 'very unsure' four days before the start of the three-Test series against Sri Lanka.
"I am still very nervous. The body is still very unsure and it keeps holding me back every time. That's the biggest challenge coming back from injury," Rahul told 'bcci.tv'.
The 25-year-old Rahul cracked a half century in the his first outing - a two-day warm-up game against Sri Lanka Board President's XI.
He said it was tough staying away from cricket for long.
"I haven't been happier ever in my life. It has been quite a tough time to be away from cricket, to be away from the thing that you love the most.
"To just sit at home and watch the boys playing, it was really hard for me. It did make me a lot stronger, made me value my life, my opportunities and here I am, back in.
"It feels good to be back holding the bat and hitting the ball to the boundary."
The Karnataka batsman spoke about the times at the National Cricket Academy and his rehabilitation process.
"Watching the Champions Trophy and the loss in the final was heart-breaking but the way the boys played the whole tournament was really exciting. I was missing being part of the team. So, rehab basically for me is possibly the most boring thing you can ever do, most honestly.
"Just wake up every morning and to do the same boring thing again and again is quite tiring and it starts to get to you. You start questioning yourself, asking yourself if you really want to do all these boring things."
Rahul has been bogged down by injuries in his brief international career, and this was the first one that required major surgery.
"You know that you are physically fit and you have done everything that you can, worked really hard, you are feeling stronger, you are feeling fitter. But the mind always tells you what if it happens again, what if you have to go through the same grind for three months, what if your shoulder is not ready, what if you come back early?"
"There are a lot of questions, a lot of doubts and that's the biggest challenge and fight for me. But so far, I have been doing well. I have been enjoying each day and I have been a person who takes it as it comes," he added.