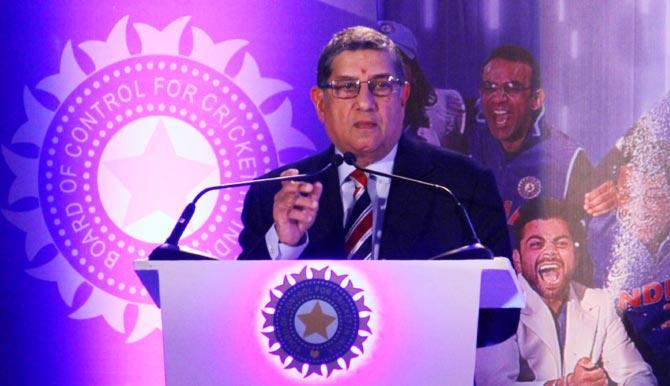 Narayanaswami Srinivasan. Photograph: BCCI
The Cricket Association of Bihar (CAB) on Tuesday urged the Supreme Court to make public the findings of the Justice Mukul Mudgal Commission, which probed the spot-fixing and betting scandal in the sixth edition of the Indian Premier League in 2013.

"In the court today, the BCCI opposed our move to make the report public. If they have nothing to fear about, then why they are afraid of putting the report in the public domain," Aditya Verma, the petitioner in the case, said.
- The IPL spot-fixing saga

"We were able to sufficiently establish that (Narayanaswami) Srinivasan was only trying to protect the interest of CSK (Chennai Super Kings) and his son-in-law (Gurunath Meiyappan). Our counsel has submitted documentary evidence to prove Srinivasan's son-in-law Meiyappan was a team official. It is a matter of shame that he has been reported by the Mudgal Commission for indulging in betting," Verma said.

The Supreme Court on Tuesday said Meiyappan's role in the IPL scandal seems like "insider trading" and agreed to hear a plea to make public the names of cricketers who were mentioned in the Justice Mudgal Committee report.

"If Meiyappan was leaking information and someone else was putting bet, then it is like insider trading," a bench, comprising Justices T S Thakur and F M I Kalifulla, said, when it was submitted that Srinivasan's son-in-law was a part of Chennai Super Kings and always with the team members at all functions, whether it was dug-out or making team strategy.

Senior advocate Harish Salve, appearing for Cricket Association of Bihar (CAB), on whose plea the apex court directed the probe into the IPL-6 betting and spot-fixing scandal, said the stand taken by Srinivasan and India Cements that Meiyappan was just a cricket enthusiast was to cover him up and the IPL franchise in the scam.

The bench said it will consider the plea to disclose the names of players on the next date of hearing and adjourned the case to November 27.