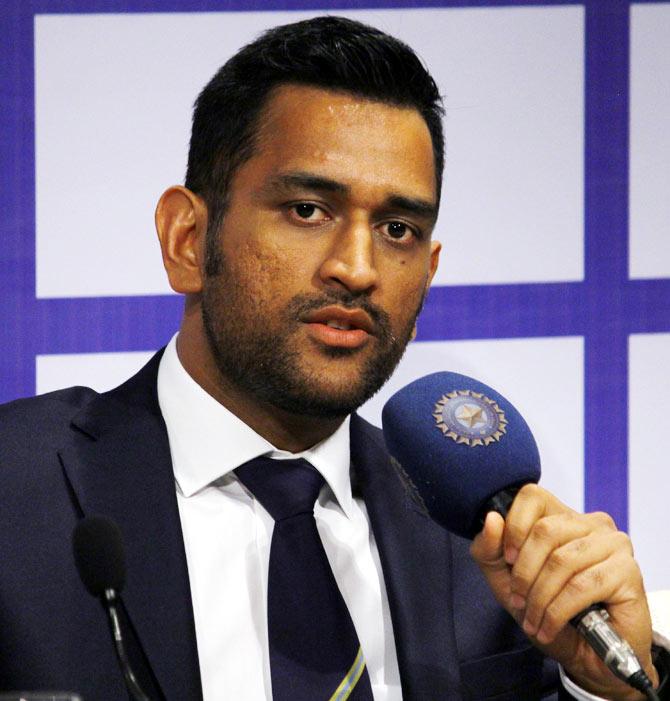 IMAGE: Mahendra Singh Dhoni. Photograph: Hitesh Harisinghani/Rediff.com
India's limited overs captain Mahendra Singh Dhoni subtly avoided commenting on the sweeping changes the Supreme Court-appointed Lodha Commission has recommended on the functioning of the Board of Control for Cricket in India.

"Lodha Commission has not given me the report. So you have to ask the BCCI (on what they plan to do)," said Dhoni in New Delhi, on Monday.
- Report of Lodha Committee on Reforms in Cricket - Final Report, Volume 1
- Report of Lodha Committee on Reforms in Cricket - Final Report, Volume 2

The Indian Premier League has been hit by a spate of controversies since it's inception in 2008 but Dhoni sough to defend the cash-rich T20 league, saying it is a good platform for Indian domestic players.

"Yes, it (IPL) has got its share of bad name but you have to look at the positives as well. It is a platform where you can identify the players on the domestic circuit, gauge their performance throughout the season. It is also about how the young players handle pressure, you see youngsters embracing it. I think that is fantastic for Indian cricket.

"Yes, money is a big factor. People talk about cricketers getting a lot of money. Yes, a lot of cricketers are getting a lot of money but at the same time, thousands and thousands of them are not."

Sanjiv Goenka, owner of new IPL franchise Pune Supergiants, said they were not bothered by the past controversies in the IPL and were happy to be associated with the T20 league.

"I have been asked this before. I am not going to comment about the past. We take it as it comes. We are not thinking beyond two years. An opportunity came to be associated with IPL for two years and we took it," said Goenka.

Pune Supergiants and Gujarat Lions have replaced the suspended Chennai Super Kings and Rajasthan Royals for the coming two seasons.