- The performance of the three Indian pacers during the second Test has come into sharp focus. Both innings put together, Mohammed Shami bowled beautifully, but in the second innings, Ishant Sharma and Umesh Yadav did not put their hand up as expected.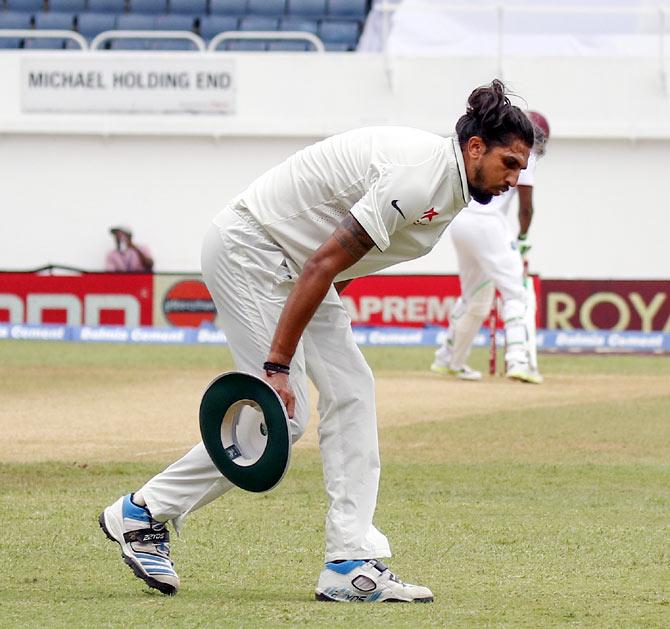 IMAGE: India fast bowler Ishant Sharma. Photograph: WICB Media Photo/Athelstan Bellamy
India's five-pronged attack failed to grab six opposition wickets on the final day as the West Indies managed to eke out a draw in the second Test in Jamaica but captain Virat Kohli defended his bowlers, saying that they had given their best under the circumstances.

The Indians dominated the Test match for four days at Sabina Park with both bat and ball. Yet, they fell short of the victory marker on the fifth and final day when they needed to take six wickets in 98 overs.

"Testing day. That's what Test cricket is all about. It is a pity we lost most of fourth day's play. But that is no excuse and credit to the way West Indies played. When you lose a Test and are behind in the second one, it takes something special to save the match," Kohli said after the match ended in a draw.

"Our bowlers tried our best, we created some chances, but they did not go to hand. In the first four days, the wicket was very active. The hardness of the ball was a factor. On these pitches when the ball is not hard enough, play goes dead for 25-30 overs. But I am pretty pleased with the effort the boys put in after tea as well. Everybody put in a last push," he added.

A five-pronged attack comes handy on such days, but Roston Chase's magnificent hundred defied the Indian bowlers.

In the past too, there have been such instances when the Indian attack was not able to complete the job. Johannesburg (2013) and Wellington (2014) come to mind but that was the Mahendra Singh Dhoni era wherein India rarely went in with five bowlers.

"We don't want to walk away from the field wishing we had the fifth bowler. If five bowlers have given their best, and the opposition have done well, you just doff your hat to them (the West Indians)," Kohli said.

After winning the first Test in Antigua, Kohli had re-iterated his plan to play five bowlers, that too without changing much in his attack.

"If you have just won a Test match in the manner we did in Antigua, it does not leave much room for change," he had said.

In this current era, playing five bowlers has become the norm and herein lies the surprising bit, that together this attack could not prize out a few wickets in three sessions put together. This same West Indies batting line-up has not been able to cope with the Indian bowling for three and a half out of four innings.

So what had changed?

One of the takeaways from this second Test was the manner in which Jermaine Blackwood attacked the Indian bowling in both innings in Jamaica.

"He is an attacking batsman, even in Test cricket and I told him to go play his natural game," said West Indies skipper Jason Holder.

The result was there for everyone to see.

Blackwood snatched the second and third fastest half-centuries in all Test cricket played at Sabina Park, with his 41 and 47-ball efforts respectively.

Coming in at seven for three, his knock in the first innings was counter-attacking cricket at its best. And it shocked the Indian bowling for a bit, as even Ravichandran Ashwin admitted later after the first day's play.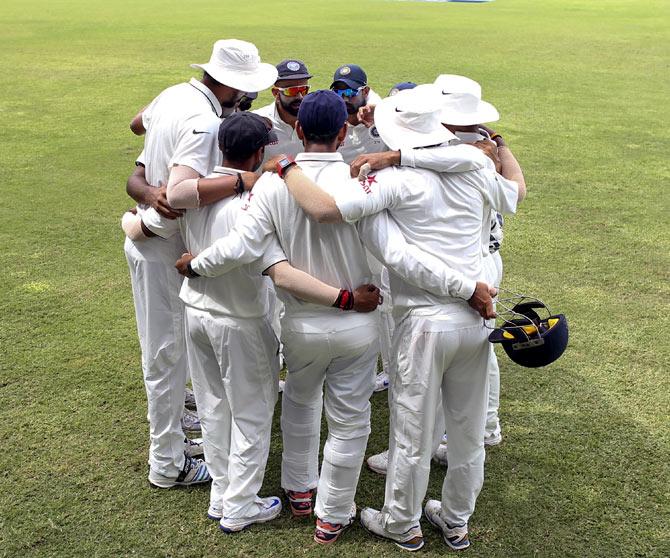 IMAGE: The Indian team in a huddle. Photograph: WICB Media Photo/Athelstan Bellamy
Therein, it comes as a surprise that the Indian think tank did not prepare for such an eventuality again in the second innings. Blackwood hit Ashwin, Shami and Amit Mishra out of the park at will.

That they could not counter Blackwood must pose serious questions, whether the Indian team had gone complacent after reducing West Indies to 48 for four on the fourth day.

The lines bowled by the pacers also come into sharp focus at this juncture. Both innings put together, Shami bowled beautifully, but in the second innings, Ishant Sharma and Umesh Yadav did not put their hand up as expected.

While the former was bowling too wide and again short of length, the latter bowled to a short-ball plan and did not make the batsmen play enough. It allowed Chase to settle down, while Blackwood scored runs.

Even so, with Mishra leaking runs, perhaps the most inexplicable part on Kohli's move was to hold back Ashwin from the attack till after the first hour of play had finished, as he came on to bowl the 28th over of the Indian innings.

It was a surprise that Ashwin, who taken two successive five-wicket hauls in the last two innings against this same West Indies line-up, was not thrown the ball immediately when play started on Day 5.

Ashwin was finally introduced in the 28th over of the innings and bowled until lunch, trapping Blackwood with a well-crafted plan in between. Thereafter, he again had to wait to bowl, as Ishant-Yadav started after the break.

One thing is clear that Kohli will have a lot of thinking to do as far as his bowling combination is concerned, for the third Test match which starts in Gros Islet, from August 9.