Rajneesh Gupta breaks down all the facts and figures from the recent India vs Australia ODI series.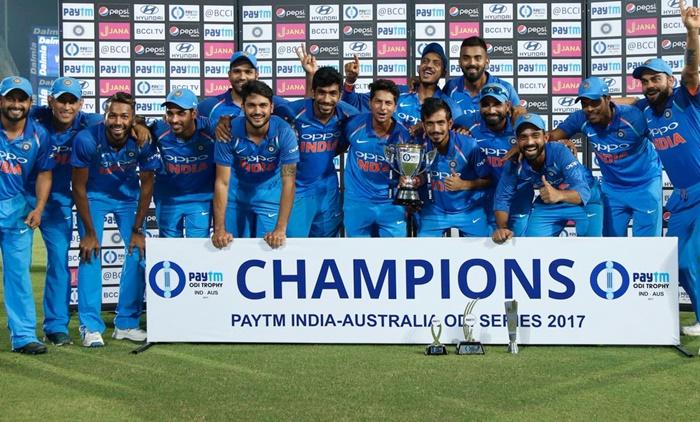 IMAGE: A triumphant Indian cricket team celebrates with the trophy after crushing Australia to record a 4-1 series win on Sunday. Photograph: BCCI/Twitter
India registered a comprehensive 4-1 win over Australia in the recent five-match ODI series. The victory margin was not only India's best in a bilateral series against Australia, but also the best for a subcontinental side against Australia. It was also Australia's fifth worst defeat in a bilateral series.
The first match at Chennai was also the first time that Virat Kohli was leading India against Australia. He registered a duck as India got off to a horrific start, losing the first three wickets with only 11 runs on the board. But the useful contributions from the lower order -- that saw India's number six and seven (Dhoni and Pandya) scoring 50s together for only the second time in an ODI against Australia -- took them to a respectable total of 281 for seven. India's total was the third highest total by any side after losing first three wickets for 11 runs or less.
India's worst starts at home
(lowest total at the fall of third wicket)
Highest totals by teams after losing first 3 wickets for 11 or less
In the second ODI at Kolkata, India successfully defended 252, dismissing Australia for 202. It was after 24 matches that both India and Australia were all out in an ODI. The last such instance was at Mohali in November 2009.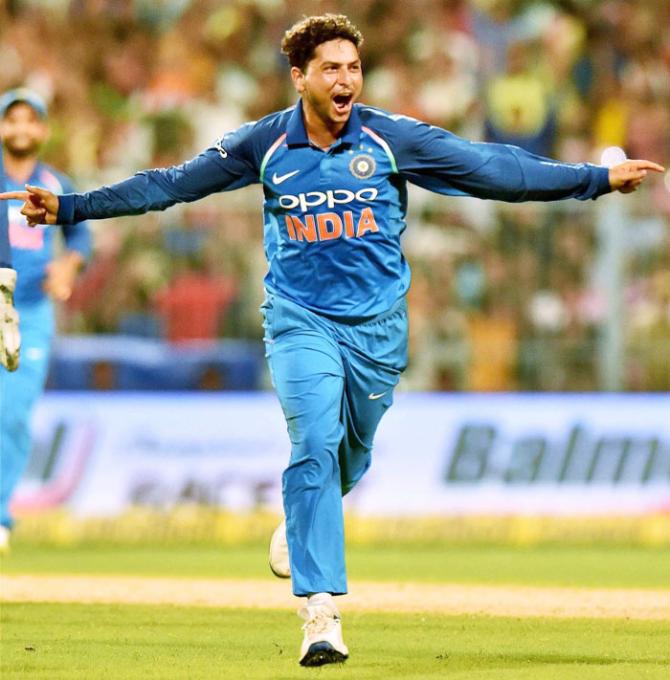 IMAGE: Kuldeep Yadav is pumped up after registering his first One-Day International hat-trick, in the second ODI against Australia at Eden Gardens, Kolkata. Photograph: Ashok Bhaumik/Reuters
The match was a memorable one for Kuldeep Yadav. In his eighth over Kuldeep got Matthew Wade bowled, trapped Ashton Agar lbw off the next ball and then had Pat Cummins caught by Dhoni, thus becoming only the third Indian to take a hat-trick in ODIs. Interestingly, two of these hat-tricks have come at Kolkata.
Kuldeep had also taken a hat-trick in an under-19 World Cup match against Scotland in 2014. Kuldeep is the first Indian and only the fourth bowler to take a hat-trick in both under-19 cricket and senior cricket.
Another interesting fact about Kuldeep's hat-trick is that in the first 46 years of one-day internationals, no wrist spinner had managed to take a hat-trick. In 2017 alone, wrist-spinners claimed two hat-tricks, the other being Sri Lanka's Wanindu Hasaranga who claimed a hat-trick against Zimbabwe on debut.
Hat-tricks by Indian bowlers in ODIs
Hat-tricks in U19 cricket and in Senior cricket
The win at Indore gave India an unbeatable lead in the series. This was also the first time India beat Australia in three consecutive matches of a bilateral series. The win also gave India their fourth consecutive win against Australia. This has happened only once before -- between 1996 and 1998.
By winning the match, India also became the number one side in the ICC ODI rankings. With the number one slot in Test rankings already with them, this was the first time India has held top slots in both Test and ODI rankings at the same time.
By winning his ninth match on the trot, Virat Kohli also became the third Indian captain to do so in this format. With this win, India also equalled their longest winning streak in ODIs. They had also won nine on the trot between 2008 and 2009 under Dhoni (when Dravid won nine on the trot, it came in consecutive matches for him, but not for India).
India's longest winning streaks in ODIs
The win at Indore gave India their sixth consecutive win in a bilateral series, which equalled their existing record. They had won six bilateral series on the trot under Dravid in 2006-07 and 2007; and also under Dhoni between 2007-08 and 2009.
India in last six bilateral series
IMAGE: David Warner celebrates after completing a hundred in the fourth ODI in Bengaluru. Photograph: Shailendra Bhojak/PTI
Holkar Cricket Stadium now holds a unique record. This is the only stadium where India have won their first five ODIs. There have been four grounds where India have won their first four ODIs -- Sharjah, Delhi, Mirpur and Visakhapatnam.
Australia finally managed to win one at Bengaluru. Electing to bat first after winning the toss, Aaron Finch and David Warner gave Australia a scintillating start by putting on 231 runs for the first wicket -- the second highest opening partnership by any side against India.
David Warner -- playing his 100th ODI -- scored a hundred, becoming the first Australian and eighth batsman to score a hundred in his 100th match.
Highest opening partnerships vs India in ODIs
Who's scored a hundred in 100th ODI
Note: Sourav Ganguly made 97 in his 100th ODI.
Umesh Yadav went for some runs, but he also picked up four wickets in the Bengaluru match. His dismissal of Steve Smith gave him his 100th wicket in ODIs, making him the 18th Indian to accomplish this feat. By taking 71 matches, Umesh became the sixth fastest Indian to reach this landmark.
Virat Kohli -- during his brief stay at the wicket in Bengaluru -- completed his 2000 runs as captain in ODIs. He is the 31st to do so -- and the sixth from India, after Mohammed Azharuddin, Sachin Tendulkar, Sourav Ganguly, Rahul Dravid and MS Dhoni.

Taking just 36 innings, Virat is the quickest to reach this milestone.
Least innings to 2000 runs in ODIs as captain
Note: Virat was also the quickest to the 1,000-run mark as captain in ODIs, with only 17 innings
In the fourth ODI at Bengaluru, Hardik Pandya completed the all-round double of 500 runs and 25 wickets. By taking just 25 matches, Hardik became the quickest Indian to reach this milestone, wresting the record from Kapil Dev.
Quickest to 500-runs & 25 wickets for India in ODIs
India restricted Australia to a below-par 242 for nine in the fifth and final match at Nagpur. Any hopes of Australia making a match out of it on a difficult track was soon put to rest as the duo of Ajinkya Rahane and Rohit Sharma added 124 for the first wicket -- their third consecutive century partnership. They thus became the first pair to put on 100-partnership in India's three consecutive matches.
Two other pairs -- Rohit Sharma and Shikhar Dhawan; and Shikhar Dhawan and Ajinkya Rahane -- have also put on three consecutive century partnerships, but they came in three consecutive matches in which two batsmen batted together and not in three consecutive games for India. For example, after putting on 123 runs against Australia at Sydney in January 2916, these two did not bat together again till ICC Champions Trophy in June 2017.
Similarly, Shikhar Dhawan and Ajinkya Rahane put on 122 runs against South Africa in October 2015 (Rahane batted in the middle-order in that game), but then these two did not come together again till the series against West Indies in June 2017, where these two opened the innings.
The performance of the Ajinkya-Rohit pair is, therefore, special and deserves more credit.
Three consecutive century partnerships by an Indian pair in ODIs
Even after India lost Rahane, Rohit continued his blistering form. He finally fell after scoring 125 off 109 balls with 11 fours and 5 sixes -- the first century by an Indian batsman in the series.
Rohit also achieved some personal milestones during the game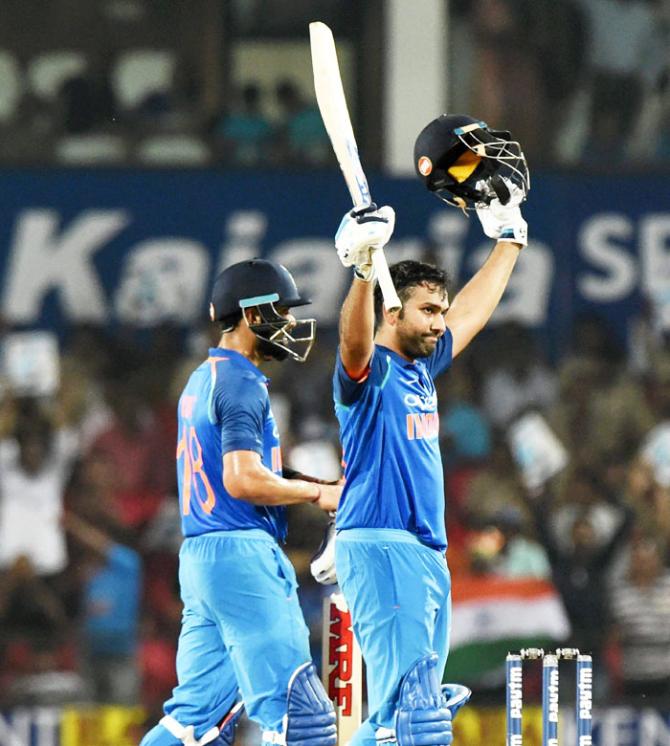 IMAGE: Rohit Sharma celebrates after completing his 14th ODI century at the Vidarbha Cricket Association Stadium, in Nagpur. Photograph: Gurinder Osan/PTI
On 8 – Rohit completed 2,000 runs in ODIs in India, becoming the quickest to do so, beating Sourav Ganguly (45) and Virat Kohli (46).
On 59- Rohit completed 4,000 runs in ODIs as an opener, becoming the fifth Indian after Tendulkar, Ganguly, Sehwag and K Srikkanth to do so.
On 92 – Rohit completed 6,000 runs in ODIs, becoming the ninth Indian to do so. By taking 162 innings he also became the third quickest among Indians after Virat Kohli (136) and Sourav Ganguly (147).
India won the match with 43 balls to spare, which took them back to the number one position in the ICC ODI rankings.
The defeat for Australia is one of their worst ever in a bilateral series.
Australia's worst losses in a bilateral ODI series
The last time Virat Kohli failed to score a hundred in a bilateral series was against Bangladesh in 2015. Since then, he had scored at least a hundred in six consecutive series, before failing to score one against Australia.
Virat Kohli's last 8 ODI series
At the end of the ODI series, Rohit has hit 58 sixes against Australia, which are the most any batsman has hit against that country. Only Shahid Afridi has hit a six off fewer balls than Rohit in this list, but Rohit has the best sixes per innings figure.
Most 6s in ODIs vs Australia
Rohit's 58 sixes against Australia are also the most by an Indian batsman against a particular country, beating MS Dhoni's 42 against Sri Lanka. No one is anywhere near Rohit in sixes' frequency.
Most 6s by Indian batsmen vs a particular country
This was the eighth bilateral series between India and Australia in India and only the second without rain playing spoilsport. In six out of previous seven series between the two sides at least one game was be washed off / abandoned midway. The only other series that saw all the matches producing a result was in 2000-01.
India-Australia bilateral ODI series in India
No result: matches where game started but was interrupted by rain and could not be completed.
Abandoned: matches where not even a single ball could be bowled.