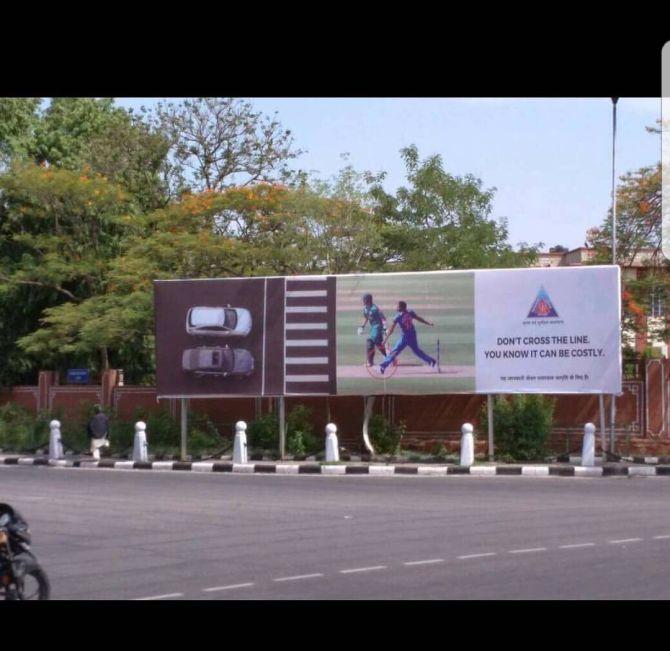 India fast bowler Jasprit Bumrah slammed Jaipur traffic police after they tweeted an image and also put a huge billboard of his infamous no-ball in the ICC Champions Trophy final against Pakistan to spread the awareness about traffic rules.

"@traffic_jpr well done Jaipur traffic police this shows how much respect you get after giving your best for the country," an angry Bumrah wrote in response to the post.

"But don't worry I won't make fun of the mistakes which you guys make at your work .because I believe humans can make mistakes," he further added.

Jaipur traffic police had used Bumrah's no-ball picture across the city on billboards and also on social media with the message: "Don't cross the line. You know it can be costly".

However, following Bumrah's angry outburst, they deleted the tweet and apologised to the young pace bowler.

"our intent was not to hurt your sentiments or the sentiments of millions of cricket fans. we only intended to create more awareness about traffic rules. you are a youth icon & an inspiration for all of us," Jaipur traffic police said on their twitter account.
Incidentally, the traffic police in Pakistan' Faisalabad city are also using the image of Bumrah's no-ball to warn the drivers to stay behind the line at the red light.

The image with two cars behind a line on one side and Bumrah's no ball on the other carries a caption - "Don't cross the line. You know it can be costly".

Bumrah's no ball gave Pakistan's opener Fakhar Zaman an early life in the final of the Champions Trophy against India in London.

27-year-old Zaman went on to score 114 runs - his maiden ODI hundred -- with India losing the match by a massive 180-run margin.

Photograph courtesy: Jasprit Bumrah/Twitter