Clarke's fitness for the Test series against India fading fast
Most obvious choice to become Australia's 45th Test captain is vice captain Brad Haddin
Shane Watson, George Bailey and David Warner are also the likely candidates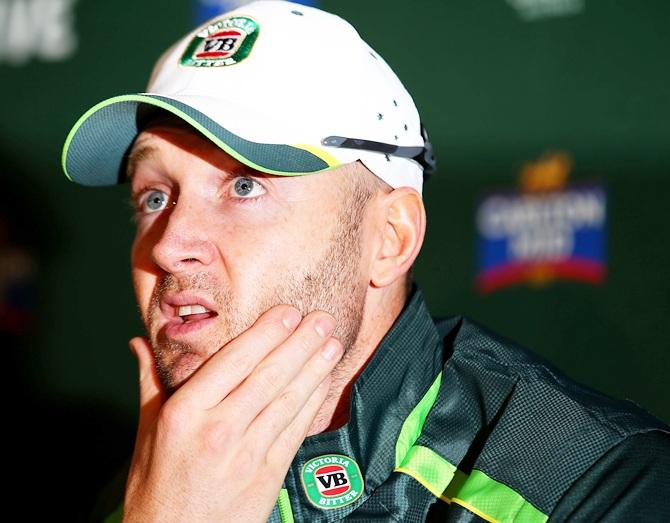 Michael Clarke address the media. Photograph: Paul Kane/Getty Images
With the optimism over Michael Clarke's fitness for the Test series against India fading fast, Australia's selectors will have to ponder their captaincy options as well as the make-up of their bowling attack over the next week.
South Africa series: Cummins called up, Johnson rested
Chief selector Rod Marsh's confidence the 33-year-old would be fit to face India at the Gabba on December 4 was undermined by Pat Howard on Monday, the team performance manager saying Clarke had virtually no chance of playing in the series.
Since taking over as captain in 2011, Clarke has managed a long-term back injury, which contributes to his frequent hamstring problems, to play all but one of his country's 39 Tests.
But with Australia's main priority over the next couple of months being to keep him fit for the February 14-March 29 World Cup, an understudy might now be required for the matches against India in Brisbane, Adelaide, Melbourne and Sydney.
The most obvious choice to become Australia's 45th Test captain is vice captain Brad Haddin.
The wicketkeeper has the seniority and leadership qualities required but has also been ruled out of the ongoing one-day series against South Africa because of a shoulder injury.
Shane Watson, who stood in for the injured Clarke for one Test on the miserable India tour last year, is another option but neither the 33-year-old all rounder nor Haddin, 37, could be described as long term solutions.
George Bailey, 32, stood in as skipper of the One-day team after Clarke's hamstring failed him again in the opening match of the series against South Africa last Friday.
The former Twenty20 captain is admired for his relaxed demeanour and calm leadership but just 183 runs in the last Ashes series appear to have curtailed his test career after only five matches.
Of the younger candidates, opening batsman David Warner is in the frame by virtue of being an automatic selection, but his chequered disciplinary record might work against him.
The 28-year-old was fined for a twitter outburst aimed at two journalists last year and suspended ahead of the first Ashes series of 2013 after punching England's Joe Root.
Another top order batsman, Steve Smith, has come from nowhere to be widely touted as a future Australia captain in recent months.
Smith is one of the few players who returned from Australia's 2-0 Test defeat at the hands of Pakistan in October with his reputation enhanced.
The 25-year-old, though, might be considered in need of more time to cement his status as a Test cricketer.