Gambhir made racist remarks about Ganguly and Bengalis, says Tiwary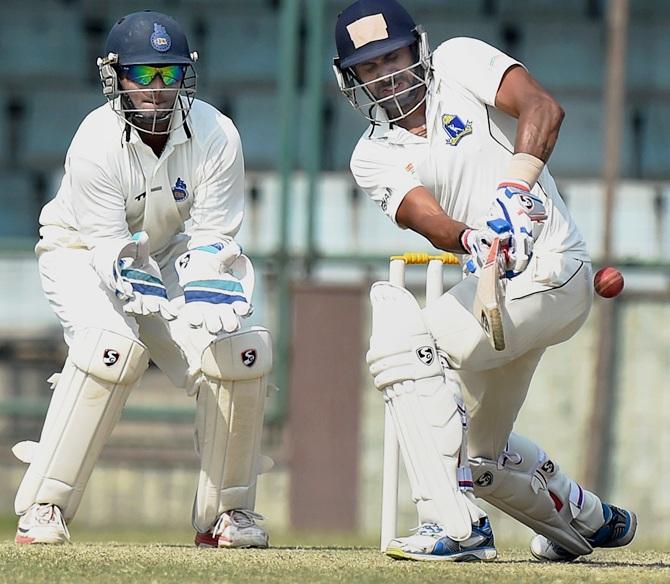 IMAGE: Bengal captain Manoj Tiwari plays a shot during Ranji Trophy match against Delhi. Photograph: PTI Photos
India discard Manoj Tiwary, who was involved in an ugly on-field altercation with Gautam Gambhir in a Ranji Trophy match, claimed that the Delhi skipper had made racist remarks about former Indian captain Sourav Ganguly and Bengalis.
Gambhir, Tiwary come to blows during Ranji match
"He made racist remarks made about Sourav Ganguly and Bengalis. I spoke to Sourav Ganguly and he is very upset that his name has been dragged in the matter. We will never accept anything against Sourav Ganguly," Tiwary said.
"Gautam Gambhir is not speaking the truth. If I had done what Gambhir is saying why have I been fined 40 per cent and him 70 per cent," the Bengal cricketer added.
Gambhir and Tiwary had nearly came to blows on Day 3 of the Ranji Trophy match between Delhi and Bengal at the Feroz Shah Kotla stadium, in New Delhi, on Saturday, and umpire K Srikanth had to step in to defuse the situation.
The two players were summoned for a hearing after the day's play by Match Referee Valmick Buch.
Buch has said that detailed report has gone to the Board of Control for Cricket in India (BCCI) and they will now decide the quantum of punishment.
"I don't mind sledging but abusing someone's mother is not right," Tiwary said.
Gambhir however, claimed that he had not pushed the umpire nor had he used abusive language against Tiwary.
"I was most surprised that certain sections of the media have reported that I pushed an on-field umpire during third day's play of Delhi-Bengal Ranji trophy game. It's factually incorrect. Here is what happened. Manoj Tiwary walked into bat with Bengal score reading 2 for 2 wickets down"
"After conceding first innings lead we were keen to press home the advantage by playing positive cricket. We got fielders around Manoj trying to pressurise him. At which point he started taking longer than usual to face the next ball.
"My team-mates urged Manoj to refrain from wasting time. Instead of getting on with his batting he started abusing some of Delhi players. At which point I came in and told him what I thought about his demeanour. The umpires did a wonderful job of calming the situation by intervening right there. And the matter ended", Gambhir said in a statement.
He said that at no point he pushed the umpire or threatened Tiwary.
"At no point did I threaten or pushed any on-field umpires. Nor did I threaten to beat Manoj up. In fact, I attended match referee's hearing post the day's play where he accepted that he doesn't have any video evidence of me pushing the umpire. On the contrary the match referee conceded he had video evidence where Manoj is seen pushing Pradeep Sangwan. I am not complaining but stating what the honourable match referee told me", he addeed.